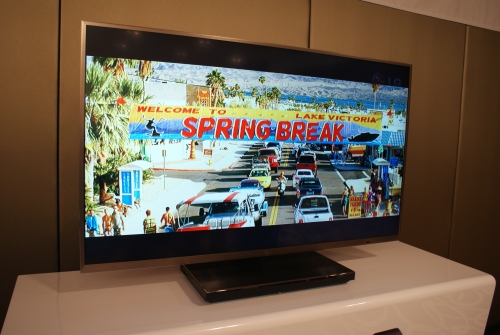 How many months have I used my new Samsung C7000 LED TV? Just three months after it was installed on my wall, my 55-inch wonder is looking a little dated next to some of the new TV sets on show here at IFA Berlin.
In particular, the LG LEX8, which I got a bit of hands-on with at the LG bloggers' forum, on the sidelines of the electronics expo here in Germany.
At just 8.8mm thin, this TV looks like a painting when placed in front of a wall. Unlike my Samsung TV, which is lit by LEDs on the edge of the screen, the LG LEX8 is lit with a full panel of LEDs, which LG calls Full LED (or Direct LED to neutrals).
With all the lights in place of just ones at the edge, the belief is that details on an image are more precise. To be honest, I really like the image on the LEX8, during demos here, but I'd be hard-pressed to tell the difference on the spot here. Perhaps a Black Knight Blu-ray disc might help.
More interestingly, how does LG fit all these lights on such a slim chassis? It has what it calls Nano LED, which basically uses a thin film in front of the lights. The film has tiny "holes" which helps disperse the lights in a regular, precise manner that is supposed to offer better image quality.
LG has not revealed any prices for Singapore here, though it is expected to cost more than the previously top-end, thin-edge LG Infinia LX9500, which is already crazy expensive (S$5,700 for a 47-incher).
Just in case you got the cash on the LEX8, the skinny screen can be hung on the wall, though this would require a separate AV cable to connect to the input box (not unlike Samsung's top-end C8000 and C9000).