"Usually the June show is quieter than the March event, because people have already used up all their bonus money from the Chinese New Year," said a PC hardware distributor friend, when I met him at the PC Show today.
Sure enough, if you walk around this quarter's IT bazaar at Suntec City, which runs until this Sunday, you'd notice that there aren't the usual big Sony booth or telecom operators taking up entire sections of a floor. These guys are still at PC Show today, but the show just seems smaller than the one in March.
So, what are the bargains?
LED TVs galore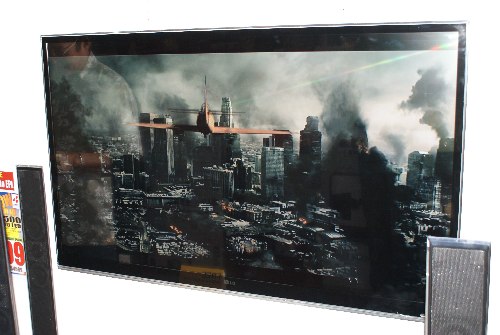 The LG Infinia series of high-end, near-borderless LED TVs that I've been eyeing for a while now are finally hitting the show stands. Problem is, the best price I've been quoted is about S$5,700 for a 47-incher. Nice as it is, and with 3D feature which I don't need, that's a crazy price to pay. The next best LG – the older but still excellent SL90 is sold at S$2,800 for a similar 47-inch size.
At Audio House earlier this week, I even saw the price go down to S$2,400 (S$800 off the usual price)  if you charge the purchase to your DBS credit card (subject to you spending S$18,000 a year on the card).
And there are other new LED TV models from Samsung which are pretty impressive as well. A similar model from Samsung, the UA46C5000 46-incher, is going for S$2,799. Normal price is about S$3,000.
If you don't need such a big screen, the popular 40-inch size comes with good bargains too. Samsung's LA40C530, a 40-inch Full HD LCD (not LED-enabled, so not so thin) is going for an attractive S$999. TVs offer some of the best deals at shows like the PC Show, because the savings are usually in the hundreds of dollars.
Core i3, i5 and i7 laptops rule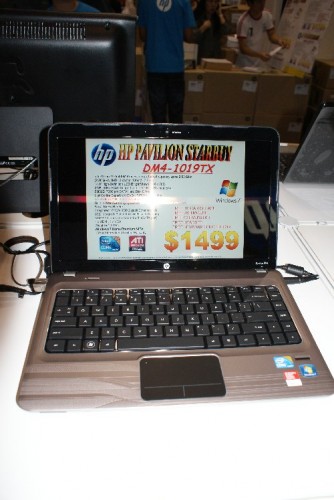 Basically, old Core 2 Duo laptops are now in the sub-S$1,000 range, like with Compaq's Presario CPQ321. Pay a bit more – from about S$1,300 – and you get a newer Core i5 chip in your next laptop. Even more, say, S$1,599 for HP's Pavilion dv3-4036TX, and you get a zippy Core i7 processor.
Intel's new chips are pushing into mainstream notebooks and the prices are indeed attractive.
Western Digital My Passport Elite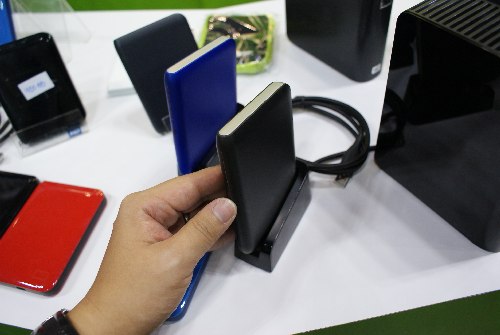 For just S$10 more than the regular WD Passport portable drive, you can buy the nifty My Passport Elite 500GB at S$119.90, which to me a good deal. Not just a nicer finish and a dock, the Elite version comes with encryption for your data when you carry them around. I bought one to backup my corporate data. One of the deals of the show.
Telcos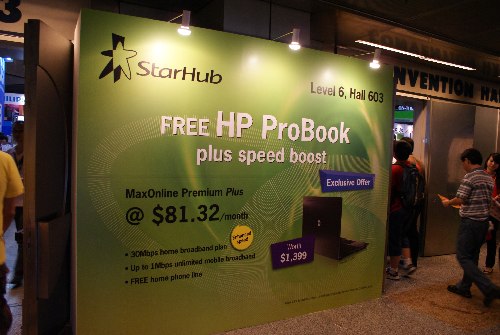 No spectacularly solid deals from these folks when I was checking out the SingTel, StarHub and M1 booths, which were all out in force at PC Show this week. In fact, SingTel recommends that you buy online and get the phone shipped to you instead of queueing at the show – good advice!
What makes me happy though is that StarHub has boosted speeds for its cable modem service by about two times. Its 8Mbps service will now offers 16Mbps max, while the 12Mbps will support up to 30Mbps. Sign up for a two-year deal and you get a free HP Pro Book laptop (with the 30Mbps service) or a free Lenovo netbook (with the 16Mbps service).
Finally, one note of caution if you are driving there. Get there early – maybe an hour or two – before the show starts at noon. I was there today at 10.30am and the carpark around the convention area was already almost filled up. By the time I left at 3pm, the carpark was full.
Tell us what you bought at the show!