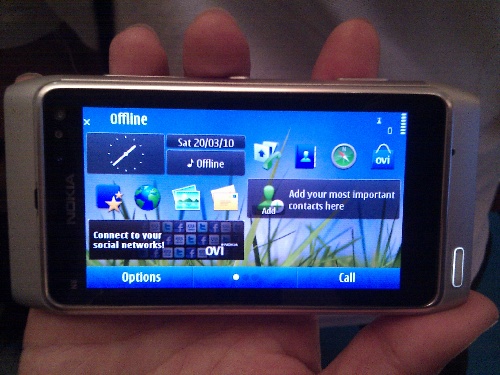 Nokia gave the media a first-hand look at the upcoming Nokia N8 this morning, as it kicked off its usual pre-CommunicAsia show this morning with its Connections event.
After playing with the phone briefly at the media event, I'd say my impression of this nifty little number hasn't changed from when it was unveiled two months ago.
Without a doubt, the hardware and multimedia are great, but the Symbian OS, even in its latest version, is not as attractive as Android or iPhone OS.
One thing I'd say is that Nokia hasn't forgotten how to make great hardware. The 135-gram N8 feels light in the hand, and the size feels just about right with a 3.5-inch OLED screen that looks the part when it comes to browsing and checking up on Facebook updates.
Like the Motorola Milestone XT, the Nokia N8 has a handy HDMI port for connecting straight to your TV for showing off 720p high-def videos of your holidays, for example.
For me, its star feature is its 12-meg Carl-Zeiss lens with Xenon flash. It should take reasonably good pictures – for a phone – even in indoor settings with dim/yellow lighting.
Because of all these features, which Nokia has managed to squeeze into a good-looking slim frame, I am not about to quickly dismiss the N8 as another Nokia device struggling against the Android/iPhone dominance in smartphones.
Unfortunately, it is as a touch-based phone that shortcomings emerge. The included Symbian OS, even in its latest version 3, has some ways to go before it can match what Google's Android and Apple's iPhone OS offer. One thing is speed: swipe you finger through the menus and you'll detect the slightest lag that is not detectable on the Nexus One or iPhone 3GS.
And that "cartoon-like" feel of Symbian, great for low-res screens of old, is still lurking somewhere, though it is mostly out of the way because of smart widget-like devices showing off your social networking links and incoming e-mail.
Thus, my impression of the N8 hasn't changed after the quick hands-on this morning. It carries Nokia's N-series DNA of powerful multimedia features in a great package. But, and this is an important but for many smartphone users, Symbian 3 doesn't compete well with the leading rival OSes out there.
Yes, it's got ovi maps, music store and more, but sometimes, it's the interface that matters as much. Think of what Google/HTC did with Android 2.1/Nexus One – you need a completely mind-blowingly better OS to get the attention of the smartphone digerati now.
The N8 will attract some users for whom a phone camera is the deal-maker. But I don't expect it to make a dent in the sales of Android-based phones or iPhones.
Nokia's old rivals Motorola and Sony Ericsson, great phone makers long hampered by a good smartphone OS for their high-end models, have turned to Android successfully of late with their great new designs (think Milestone and Milestone XT for Moto, X10 and X10 mini for Sony Ericsson).
This makes Nokia's insistence on Symbian even more glaring.