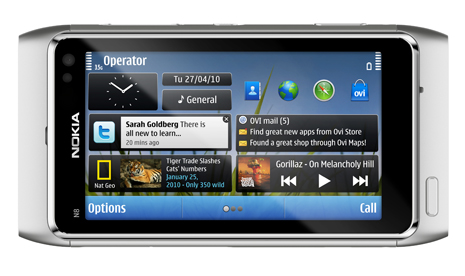 It's been a while since we saw a sleek phone from Nokia. So it's refreshing to see the new N8, unveiled today, look the part with a large 3.5-inch screen as well as widget-like shortcuts for social networking sites on its front screen.
More interestingly, it comes with a camera that boasts no less than 12 megapixels – the Carl Zeiss lens here actually captures more info than a lot of standalone cameras out there. It also comes with a handy Xenon flash, though we won't go so far as to say you can junk your SLR camera.
Yet another feature is an HDMI connector to hook up to the TV at home. This lets you easily share holiday photos and videos on the big screen without worrying about taking out your memory card or buying expensive cables.
The phone comes with 16GB of memory built in, and supports microSD cards up to 32GB, bringing its total expandable capacity to a nice 48GB (more than most people's entire music and photo collections).
The one bad thing – and this could be a deal-breaker for many users – is that it runs on Symbian. Yes, it's the "all new" version 3 of the long-toothed operating system that all but Nokia has given up on.
The Finnish phone maker says this iteration supports touch and gesture-based interfaces better, but we'll hold our judgement until we get our hands on an N8 soon enough.
You can check out the phone in stores in Q3 2010. It will go for an attractive €370 (S$676), but there was no local pricing yet for Singapore, when we checked.