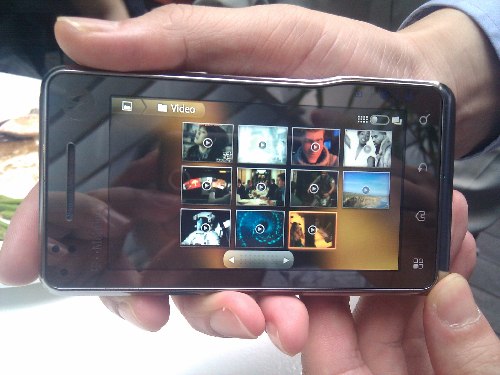 Just three months after launching the Milestone with StarHub, Motorola has released the updated Milestone XT, a souped up, no-keyboard version of its highly-successful Android predecessor.
We got a quick hands-on yesterday and came away mostly happy with the update. The first thing you'd see is the less "corporate" look. Silver-rimmed and without a slide-out keyboard, the XT is aimed at the more "casual" user who doesn't need to text or e-mail as much.
Besides that, the main difference is in the XT's video and camera capabilities. It has a small HDMI jack that hooks up directly to a TV for 720p playback. Videos showed at a demo yesterday were reasonably sharp, though you could detect a bit of blurness compared to full 1080p videos.
The XT also sports an 8-meg camera, which takes reasonably good photos. Nice features include a stitching function, which lets you take panoramic shots separately and join them together for one 180-degree picture. There's also a manual focus function, which lets you tab on the camera preview screen and focus on wherever you want the lens to – nifty for travellers.
Also nice is a Chinese handwriting recognition software that Motorola developed out of its China labs – these guys used to do great stuff for older Motos in the past. This lets you write Chinese characters – instead of just using pinyin – by scribbling on the 3.7-inch screen. The recognition is pretty impressive.
On the whole, the Milestone XT appears like another great phone from Motorola, which is fast rediscovering its mojo with Android, as with other handset makers in the wilderness for the past two years. Think Sony Ericsson and its X10 mini, for example.
But one thing we'd have hoped for is a faster processor, which by the way is the same Cortex A8 chip in the previous Milestone. Everyday uses like e-mail and texting will seem smooth, but when you switch out of a browser or camera, the slight lag is undeniable.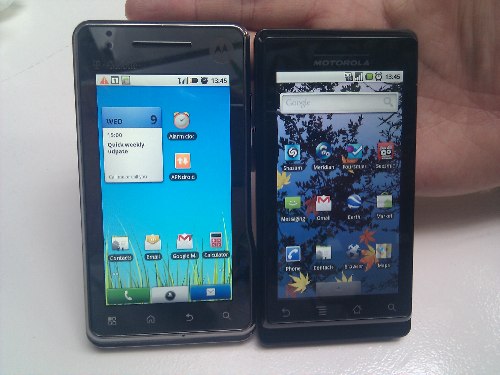 Also, you'd wish the Android 2.1-enabled Milestone XT came with the improved Android 2.2 instead. Asked about that, Motorola folks would only say they "make no committments" to a date for the update. You need a better answer than that, guys.
The price for the StarHub-exclusive phone is the same as the original Milestone when it was launched. That means it starts from $0 for high-end plans. Sales start from today, and yes, you can buy it at the PC Show.
On the whole, the XT is worth a check-out. But have a look at the Samsung Galaxy S first.
| | | | | |
| --- | --- | --- | --- | --- |
| Items | 3G SmartSurf 100 | 3G SmartSurf 300 | 3G SmartSurf 700 | 3G SmartSurf Unlimited |
| Monthly Subscription (w/GST) | $38 | $58 | $98 | $205 |
| Voice credit (mins) | 100 | 300 | 700 | 2000 |
| SMS/MMS credit | 500 | 500 | 500 | 2000 |
| Data credit (GB) | 12 | 12 | 12 | Unlimited |
| MILESTONE™ XT Pricings | $198 | $98 | $0 | $0 |