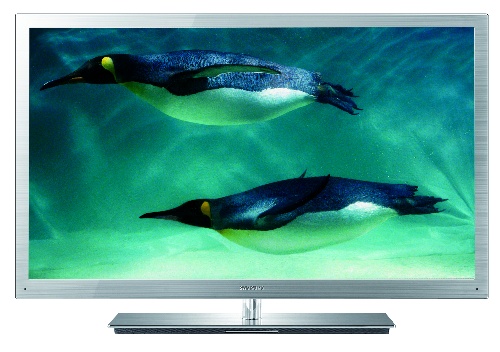 I had expected the new Samsung C9000 TV to be expensive, but I still got a bit of a shock when the Korean electronics giant said last Friday that its "luxury" TV set will cost a cool S$12,888 (before retailer discounts) for a 55-incher in Singapore.
Needless to say, the price includes all sorts of stuff you may or may not need. Among the more practical, there's what Samsung calls "800 Clear Motion Rate", its top-end blur-reduction technology to keep things focused in those fast action movies.
The other big thing about this 3D-enabled TV: it's just 7.98-mm thick with a built-in digital tuner, making it one of the slimmest, if not the slimmest, among anorexic LED TVs out there. The simple, brushed aluminium finish is one of the best I've seen of late.
Then there's a nifty touch-screen remote that streams what you are watching on the big screen on its little 3-inch colour display. There's even a headphone jack for plugging in ear buds on the remote, if you choose to ignore what's going on the big screen. Sounds excessive? Sure. But cool? Definitely.
What about picture quality for the C9000? I'm not sure if it's a great leap forward over the  cheaper C7000 and C8000, which already offer excellent contrast and realistic colours for Blu-ray titles. Certainly, when I saw the screens at Samsung's launch earlier this year, all three looked superb.
The C7000 did have some problems with 3D, which may users did not like, so I certainly hope the more expensive C9000 solves the problem.
I'm personally not big on 3D movies, but one area that might seem interesting is games. It's not fantasy – recently, I noticed my Sony Playstation 3 actually supports upcoming 3D games (via a firmware update).
Connected to my C7000 via HDMI, it detected that the TV supported 3D and promptly readied the feature when such games come onboard, reportedly in the later part of this year. The C9000 should plug in similarly with a PS3 as well.
So, if you are already interested, and have the deep pockets, for this svelte beauty, here are more inducements for you to burst your credit card limit:
1) Free Samsung BD-C6900 3D Blu-ray player (worth S$799), as well as two pairs of adult-sized rechargeable 3D glasses and two pairs of child-sized rechargeable 3D glasses (worth S$796).
2) Premium concierge service, giving "tailored installation", along with integration with users' existing AV setup, PLUS, get this, a tutorial on how to use the TV for the entire family.
Tutorial for everyone? It's a little rich for me to be honest. But hey, if you're paying that kind of money for a TV, you do get your perks, even if they are a little OTT.