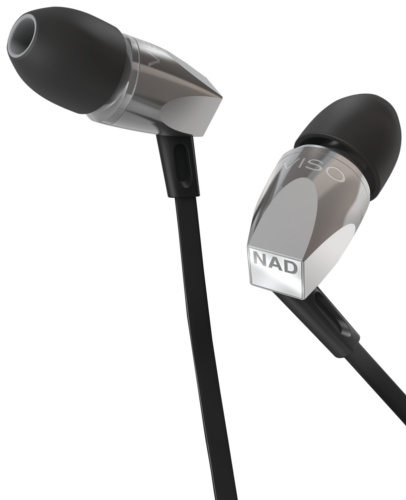 NAD's efforts to reach out to the iPod-toting crowd have been commendable so far, with headphones such as the PSB M4U 2 receiving rave reviews from music lovers.
The audiophile household name followed up with the NAD Viso HP50, which won over hi-fi fans with its warm musical performance. For all its pluses, the Viso HP50 could not hit the lows, making rock and hip-hop numbers sound a tad underwhelming.

With the Viso HP20, NAD seems to realise that it needs to raise the bass performance of its headphones and earphones to grab the attention of a younger audience accustomed to heart-thumping beats.
Indeed, the lows on the HP20 sounded deeper and tighter in rock numbers compared with the HP50 and the new A-Jays Five. The earphones also deliver more oomph when you are listening to a drum performance or soloist playing an acoustic bass guitar.
Even with its strong bass qualities, the HP20 does not mask the vocals and the highs. In several Richard Marx ballads, vocals and the location of percussion instruments clearly stood out from the busy soundstage.
The HP20 also boasts NAD's RoomFeel technology that supposedly delivers the warm open sound of a live performance, as if you are listening to a set of speakers.
While the soundstage sounds wider on the HP20 compared with other earphones I've heard, you certainly will not be hoodwinked into thinking that you are listening to a pair of speakers.
The HP20's well-rounded performance is matched by its sharp-looking buds. Each 8mm driver is packed in an angular housing that looks slightly bigger than usual.
NAD says the driver housing is milled from a solid billet of lightweight aircraft-grade aluminium, giving engineers the ability to design a "critically tuned" acoustic chamber that contributes to the HP20's good bass and vocal genes.
The earphones fit snugly in my ears and stayed in place throughout a run over the weekend. NAD also provides a clothing clip for you to minimise cable noise while you are on the move.
As with most earphones, the HP20 comes with a remote that can be used to control volumes, pick up calls and skip tracks. Unfortunately, the remote only works with iOS devices for now.
At S$199, the HP20 is not cheap, considering there are many good-enough earphones around that price. But if you are eyeing a pair of audiophile-grade sound buds, this may just be the one for you.
CLARIFICATION: The price for the HP20 was stated originally as S$299. The distributor has clarified that the price is S$199.