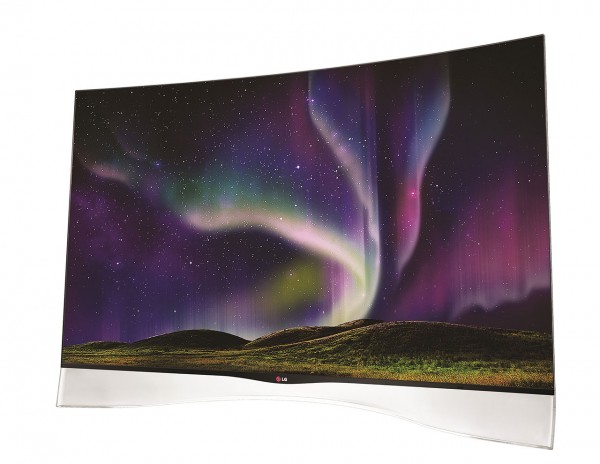 Video buffs who want not just the thinnest screen but also great picture quality in their living room TVs will be happy that LG's new OLED (organic light emitting diode) TVs are coming to Singapore.
That's, of course, if they have S$7,499 ready in the bank.

Unlike regular LED TVs that have been popular in the past few years, these OLED TVs don't need to "shine" light from lamps that are placed at the edges of a screen to show an image.
Instead, the material used to make the screen are self-illuminating when zapped with an electric current (more on the differences in this excellent explanation).
The result is even slimmer displays. The 55-inch Gallery OLED TV – the 55EA880T – that LG showed off today to the Singapore media is as thin as you'd get with a TV these days.
OLED screens can also be curved, because the material is more flexible. Thus, the Curved OLED TV that LG is bringing here – the 55-inch 55EA970T – is truly paper slim and curved. It's thinner than your iPad, I can tell you that after seeing it today.
While I'm not crazy about curved screens – seems like a fad – OLEDs are a game changer when it comes to quality.
For video enthusiasts, such TVs are the "proper" replacement for plasma TVs, which are known for making moving objects look natural and providing some of the deepest blacks in high-contrast settings.
The two OLED TVs from LG that I saw today certainly don't lose out on contrast, going by the sample images on show. LG would also tell you that its OLED TVs offer four-colour sub-pixels in WRGB (white, red, green, blue) – the white is missing in rival Samsung's offerings.
What LG doesn't seem as keen to say is the OLED TV's Full HD resolution, which is missing from its specs in Singapore but clearly shown overseas, like in the United States.
Why? It's simple, users would be comparing the hefty prices with its sharper Ultra HD or 4K TVs, which use existing display technology but offer four times the detail on screen.
Which is better? Both are expensive but neither is perfect. 4K content is still rare so you might not get so much more mileage on a higher-resolution screen. OLED TVs are great for purists now but would look outdated in the years ahead when 4K content becomes more common.
The perfect solution would be an OLED TV with a 4K resolution. Possible? Sure, I'm told that could appear later this year, possibly when the manufacturing of OLED TVs becomes more advanced. But I don't even want to find out how much that would cost.