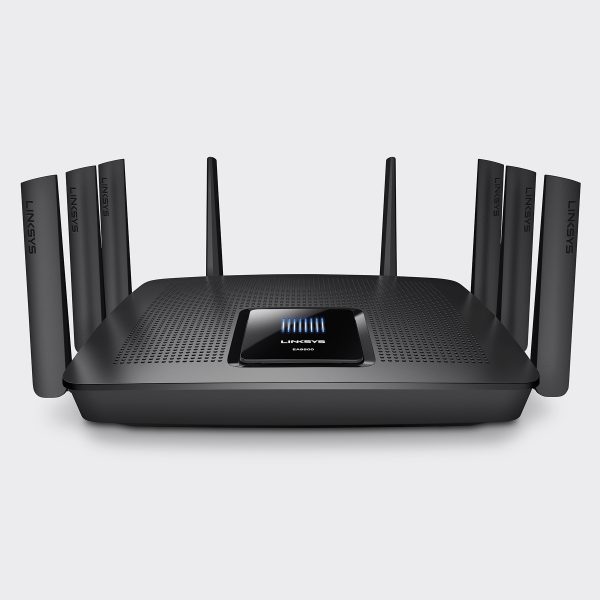 If you fancy a router that packs in every feature under the sun to match a fast fibre broadband connection, Linksys has what it thinks is best for Singapore homes in its new EA9500.
Launched here yesterday, the S$539 router comes with the latest in 802.11ac Wave 2 and MU-MIMO (Multi-User, Multiple-Input, Multiple-Output), which promise to hook up compatible devices more efficiently by allocating wireless bandwidth to each one as if they have individual lanes on a highway.
The technologies are aimed at increasingly demanding mobile devices, such as smartphones, tablets and even smart TVs that don't have the high-power antenna arrays in PCs but are sucking up bandwidth in a fashion never seen before.
Indeed, the main selling point of MU-MIMO is the growing number and processing power of mobile devices at home. Many older Wireless N routers of the past are less able to stream high-res videos smoothly as demand for bandwidth increases.
Think of multiple Netflix streams – perhaps one on a 4K TV and a couple of HD ones on mobile devices – and the case of routers such as the EA9500 becomes clearer, even for small Singapore apartments.
Linksys says its new flagship router supports up to eight such devices, while rivals with similar technology and even the same Broadcom chipset under the hood can only do four, because of the software algorithm it has customised.
The MU-MIMO technology, however, necessitates a huge router. There's no hiding the antennas either, with eight in total supporting the three radios – two for the more congested 2.4GHz band and three for two separate 5GHz bands – protruding from the chassis.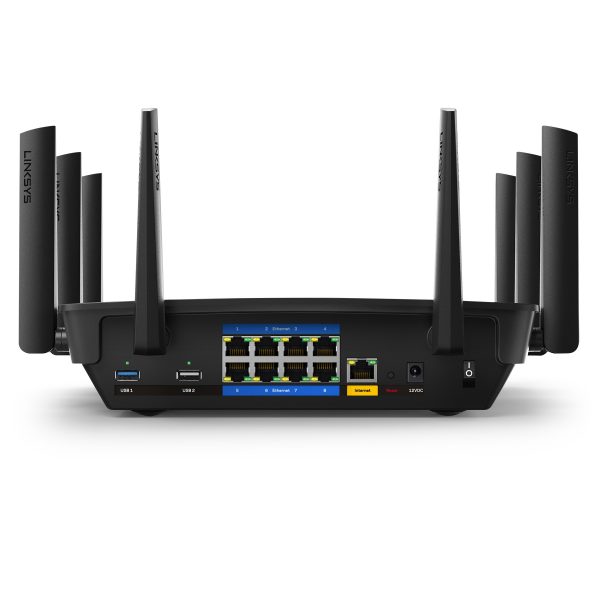 At the back, you'd find something unusual until recently – eight Gigibit Ethernet ports instead of the typical four. This means if you have game consoles, TVs or other devices near the router, you can hook them up more reliably via a cable connection. Cable still trumps wireless, despite the latest advancements.
To run all these tasks, the EA9500 uses a 1.4GHz dual-core CPU. This should also let it handle lots of peers should you be downloading over a peer-to-peer network, for example.
During a demo for the media yesterday, Linksys folks were keen to show how well the new router supported multi-room connections.
No matter how fancy a router is, it is useless if the signal – in particular, the speedier 5GHz ones – is blocked off in the many obstacles one finds in Singapore apartments. Think of the many concrete beams and bomb shelters that block off rooms from Wi-Fi signals.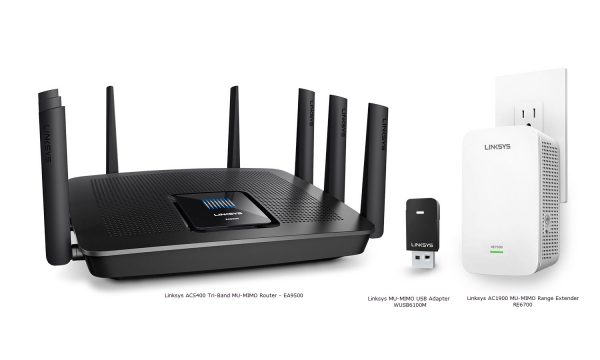 To overcome this, the EA9500 works with a new Linksys Wi-Fi range extender that supports seamless roaming within a home.
Connected to the S$199 RE700, a small device that can be plugged into a power socket, the wireless network can be extended to reach blind spots in an apartment.
During demos yesterday, Linksys executives showed a live video call that stayed on despite a user moving through its Singapore office, as the signal was handed over from the router to the Wi-Fi extender.
This is possible, they explained, because the device doesn't wait for the router's signal to totally drop off before taking over, thus reducing any disruption during a live video.
However, this feature only works when similar Linksys equipment is used. The range extender will still work with routers from other brands, but the seamless roaming won't be available.
Are these gadgets worth the high asking price? Good news is there are discounts at launch.
You can buy the EA9500 for S$499 and get a MU-MIMO USB adapter free if you are a member of the Challenger retail store.
Separately, you get S$100 off if you are using Singtel broadband. Just bring your latest bill to selected Challenger outlets to get the discount.
We'll have more when we get to test out the networking gear soon.