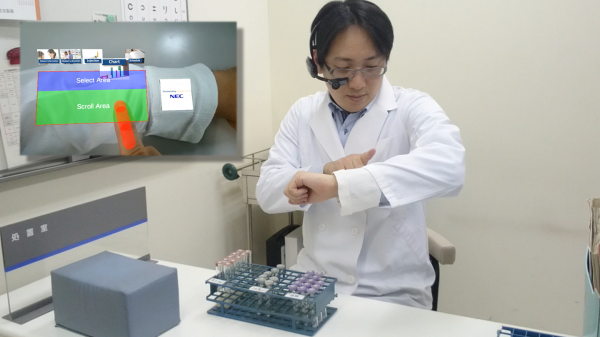 Augmented reality (AR) technology is all the rage these days. We've seen it incorporated in smartphone games such as Pokémon Go as well as headsets in the form of Microsoft's HoloLens. Now, NEC has joined the party with the ARmKeypad Air.
Shown off by the Japanese company yesterday, the ARmKeypad Air uses a pair of smart glasses to project a virtual keyboard onto a user's arm, which allows for contact-free operation.
The idea of interacting with a virtual keyboard isn't a new one. In November last year, NEC introduced a trial model of the ARmKeypad.
Using a modified watch and a pair of smart glasses together, it turned the user's arm into a virtual keyboard. It recognised vibrations when the user tapped on the watch.
The ARmKeypad Air is an improvement on its predecessor. The modified watch is no longer there, making physical contact with the virtual keyboard unnecessary. Instead, the ARmKeypad Air enables contact-free operation by tracking the movements of the user's finger as it hovers above the keyboard.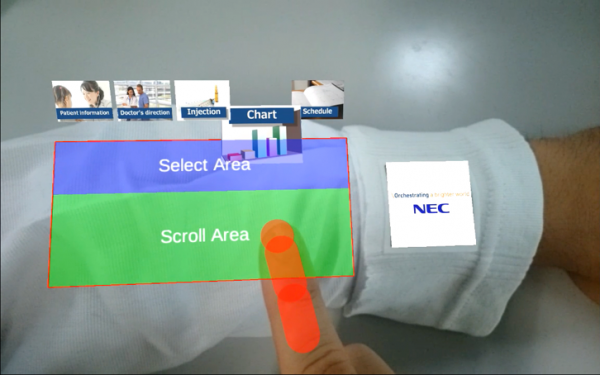 Doing away with the need for physical contact makes the ARmKeypad Air extremely useful for industries that require professionals to operate hands-free, such as the medical industry.
Doctors carrying out operations in a sterile environment could use the ARmKeypad Air to check on the patient's records without having to risk contamination or worry about a watch getting in the way.
The ARmKeypad Air's usefulness is not only restricted to sterile environments. One can see it used in the military, for example. It could just help reduce the amount of equipment a soldier brings out to the field, allowing for greater mobility.
Yukio Maruyama, the assistant general manager of NEC's System Integration & Services Market Development Division, said: "Moving forward, NEC will use the ARmKeypad and ARmKeypad Air to help improve workplace efficiency in sectors where hands-free operation is required, such as manufacturing, medicine, security, and distribution."
For AR enthusiasts, the ARmKeypad Air presents exciting possibilities for the future. It will be interesting to see how, and when, AR becomes commonplace in both the consumer and enterprise market.