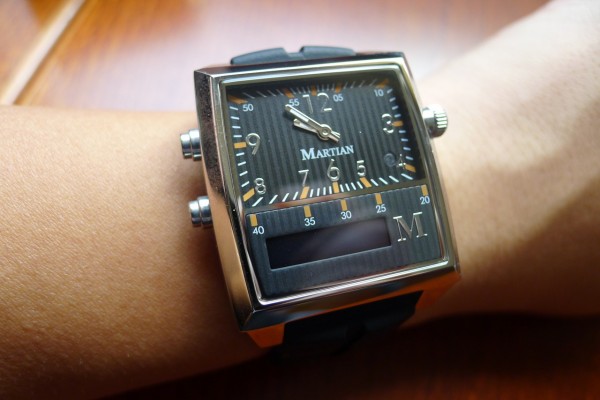 With all the buzz about futuristic smartwatches of late, I decided to buck the trend and take a look at a rather retro-looking gizmo recently.
When the folks from online retailer Expansys asked me what I'd like to review from their store, I pointed to the Martian Passport, a geeky smartwatch that actually does look like a watch.
For starters, it tells time with the hour and minute hands taking up some two-thirds of the watch face. The remaining space is taken up by a digital screen fulfilling the smart functions.
If this seems like someone decided to slap a smart design onto a regular quartz watch, well, it does. Fortunately, the Passport doesn't feel like a cheap toy – the stainless steel case and rubber strap certainly look like they can survive some outdoor activity.
Perhaps the designers has taken the tough part of the design too seriously as well. The buttons that let you control the digital features are a little hard to press. You actually get quite annoyed after a few presses to access the menu.
Charged through a USB port by the side, the watch is similar to many other similar wrist-worn smart devices today. It relies on a Bluetooth link to your smartphone to carry out most of its tasks. Plus, you have to download a Martian app on your smartphone.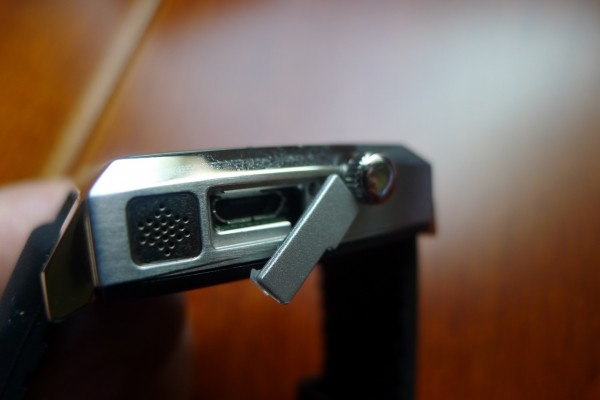 The difference is that the Passport works with both Apple iOS devices as well as Android devices, which can't be said for, say, the Samsung Galaxy Gear series. In the past two weeks, I've managed to test the Passport with my Samsung Galaxy S4, and I can say they hook up without fuss.
The biggest selling point for me is the support for voice commands. Press one of the buttons on the watch and you are connected to your smartphone's voice controls. In Apple phones, this is Siri. In Android phones, this is Google Now.
I managed to make a few calls like this, and finally, I can say I'm using some of my phone's voice functions, which are pretty good. I managed to call a friend by speaking his nickname as saved in the contacts – "Alabert" – and the phone called through without problems.
The bigger surprise was the Passport's voice quality. Using the built-in speakers and microphone, I could carry out a conversation, Dick Tracy-style, without the other party even knowing that. And I can hear clearly what the other person is saying.
Okay, that does seem a little dorky, especially in a crowded restaurant or a subway train. Yet, perhaps in future, we will be speaking to wearable devices more often, like in the movie Her, and devices like the Passport won't be so weird.
What also helps is the ability to read out your text messages. For folks who drive, this is something pretty useful to have on the Passport.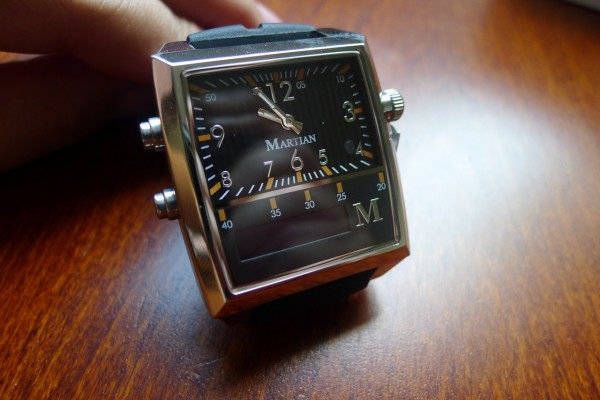 Yet another feature I like about the smartwatch is the fast charge. The Martian folks were not exaggerating when they said the watch could be juiced up in two hours. This means you don't wait an entire morning to get your phone ready.
The other features in the smartwatch, however, are not as practical. There's a feature to fire up your phone's camera, for example. It actually turns on the self-facing camera by default, but it might only help with selfies if you manage to mount your phone somewhere secure.
At the same time, there are the usual notifications, say, for WhatsApp messages. But the one-line 96 x 16 pixel OLED screen, though bright and clear, will struggle to display long messages.
Yes, wearing a smartwatch makes you look more discrete than turning to your phone in a meeting, but if you stare at the small screen for too long, you still appear distracted.
Which kind of sums up the state of smartwatches right now. First unveiled in 2013, the Martian Passport certainly looked ahead of the curve then. It also looked classy.
Today, a lot of fancier technology has gone into the Samsung Galaxy Gear, for example, to track your fitness. Curved screens could also be the next big thing for wearable gadgets.
For me, it boils down to this – a smartwatch has to not just be packed with cool and practical functions, but look good as a watch as well.
The second part, I feel, the rather expensive S$439.99 Martian Passport has come closer than many rivals. It's the useful everyday features that it and many other smartwatches are still finding it tough to convince users of.