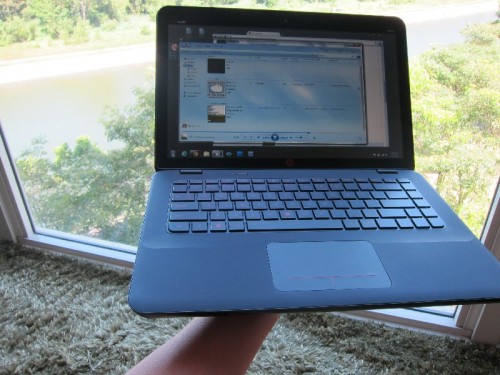 Months after Apple's MacBook Pro started sporting Intel's "Sandybridge" CPUs, HP has finally caught up in the game by shipping its much-awaited update to the Envy 14 Beats Edition premium laptop.
Like the previous Envy 14 Beats Edition, this top-end laptop is dressed in all black and comes with a sturdy build that looks ready to take some tough knocks. The Singapore version – there's only one model here – comes with Intel's second generation Core i7-2630QM chip, 8GB of RAM, a 750GB hard disk and AMD Radeon HD6630 switchable graphics.
The all-rounder laptop, weighing about 2.5kg, comes with a reasonably-sized 14.5-inch screen that should do well either at a desk or perhaps if you were to carry it to school. Quality-wise, this Envy 14 is a rare laptop that can stand up to Apple's excellent MacBook Pro.
What you've probably already found missing in the specs is a solid state drive (SSD). Perhaps HP was expecting this to be a desktop-based machine where a larger hard drive would be suitable, or maybe it wanted to keep a cap on costs. The Envy 14 14-2006TX Beats Edition is selling at the HP Online Store at S$2,499.
After considering the MacBook Pro for months – I even cleaned up an old Core Duo laptop for trade-in – I decided the Envy 14 Beats Edition was the better deal. Finally, after weeks of waiting, I bought one a couple of weeks ago, and got the unit delivered early this week.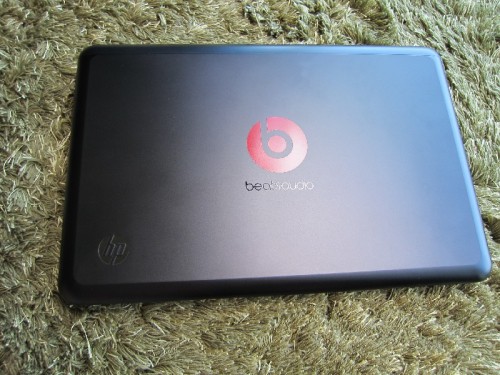 So far, it's been impressive. The first thing you'd notice is how well-built the laptop is. The tough shell protecting the screen looks like it could take some pounding, as does the chassis holding the motherboard and rest of the goodies on it.
The black finish is also sleek and svelte in conveying the feeling that this is one premium machine. Little touches help, of course. I'm quite a fan of the red backlit keyboard, for example, which does its job well and doesn't shout "bling it on"!
The understated yet hip design also extends to the USB, HDMI and DisplayPort connections on either side of the laptop. The slot-load DVD drive, obviously, also keeps things slim, much like on the Apple MacBook Pro.
Having used an Apple Powerbook G3 (Wallstreet) and later a Powerbook G4, I've been a fan of Apple's premium laptops, even though I'm not crazy about the Mac OS. But one thing always appeals to me – black. Yes, and of course, my preference for Windows 7, which to me is the best OS out there.
I won't jump into a PC holy war here on Mac versus Windows. For a Windows user like me, what attracted me more to this HP Envy 14 machine was the fact that I didn't have to pay extra to install Windows either on Bootcamp or Parallels, as I would have if I had bought the MacBook Pro.
How do the two machines compare? The touchpad on the Envy 14 is much improved from the previous models. It's sensitive and the multi-touch does work, for example, in scrolling up and down webpages. However, it's clear the MacBook Pro's touchpad is still larger, more sensitive and the standard to aspire to.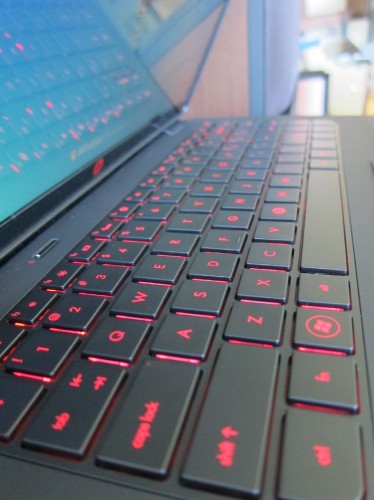 What I do prefer on the HP is the much better keyboard. Though the keys are short-travel ones, that is, they are pretty shallow, the more tactile feel means that I don't find myself banging my fingers hard on the base of the machine, as I often feel with Mac keyboards.
The new Intel Sandybridge CPUs on the Envy 14 really shine as well. When the machine is not connected to the wall socket or when I'm just typing away on Microsoft Word, the machine keeps itself cool by not spinning up. As a result, the Envy 14 can rest on your lap without burning it – for a change!
The same can't be said if you're maxing things out, of course. The machine does run hot when it is running at max performance. But then again, when you fire up a game and need to switch to the AMD Radeon HD6630 graphics, you'd probably have the laptop on the desk rather than your lap.
How does the engine perform under the hood? I'd say it's up to the mark, thanks mostly to the powerful quad-core Intel CPU in there. The ample 8GB RAM helps too, of course.
I've run tests with PCMark Vantage, which measures how well a PC handles everyday tasks like photo editing, as well as battery tests and other games-based tests in a review for The Straits Times Digital Life, so do look out for the story in the newspapers soon if you are in Singapore.
One thing I'd rather HP have included is a higher-resolution screen. Yes, I'm thinking of the 1,600 x 900 screen that HP sold for a while with the old Envy 14. The current one that I've got merely runs at 1,366 x 768.
It's still not that bad, but the higher resolution would have meant sharper images and text. It would also have meant that you can squeeze more tasks on the screen, something that might be useful to folks editing several photos at a go.
Still, on the whole, I'm enjoying the new laptop. My three-year-old Fujitsu S6520 is going to be retired as a workhorse, quite sadly for me. It's served me well, taken the knocks in travelling to several continents and only recently got an SSD upgrade that made it very fast, very light and very power-efficient.
But that laptop was a one of a kind. It had a slim-edge 14-inch screen which ensured that it weighed under 2kg – unheard of for laptops its size. But the thin screen came with a price – it had to handled gently. Recently, the screen holder started to break (a second time after I had one replaced two years ago) and I knew its days were numbered.
That OCZ Vertex 2 SSD inside it will be transplanted into the new HP Envy 14. It's a beginning and an end, I guess, but I can't wait for the new laptop to swing with a speedy SSD inside. Look out for a hands-on guide soon on installing an SSD on your Envy 14!
Are you an owner of an HP Envy 14, or considering one? Let us know what you think of it in the comments section!