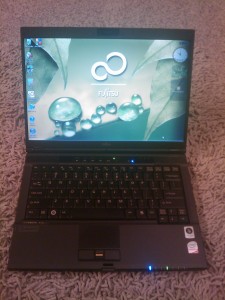 I had written just last week that some retailers were keeping their new Centrino 2 laptops for the Comex show, even though the faster, energy-saving portables were already ready to be sold.
Well, sure enough, the likes of Toshiba and Fujitsu went out in force with their new lappys at the tech bazaar at Suntec City this weekend.
For example, Toshiba's Portege M800 line (with 13.3-inch screen) and Satellite M300 (14-inchers) got a Centrino 2 refresh, with new P8400 and P8600 processors and Intel 5100 Wireless N built in. There is also the faster in-built 4500MHD graphics that comes with the new Intel GM45 Express chipset.

Their prices are one of the most competitive, starting from S$1,999 for a P8400 Satellite M300 model. Freebies include 2nd year free local warranty, RAM upgrade (up to 3GB or 4GB) and Norman Security Suite.
Wait, there's more – you can also choose one of these:
a) Epson T10 printer,
b) Toshiba 160GB external drive, or
c) S$100 shopping voucher…
and for selected models, you even get a Shiseido S$30 makeover voucher (duh!).
HP and Sony, which already had their Centrino 2 models out before the show, trotted out their Pavilion DV4 (with 14-inch screen) and DV5 (15-inchers), and SR range respectively.
HP had the works in their laptops, including discrete graphics in some models and even TV tuners, but these laptops with a overly-shiny finish were simply fingerprint magnets and were thick and heavy.
Sony's SR range, meanwhile, looked way better with a thin 13-inch screen and weighing from 1.88kg. The price was not bad too – the base model with an Intel  P8400 chip cost S$2,199. No discount from the Sony fellows the last I checked, but if you pay by instalment with a DBS credit card, you get the first instalment free.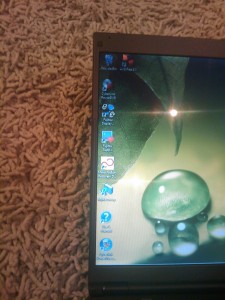 There's also the much-awaited Fujitsu S6520, the Centrino 2 update to the well-received S6510 model that has an almost borderless 14.1-inch screen and which weighs a mere 1.7kg (the lightest in its class).
I ended up buying one of these – yup, this is the first report from the Fujistu machine – for a grand S$3,088 (list price was S$3,188 but I bargained a little). Not cheap, but I feel the price is worth it…
First off, this fella comes with a well-built Fujitsu chassis that I'd expect to take hard knocks (I'd rank it just behind the tank-like Thinkpads).
And besides the standard Centrino 2 features,  this P8600-based system comes with DDR3 memory. Yup, it's the first laptop in town to sport DDR3, which in this case runs at 1,066MHz.
Why is this important? Because the new Centrino 2 systems can run with a speedy 1,066MHz front side bus, and the faster DDR3 RAM can keep up with it, improving overall system performance (other Centrino 2 machines sold here still use 667MHz or 800MHz DDR2 RAM).
Better yet, Fujitsu gave another 2GB upgrade during the show – imagine the joy when I saw the folks at the booth bringing up the precious module and installing it. 4GB of DDR3!
The freebies all add up to sweeten the deal, which includes:
-a second battery (unfortunately, a standard one, not one for the modular bay, so I'll keep it wrapped up until the first battery starts to fade)
-2nd and 3rd year local warranty
-generous 320GB hard disk
-Intel 5300 Wireless N (3 antennas)
-port replicator (standard, included in the box)
-Acronis backup software and Norman Security Suite (1-year-free)
Between an ultra-portable and a power-packed model with a huge screen, this is the one that I felt best suited me. It's got more power than ultra portables using ULV (ultra low voltage) CPUs, and it's not nearly as heavy as most 14-inchers and even  13-inchers.
I thought of alternatives from Lenovo, but their Thinkpad X300's too expensive, and the X200 is taking forever to come (it'll be here in end September, one dealer said). Thus, Fujitsu it is! S$3K on the credit card, and there's still a day for the show to run!