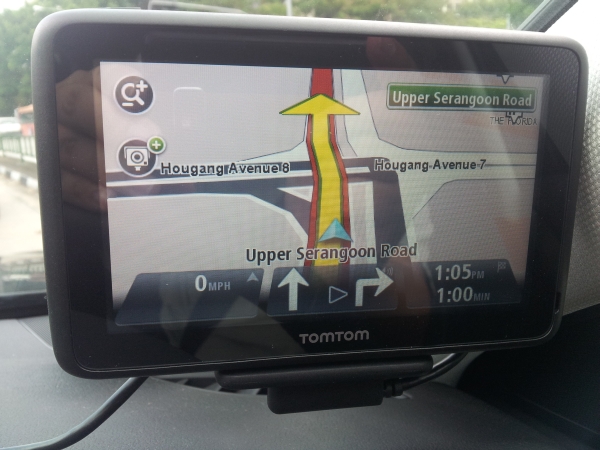 Singapore is so small that if you don't know how to get around town, you really shouldn't be driving around much. That was my response to in-car GPS kits in the past, being the smart driver that I thought I was.
Then I started using Google Maps on my Android phone to start getting around town. I realised the suggested route sometimes helped me rethink how I always went around town – it often got me there without me testing out routes and missing a turn to a building's car park, for example.
Thus when I placed the TomTom Go 2050 in my car a few weeks ago, I was more than happy to hear a friendly female voice tell me how best to get from, say, Takashimaya shopping centre to Alexandra Road.
The first thing that impresses you about TomTom's in-car GPS is the easy click mount. Instead of just "pasting" a big piece of rubber on your wind screen, TomTom's mounting system lets you screw it tightly down as well. It's as solid a mount I have seen.
Then there's the screen. The 5-inch display on the TomTom Go 2050 is bright, sharp and simply a joy to use even in sunny Singapore. During my tests, there was no question of a washed out screen even on bright afternoons.
The capacitive touch screen is also generally responsive when you tap on the large touch-friendly menus or pinch and zoom in and out of maps. Just don't expect the same level of smoothness as your smartphone, of course. Thankfully, that's not that much of an issue as most times, you'd just be tapping in your destination name or postal code.
How useful are the Southeast Asia maps? I only managed to drive around in Singapore and I'd say the unit tracks pretty accurately and speedily – once it is logged on to a navigation satellite, there is little lag in telling where you are and giving the right instructions. It works even though Singapore's roads often include multiple turn-offs close by and are hardly the simpler, grid-like system, say, in New York City.
For folks driving through city traffic, it helps too that the TomTom unit comes with the company's IQ technology that smartly takes the inputs of fellow drivers – taken when they sync their units – to estimate where the usual bottlenecks are.
The only issue I have using it in Singapore – and this probably stumps other GPS units too – is the constant changes on Singapore roads. It's just so hard to keep track of the changes because roads are often dug up, filled up and soon dug up again for laying cables, road diversions and other works.
I was at the busy Upper Serangoon junction near Macpherson a few weeks ago and the GPS did not offer the right directions. The reason: the lanes seemed to have changed, which is not surprising, given the amount of works that have been going on for months now.
If there's something I think the TomTom Go 2050 can improve on, it'd be the time taken to locate my position via a satellite link. Driving out from my apartment building's basement car park, I had waited up to a few minutes for the GPS unit to get a signal and start finding the location.
If you are turning out from a shopping centre onto busy Orchard Road, you'd better have instructions ready before you commit to a wrong turn and end up paying unnecessary road toll.
Still, I'm generally satisfied with the TomTom Go 2050. Though it's not quite cheap at S$399, it's literally plug and play and does the job admirably. It'll be a useful companion to have on a drive to Malaysia. Even when you're driving overseas, you can download the latest travel maps so you can drive, say, in Margaret River in Australia with more confidence than the old, outdated GPS units provided by the rental companies.