Traditionally, computer bazaars have the best deals for the last day, when retailers clear their stock at low, low prices. This is when the crowds rush in.
When I went down today to Comex at noon, and the crowd was already building up. Some good buys/price drops include:
1. D-Link DIR-655 Wireless N router – S$169
No need to trade in your router, no need to bargain. You can even get a pair of (presumably cheapo) speakers for free when you buy one of these mean fellas that can handle loads of Bit-torrent downloads. Original price was S$189 if you trade in an old router.
2. Microsoft Bluetooth Notebook Mouse 500 – S$50 with UOB card
This small Bluetooth mouse for laptop users has a small on-off switch, so you can power if off when you are not using it to save battery. Was S$60, but now extra S$10 off for UOB card holders
3. Suzuki Larisa 141 1 E Li -S$699
Why buy a Netbook that has a slower processor when you can get a full-power notebook for the same price or less? Suzuki's 14-inch laptop comes with Intel dual-core T2390, 2Gb of RAM, 160GB hard disk and a 6-cell battery for just S$699. No OS included – you pay an additional S$100 for Microsoft Windows Vista Home Basic.
4. Garmin nuvi 205 – S$299
The GPS system was being lelong'd at S$299 at booth #6296 around 1.30pm. Yes, the screen is small, but the touch-screen and turn-by-turn voice prompts will be useful to drivers who are hopeless with directions. Good deal for the price.
5. Samsung NV24HD camera – S$449
Attractive offer from Mustapha @ Level 6. The original was S$599, then slashed to S$499 for the show, and now S$449. The 10-meg camera has a good 24mm ultra-wide angle lens and records HD movies as well with stereo sound. With the deal comes freebies like:
-8GB SD card + card reader
-cleaning kit
-screen protector
-mini tripod
-extra lithium battery + camera case
-SPF-75H digital photo frame (this is the real sweetener!)
Oh, by the way, also spotted at the show: these bling bling Toshiba Qosmio portable gaming/AV computers (I won't call them laptops coz they are too heavy to be sitting on your lap!). Strictly for people who want bling to the max.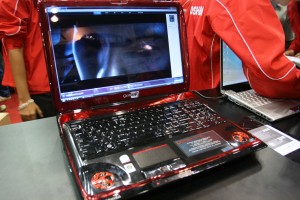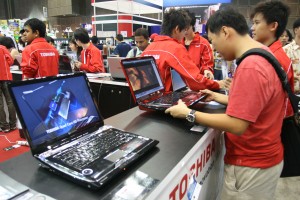 NOTE: There is a Nike race going on in town this afternoon and the whole place around Marina/City Hall is totally congested. Driving is not advisable. When I got back at 3pm, the CTE was jammed up all the way to Bradell exit.