Anyways, here the deals/gadgets that caught my eye at the show.
(1) The Ultimate HP Student Offer (but they were willing to sell to this 39-year-old as well) at Booth 8428 level 4
It's the new HP Pavilion dv5-1034TX running on Centrino 2 with a 512MB GeForce 9600M GT graphics card, Vista Home Premium, 15.4 inch WXGA screen, 2GB RAM, 250GB HDD, DVD-RW, 6-cell battery, integrated TV tuner and webcam going for S$1,699. It's simply the cheapest Centrino 2 laptop with a decent graphics card for gaming that I saw at the show. The entire booth only sells this single product. Make sure this is your benchmark model when checking out a new laptop.
(2) The Lightpulse pen at level 6 Convergent Systems booth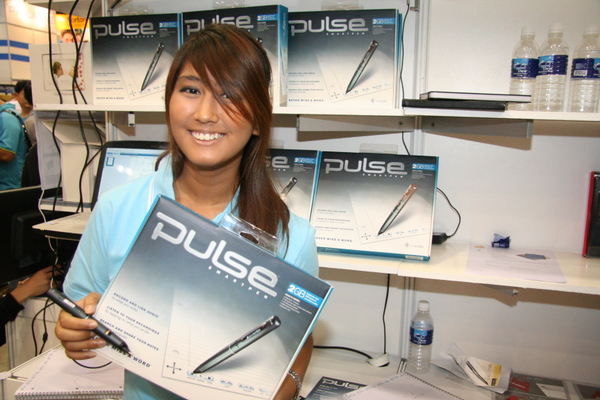 This is a really cool gadget. it's a pen with a built in mic and recorder. As you take notes, you are also recording what the speaker is saying. Now every word that you type is bookmarked to the corresponding portion of the recording, think of it like every word you write is an automatic bookmark.

So if you want to jump to line 3 of your notes to hear what the professor is saying about macroeconomics, just click your pen on that third line and the corresponding recording will playback.
There are loads of other cool stuff you can do, like drawing a set of piano keys and then playing a tune using Do Re Mi, getting the pen to do calculations for you and even translating a foreign language. It's hard to describe this S$265 device – best you check it out for yourself.
(3) The Acer Predator gaming rig – at one of the Acer booths on level 4 near the entrance
There's no discount for this new gaming rig which starts for S$3,999 but is definitely worth looking into. Gamers here have been waiting for Voodoos and Alienwares but they remain dreams. The Predator is possibly the first of such rigs that you can now buy in Singapore. It looks powerful, rugged and just right for my desk at home.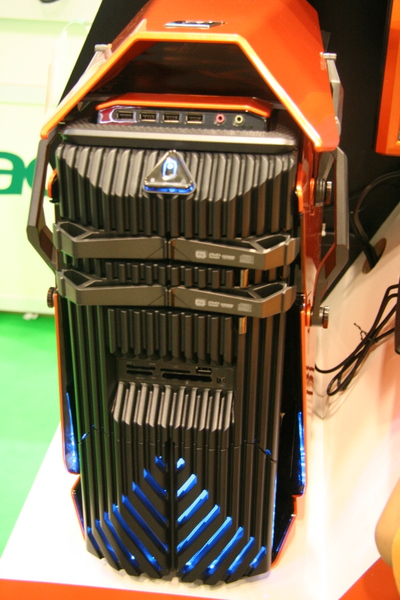 See the top orange cover,  it can be pulled down to reveal ports at the top as well as a dashboard to place your small devices and in Acer's case the brochures!!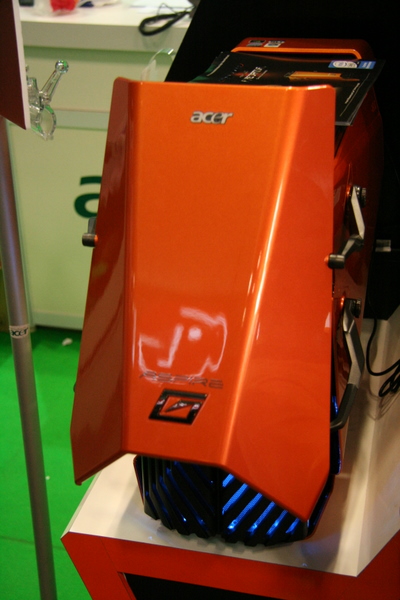 This dude comes with four easy to swap HDD drive bays which you can use to set up RAID 0,1 and even 5 (RAID is basically a system that lets you back-up your hard disk drive on the fly by putting multiple drives, so if one hard disk crashes, the remainder acts as backups, you need at least two drives but its better when you have four) You don't even need to plug in the power and data cables to your hard disk drive. Just slot it in, push it back and it works!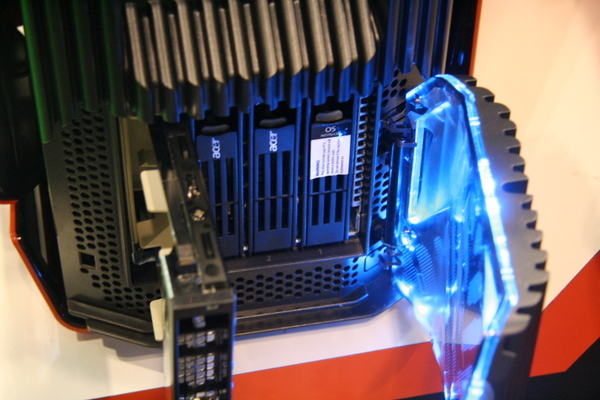 In case you are wondering why its called the PREDATOR, the optical drives sort of ejects with "jaws" holding the drive at the side.
Here are the specs
Processors – Intel Core 2 Extreme quad core QX9650 or Intel Core 2 Quad Q9400
Motherboard – nForce 780i SLI
RAM- up to 8GB DDR2 800
HDD – serial ATA up to 1 TB, four HDD bays
Optical – two drive bays, both with the Jaws look
Graphics – dual Nvidia 9800GTX SLI graphics, single card option available
Ports – front – four USB ports, one card reader, headphone and mic
back – four USB, one firewire, two LAN ports, two eSATA and various audio ports
It also comes with a 24-inch 1920 x 1080 orange screen, G15 gaming laptop and G5 gaming mouse from Logitech. There are two bundles at the show – 3,999 and 5,999. The main difference in the 3,999 does not have Blu-ray, has only a single graphics (think it was 9800GTX) and uses normal Quad Core. The higher-end one uses dual 9800 GTX, Blu-ray and Intel Extreme procs.
Check out www.acer.com.sg/predator for more details.
(4) Samsung 2493HM 24-inch 1920 x 1080 monitor
I liked this monitor a lot – It's 24-inch, Full HD, has HDMI, VGA and DVI and most importantly can pivot, swivel and tilt. List price only $599. I saw it at level 2 Samsung booth and level 4 as well.