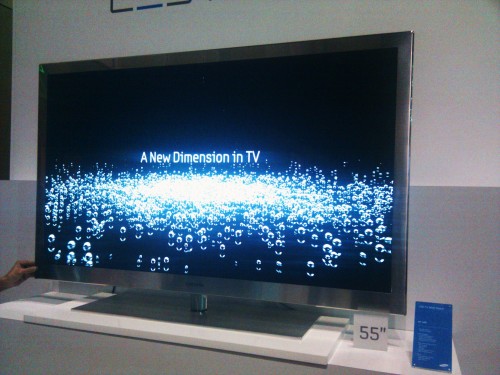 Get ready to put on your 3D glasses and watch Wayne Rooney leap up in 3D to score his latest headed goal. If electronics behemoth Samsung is to be believed, you will be watching 3D programmes that seem to jump off the screen instead of the current flat images we have known for decades.
So confident is the Korean firm that it will launch more than 20 TVs featuring the 3D feature this year. The first models, demo'd today at a regional showcase of its entire line of electronics, will go on sale here in Singapore this month.
Most of the 3D TV models will be out by 2Q 2010, and will include LED, LCD and plasma TV screens.
"We are not offering 3D as a niche product," said Samsung's strategic marketing director Irene Ng at the event today. "We believe 3D will be everywhere."
Though the Samsung show also included cameras, e-books and even washing machines, the star was clearly the new line of TVs from Samsung, which is no. 1 here for TVs here.
Samsung's big-bang announcement comes just a week after Sony unveiled its own 3D TV sets here. Sony's Bravia LX900 will go on sale in the middle of this year.
Just how good is 3D? Well, if you have watched Avatar in 3D, you will know that properly-created videos can create a new level of suspension of disbelief. In Avatar 3D, it's hard to forget the thrill when creatures leap at you from screen.
You can see attempts to replicate some of that on Samsung's screens today. Yes, there is some semblance of "depth" with these upcoming 3D TV sets. A rock band's frontman does seem a little more forward than his band members, and you do see football players leap up in the air more realistically.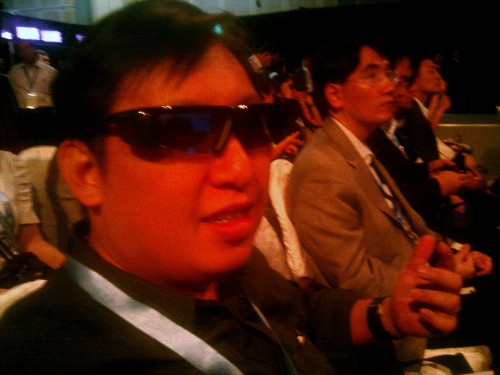 But to be fair, viewing things on a big screen, in a dark theatre, is always something that you'll struggle to replicate at home with a 3D TV. Then, there is the content, which is ramping up, but will still take time.
Yes, the Arsenal-Manchester United match was recently shown in 3D, but you need a lot more content than that to make me stick on a pair of gawky-looking 3D glasses for two hours.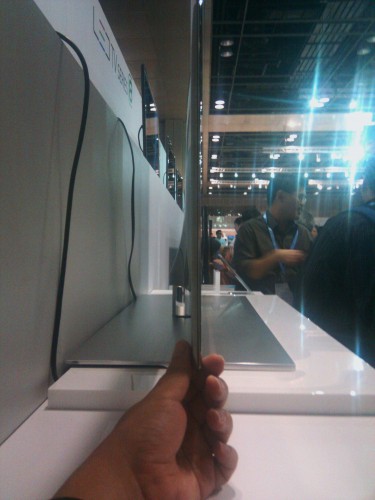 Still, it's good to see how far 3D TV have come. I remember playing a Quake 3 Arena game at a Philips lab at Eindhoven several years back and telling myself: this is either going to be one sick piece of technology or it's going to make me sick donning those glasses.
Today, the jury is still out. But we are surely moving towards 3D TV on the mass market. And I suspect a lot of Samsung's initial 3D TV buyers will buy them for their looks rather than 3D.
The new C9000 LED TV, for example, is only as thick as a pencil. Yes, we can literally say its pencil thin. It's not the thinnest around (LG holds that record now), but with a silver bezel, the new range from Samsung stands out well against the black-framed models we are so used to now.
Beyond looks, the C9000 impresses too with a bundled remote controller that not only has the usual wireless wizardry, but doubles up as a second screen.
In other words, you can stream another channel, via Wi-Fi, onto the remote even as you are watching the big screen. I can imagine watching two football matches at the same time with this setup, which requires that you stream the second video via a separate but standard Wi-Fi router.
The remote, which also works with other high-end Samsung TVs, is sold separately as well. But the asking price of US$350 is hefty – it could well net you a low-end TV these days. Also, get ready to charge your remote often if you fire up that Wi-Fi link all the time.