Over here in Hong Kong, all you need is a high definition (HD) set top box (that's of the DTMB standard) and you can receive free HD broadcasts – so you can watch your TVB serials in full HD glory. When my freebie HDTV box literally went out with a pop, I went about looking for a digital media player that would be able to stream music, photos and videos from my Synology DS210j network attached storage (NAS) AND integrate the HDTV receiver into a single box.
And my search ended with the HiMedia (海美迪) HD600B-TV – which is a squarish looking do-it-all box that's the localised-for-Hong Kong version of the HD500D-TH.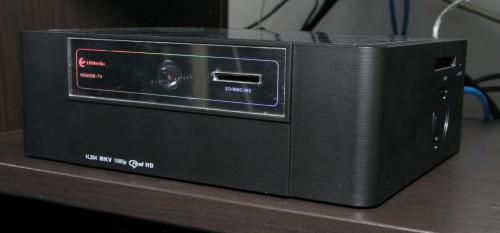 A Hi what? Well, HiMedia is a Shenzhen-based company and my wife was surprised that I sprung for this made and designed in China product. Well, it certainly wasn't its looks or its inspiring branding/model name that won me over. I guess it was its insides – the fact that it promised to plug right into my home network and save me time spent on installation and configuration, plus its price,  and the fact that I don't have to ingest this made in China device, that led me to it. The lack of competition in this space also played a part – for while there are loads of digital media players out there (but practically all made in China too), few integrate the HDTV receiver.
Interestingly, one of the shops in Golden Computer Centre tried to pass off the HD600B-TV as a 'fake' and the HD500B-TH as the real thing but don't be fooled – the HD600B-TV is the real local version – with a local distributor that will warrant it for a year.
No major complaints on the HDTV receiver side of things, except that compared to dedicated set top boxes, the HD600B-TV boots up slower. It takes about half a minute from the moment you hit the power button to the point where the HD signal hits your screen – still tolerable for me. Dedicated set top boxes start up faster but they wouldn't let you just pull up your Electronic Programming Guide on the screen and choose the programme you want to record simply by highlighting the programme and hitting the "Enter" button.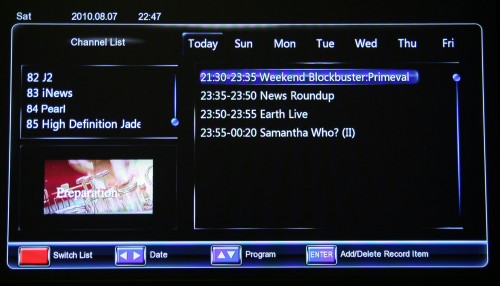 Picture quality was good, audio was fine, and it switched channels fast enough. Recording (either onto a 3.5" SATA HDD that slots into it or a USB storage device – unfortunately, you can't record onto a NAS) worked well enough, and saves the recording as a .TS file. Recorded picture quality was recorded in the same resolution as your video display mode – and generally just as good as the broadcast signal. However, the audio was a little softer and there doesn't seem to be a fix for it besides simply turning up the volume a little more during playback.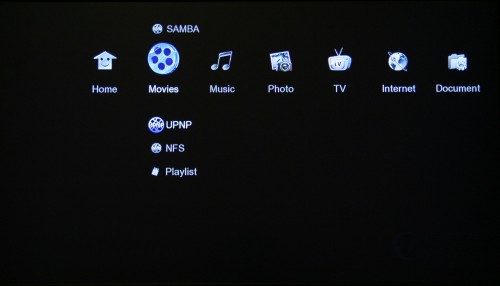 On the digital media player side of it – this thing plays every format you throw at it – at least everything that I have. To hook up to my NAS, it was plug and play via UPnP. I connected it via its 10/100 Ethernet port to my router and soon enough, it found an IP address on my local area network and I could see browse my files on the NAS through the UPnP menu. I was initially worried that playback of 1080p files might choke on the 100 Mbps (and not gigabit) port but they played just fine. You can also attach one of the approved Wireless N dongles to it and do away with the Ethernet cable altogether.
Compared to running a PC with XBMC or a Mac on Plex, this device was definitely not as flexible. For example, your subtitle files have to be in the same directory and have the same filename as your video file, and if you want music for your photo slideshows, you have to either put the music file into the same directory of the photos, or manually start playing the music first before switching to the photo slideshow.
The device had a couple of other nifty features, like a built-in browser to surf the Net but you'd probably need to hook up a keyboard for the experience to work out well. Surfing with a remote control just doesn't cut it. It can also stream from YouTube and Youku via its built-in apps.
At HK$1460 (S$253), I could have bought a HD receiver and a digital media player separately, but I'd have missed out on the ease of recording that comes with the HD600B-TV and I really could live with one less switch to turn on, not to mention one less remote control.
For those concerned about audio quality, besides the RCA line out jacks, the HD600B-TV also sports a TOSLINK optical out and a Coaxial out, and while it has 2 USB ports, I'm not sure if it will work with a USB DAC.
On the whole, the HD600B-TV has worked better than I expected – then again, I must admit I had pretty low expectations to begin with, thanks to the fact that my previous set top box that went "kaput" was also proudly made in Shenzhen.