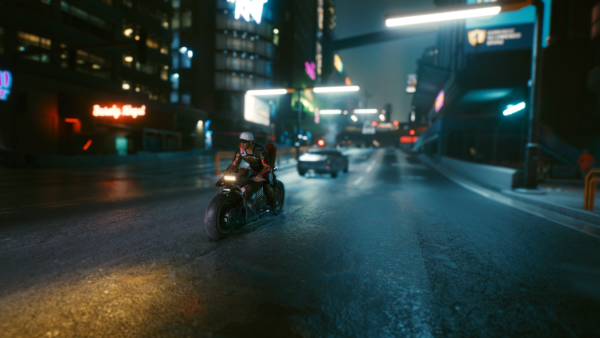 I've just played one of the best looking PC games – Cyberpunk 2077 – with almost all the eye candy turned on, on a 4K OLED TV, and I'm here to tell you it's a beautiful future.
Yes, with all the glory of a dystopian future portrayed in the game, complete with reflections in the water, shadows that mimic real life and bright neon signs drawn from the seminal Bladerunner movies.
Add to this the excellent contrast and "deep" blacks of a large-screen OLED TV and this is as close to gaming graphics nirvana as I've been for a long time.
It's been a long time since a game that demanded so much graphics firepower rewarded gamers with such a beautiful, immersive game world. The last time I plugged in a new graphics card – an AMD HD4870x2 – with such excitement was when I was trying to play Crysis.
Years later, that same promise of a groundbreaking game world is becoming real again, despite some gameplay bugs that Cyberpunk 2077 still possesses.
Perhaps it's fitting that "next-gen" consoles are struggling with the game (part of that is because it's buggy, to be fair) but on the PC, the performance is decent enough to match the demands of the eye candy on show.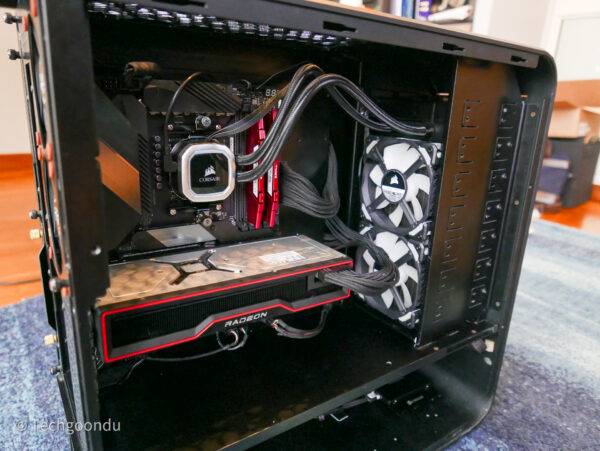 Playing a new game on the cutting edge isn't easy, of course. Besides performance, you also need the gadgets to all work together to bring the picture from your PC to the big screen.
First, here's the setup for the PC:
-AMD Ryzen 7 5800X processor
-Asus ROG Crossfire VIII Hero motherboard
-32GB RAM
-1TB Crucial P5 NVMe solid state drive (SSD)
-Palit Nvidia GeForce RTX 3080 or AMD Radeon RX 6800 XT graphics card
Needless to say, this is a top-notch setup today. Though the Ryzen 7 5800X isn't the most powerful chip from the latest Ryzen series, it still comes with eight cores, which should be good for the Cyberpunk 2077 game. We are playing this at high-resolution (4K) so most of the work will be done by the graphics card.
More importantly, the X570 chipset on the Asus motherboard comes with PCIe 4.0, which is great for SSDs and graphics card that support the faster connection. Here, the Crucial P5 SSD is a zippy drive that loads the game in mere seconds, without any discernable slowdown.
But the star of the PC, of course, is the graphics card. I set up both a Radeon RX 6800 XT that AMD loaned to me as well as my own Nvidia RTX 3080 from Palit, which are just a notch down from the top-end graphics cards to emerge in recent months.
For the screen, I went with a 4K OLED TV from LG – the 48-inch CX that is popular with gamers because of its smaller size that is a good fit for smaller rooms.
It's got HDR10 support as well, and offers the most stunning contrasts on a TV today. Plus, it sports gaming features such as Nvidia's G-Sync and AMD's Freesync and supports 4K running at a smooth 120Hz for jitter-free gameplay.
For videophiles, the LG CX will let you turn up the bells and whistles, such as 4:4:4 chroma subsampling. You also get 10-bit colour and you get to essentially tick all the boxes if you are neurotic about that.
What I need to highlight here is that you need a proper HDMI cable to hook up the TV to your PC. You may see some cables listed as HDMI 2.1 or 48Gbps or 4K@120Hz, but essentially they all refer to what is officially known as Ultra High Speed cables.
Just make sure you read the reviews – there are some cables that don't deliver. I bought from a familiar Singapore brand – ATZ – (S$23 for 3 metres on Amazon.sg) that I've used for the various TVs at home and it works great.
So, can the latest and greatest PC run with Cyberpunk 2077's craziest settings? Well, I can say that I dialled things up to nearly the highest and got pretty good framerates, from what I see in-game with Steam's framerate counter.
With the AMD RX 6800 XT, you can't turn on ray tracing for now, because the game developer has only promised to deliver that after the title has shipped. A shame, unfortunately.
You can still get 30-plus frames per second with settings on Ultra, resolution at 4K and refresh rates at 120Hz. This is with AMD's Freesync turned on on the LG TV. Don't forget you need to turn on HDMI Deep Color on the LG TV's menu too.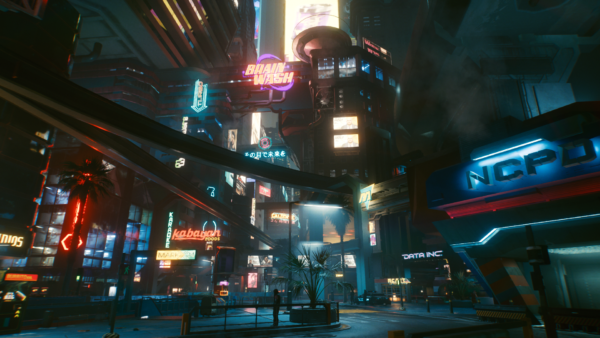 Unfortunately, the much desired 60 frames per second is still not possible with these settings today, as others have found. Still, the game is very good looking and runs smoothly with things fired up almost to the max.
For now, I think Nvidia's RTX 3080 is a better option for Cyberpunk 2077 for two reasons – ray tracing and DLSS (Deep Learning Super Sampling), which deliver vivid scenes in the game while keeping performance great at 50-plus frames per second.
Ray tracing is available on Nvidia's cards now and even with all the options turned on here, the game is playable. Okay, without DLSS turned on, it is too laggy with framerates below 30, but once DLSS is fired up, things are very smooth.
What's DLSS? Essentially, it's an Nvidia technology that runs your game at a lower resolution then uses artificial intelligence (AI) to fill in the gaps and still make things look great. I had the setting to "auto" and frankly, the picture is still excellent.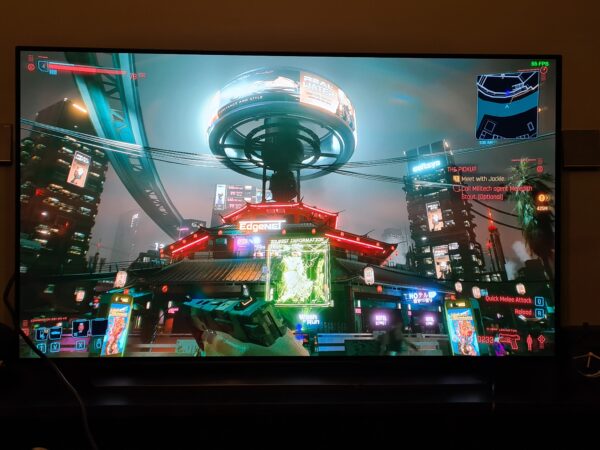 Can you play Cyberpunk 2077 on a lesser display? Well, you can, and things will still look pretty nice, as I am doing now on my old Dell 30-inch monitor meant more for work than games.
If you play competitively, you'd want a faster monitor, of course, and lower resolutions (like Full HD) because latency matters more than the image quality of an immersive world.
But Cyberpunk 2077 is not just a game but a visual feast. It's really hard to turn back from the high contrast, detailed world with fluid motion that you get on the best screen for gaming eye candy today, which turns out to be an OLED TV.
It's unfortunate that LG had sent me a TV that did not seem to have the firmware meant for Singapore and it wanted it back in a hurry.
However, in the short time I had Cyberpunk running on it with the latest PC hardware and TV screen, I understand why many hardcore (and deep-pocketed) gamers have gone down this route.
Building a PC is more expensive than buying a console. An OLED TV costs more than a PC monitor and yes, you still have to worry about all the cables (for 48Gbps or Ultra High Speed cables, lengths above 3 metres are harder to find).
That's not even mentioning audio yet. If you want to get your home theatre speakers playing, your AV receiver should also support all the stuff we talked about here – 4K at 120Hz and others. I didn't hook up my Marantz AV receiver for this test because it only supported 4K at 60Hz.
Yes, all that effort seems crazy. But that's the cutting edge today and I believe we will see more of that becoming more accessible in the years ahead. That's good news.