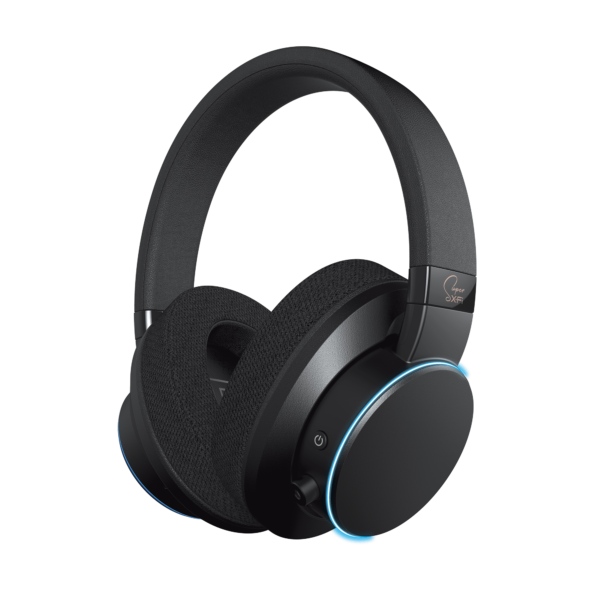 After hearing Creative Technology's SXFI Amp last year, I was curious to find out how well the groundbreaking ear mapping technology could do when integrated in a pair of headphones.
In the SXFI Air, the company's new Bluetooth headphones, I got the answer – the sound quality was just as solid as I had expected. That is, after you overcome a one-time stumbling block, but more on that later.
When it comes to first impressions, the SXFI Air – pronounced Sex-Fi Air, and don't ask me why – the headphones certainly look modest and not quite as flashy as many more costly rivals.
You won't find luxury tanned leather with rich patina or an exposed metallic head band to show off a cool industrial design. In other words, the black or white SXFI Air headphones are a little monotonous, if functional, in their look and feel.
But if you're after substance instead of style, then the SXFI Air won't disappoint. They sound as open, transparent and expansive as I remember the SXFI Amp sounded with compatible earphones, because they are customised to my ears.
It's also here that I have to bring up the small issue mentioned earlier. To get started, you have to first use Creative's mobile app to map your ears with a few good photos, preferably taken by someone else.
This step is simple enough but it's the uploading of this personalised profile onto the headphones that may seem a little confusing for users, despite Creative's efforts.
I made the mistake of connecting my smartphone to the headphones via Bluetooth and found the sound quality strangely poor, only to realise that I should have separately used the mobile app to wirelessly send the profile over before doing any listening.
This is done using another Bluetooth link called Bluetooth Low Energy (LE), which you don't have to worry about as long as you follow the instructions and don't jump the gun. Let the app and the headphones do their job first. Once the profile is uploaded, you can rock and roll.
Sure enough, the customised sound brings a world of difference. There is the open and airy presentation I remember from earlier. Gone is the congestion that many small headphones struggle with when it comes to complex musical material.
On the SXFI Air, a veil seems to be removed, leaving an effortless and easy-to-like sonic profile that lifts the headphones above all but the most expensive rivals.
The SXFI Air's 50mm Neodymium drivers also bring precision and detail, especially when you listen to tracks that come packed with multiple musical instruments, say, in an orchestra.
With live versions of my favourite Hans Zimmer movie soundtracks, for example, the SXFI Air cans adroitly keep instruments separate and distinct, instead of making a muddled mess that is all too common.
If you like some bass to go along, the Creative headphones play along just fine as well. Their reach and extension are clearly superior to many rival headphones that cost more, especially in electronica tracks that you want to be tapping your feet to.
Perhaps most importantly, in the mid-range, where you hear the vocals, the SXFI Air headphones shine. As I remember from testing the SXFI Amp, the experience is about as close to having the singer in front of you as you can get on a pair of headphones.
No, I don't think the SXFI headphones are better than speakers – the bigger boxes still project a more realistic sound – but when it comes to ear cups, Creative is up there among the best for having a wide, deep and believable soundstage.
The sound is not one-dimensional, like a flat wall, but comes across as a 3D image with depth. That is the uniqueness of Creative's so-called holographic audio, which is customised to your ears.
Surprisingly, I get roughly the same results with Bluetooth as with a wired connection to my LG V30+ phone's much-loved DAC (digital-to-analog converter) and amplifier.
I still prefer the slightly less congested sound that the wired connection offers, though I have to admit I'd be hard pressed to single out issues with the Bluetooth 4.2 link. Perhaps support for the aptX HD codec that supports higher-bitrate streaming might be good.
Creative may also want to drop some of the features that it has cramped into the SXFI Air. The audio quality is the biggest selling point and should be the main thing, but the Singapore company has also added an SD Card slot for popping in your own music, sans player.
Okay, it's hard to complain about more features, but sometimes, they can add complexity. On the SXFI, for example, you get a button for source – from Bluetooth or SD Card – to add to an SXFI button that switches the feature on or off.
If it were up to me, I'd keep SXFI always on and do away with that button. Plus, take out the source button by leaving out the SD card slot. They add complexity to an already excellent product.
I would spend some of that cost on design. After all, headphones are personal gadgets that reflect a user's personality. Design has to be high on the list of Creative's priorities.
Here, I'm not sure about the colour rings around the headphones, which Creative says you can customise to your heart's content. They bring the RGB bling so common on gaming gear today, which unfortunately detracts from the great audio delivered on the SXFI Air.
What I do like are the touch-sensitive controls. So, you can swipe your finger on a ear cup to change volume or move tracks along. Very handy on a crowded train or an economy seat on a plane.
To be fair, I don't want to spend too much time on the negatives, because frankly, you can ignore them once you fire up your tunes and get the great sounding audio in your ears.
Let's not forget that, at S$219, the SXFI Air headphones are a steal. If B&W or Sennheiser had come up with the same audio quality but slapped on some leather ear cups and nicer industrial design, you'd be looking at twice the price, or more.
In other words, go listen to the SXFI Air if you are looking for a pair of headphones.
At the time of this review, Creative is even throwing in a free pair of faux leather ear cups to replace the cloth ones, though they are no biggie for me because they both do the most important job of keeping your ears comfortable.
Once you get the music going, you will quickly forget about many of the imperfections of the design or the lack of some luxury feature. These headphones bring great sound at a quite unbeatable price.