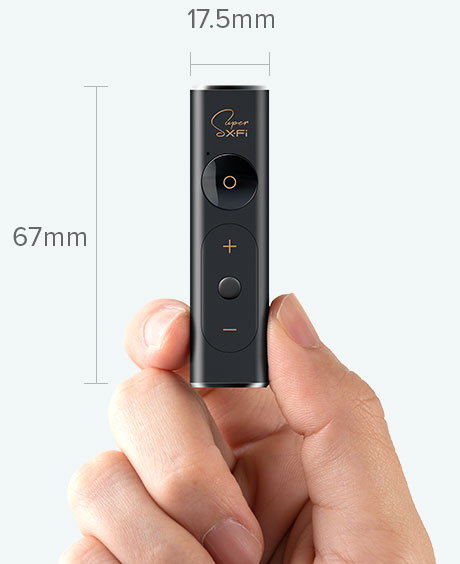 By now, you've probably heard the high praise for the Creative SXFI amp, a small USB drive-sized dongle that promises to transform music on the go.
The Singapore company, which had made its name in digital audio all those years ago before it was a thing, calls the technology a "miracle", after all.
Well, after trying it out for more than a week, I'm here to tell you that the hype is justified – mostly. The sound is truly impressive, with the potential of making modestly priced earphones come across as surprisingly open, natural and detailed in their presentation.
Yet, there's a caveat, like with most things hi-fi. You need to pair the right headphones or earphones with the SXFI amp, so the "miracle" is not unconditional.
During my tests, I mostly used Creative's own Aurvana Trio earphones, which were an absolute delight to have. These S$199 earphones are not bargain basement but still modestly priced.
Plugged into the SXFI amp, they transform into something that come across as costing a few times more. Most impressive is the stunningly airy and uncompressed sound that the amp is capable of delivering.
You can call it 3D, as some reviewers have done. However, it isn't so much the tricky binaural type of surround sound that is impressive, though you can hear something a little reminiscent of that in some tracks.
Instead, what makes the SXFI appealing is an experience that engages. Here 3D means it is not a one-dimensional wall of sound in front of you, or worse, audio that is stuck in your head or in your ears. There is believable depth.
To be fair, this illusion is not as convincing as with a pair of bookshelf or floorstanding speakers, which still better project the image of a band playing in front of you. So, physics still stands.
However, I would rate the SXFI amp and Aurvana Trio combination as one of the best experiences on the go today. They are that good together.
The sound stage is much wider than what you would usually get, unless you already own the fanciest music player and headphones. Detail extraction, from each instrument, is excellent too.
A good all-rounder is how I'd describe Creative's new gadget. The double bass on a number of Diana Krall tracks is clearly articulated. As is the bass in tracks from Modeselektor, which matches the speed and attack in the electronica.
Delivered with precision and control, the low notes are free of bloat. At the same time, they bring the necessary heft to occasions that call for it.
When I fired up Hans Zimmer's score for the Interstellar movie, the church organs and other synthesised sounds slowly scaled up to a grand finale, without ever going over the edge.
How big is the difference without the amp? I had a shock when I plugged the Aurvana Trio directly into my LG V30+ smartphone. Even with the renowned DAC (digital-to-analog converter) on the phone, the earphones sounded a lot less open.
Indeed, they were like what you'd expect of a S$200 pair of earphones – not the S$800 or S$1,000-plus ones from Sennheiser or Campfire Audio that they come close enough to being compared with when plugged into the SXFI amp.
What I'd like a bit more of is a little sparkle in the treble. That's a personal thing – to have the high notes come out bright but not brittle. The SXFI amp can do a little more there.
Clearly, this little gadget isn't just cleverly packaged electronics. You can build many a great DAC and portable amp these days – pocket amps can drive large 600-ohm headphones like the classic Beyerdynamic T1, for example.
What Creative has gone the extra mile with is creating audio profiles based on the ear canal and face shape of each user, so that the audio is customised for you. This is the game changer here.
Before you start using the amp, you have to download an app, which takes photos of both your ears as well as your face and calculates how it should deliver the sound to you. Once done, this personalised profile is stored on your amp unless you reset it.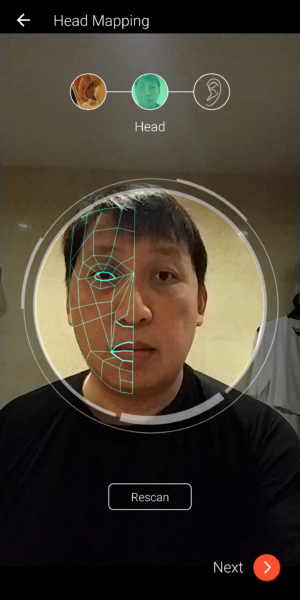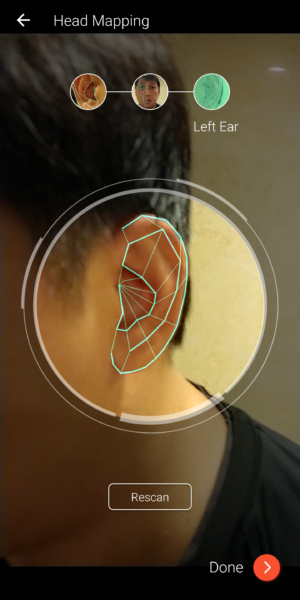 Next, you have to select from a list of earphones or headphones. Besides Creative's own lineup, there are notable ones like the Beyerdynamic DT880 and even Sennheiser's top-end HD800.
It's a pity I haven't had the chance to try them out during this past week that I've had the Creative amp with me. But I'm confident that those headphones and earphones that are specifically profiled will sound great. The question is how much better they would be, since they already sound great on their own.
Here, too, comes the reality check. Earphones or headphones that are not on the list don't nearly sound as impressive. In fact, they sometimes end up better without the SXFI amp.
I took out my trusty travel buddy, the Audio-Technica ATH-ANC33iS earphones, which were not one of the models listed in the SXFI amp and sure enough, they sounded a little off.
There was too much echo and distance, for starters. As a result, the earphones were nowhere nearly as good as the Creative ones. There wasn't a clear stereo image.
Just to confirm this, I plugged my Audio-Technicas into my LG phone and they sounded a lot fuller and richer. This was the the same, whether the earphones' noise cancellation feature was switched on or off.
So, yeah, the SXFI amp can sound worse with some earphones, especially if you are forced to select the generic setting on the SXFI amp. You should definitely try before you buy – if you can.
Still, I won't take anything away from the groundbreaking technology. With the right settings in place, you can expect a pair of regular headphones to do extremely well.
I'd expect Creative to come up with a lot more profiles in the coming weeks, after the app goes live today (the version I had was a beta one shared with the media).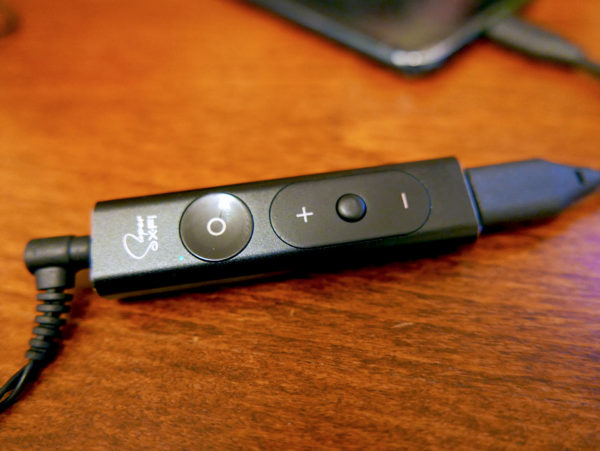 Sound quality aside, I should also note that the SXFI amp draws power from your phone. So, don't leave home with 15 per cent charge left and expect to enjoy a long trip from Yishun to Jurong.
The downside of using up a USB port on your phone is that it's difficult to charge it when you're listening to your music. Even when I placed the phone on my wireless charger on the desk, it won't juice up.
All said, the SXFI amp is nothing short of a breakthrough for Creative. Sim Wong Hoo, the company's founder and CEO, had endured much frustration after seeing Apple's iPod overtake his cherished portable Zen players in the 2000s.
This time, he seems to have come up with another winner. The technology behind the SXFI amp, called Super X-Fi, is a secret sauce that will be hard to replicate. You can't simply pack more electronics in a box to copy it.
If Creative can license this Super X-Fi chip to be used in smartphones and music players, it is looking at a healthy revenue stream.
No, the technology is not perfect. But so far, the results are stunning and they can get only better as Creative maps out more headphones and earphones to customise for users.
For hi-fi nuts, the S$219 SXFI amp is an attractive deal. That's especially if you have been spending hundreds or thousands of dollars chasing a great audio experience. Just make sure you pair the amp with earphones and headphones that work well with it.
I'd also consider the S$199 Aurvana Trio. Paired with the SXFI amp, the modestly priced earphones show how far audio technology has come. It goes beyond great electronics design today.
What you get now is a personalised experience. If an illusion is what we seek through hi-fi, then Creative has come up with the magic in its latest amp.