Where can you experience the epic clash of Norse gods, explore the Nine Realms in Norse mythology and have your heartstrings tugged in a touching father-and-son tale?
All these in God of War (GoW): Ragnarok, the highly-anticipated sequel to the hit title released in 2018. The sequel this year is similarly a third-person action adventure game that focuses on combat and puzzle solving, and is grander, bigger and more spectacular than its predecessor.
Father, son and the Norse Gods
After the epic adventure of 2018, Kratos and his son, Atreus, have settled in a quiet place in Midgard to survive the Fimbulwinter, which is a drastic climate change event that is a prelude to the cataclysmic Ragnarok.
While Kratos yearns to be left alone away from the prophecies and battles with the gods, his son Atreus, who has grown up to be a teenager, wants to satisfy his curiosity and find out what his role is in the prophecies.
In this journey of discovery, the duo travels across all Nine Realms of Norse mythology and uncovers plenty of adventures and occasionally shocking revelations about their destiny.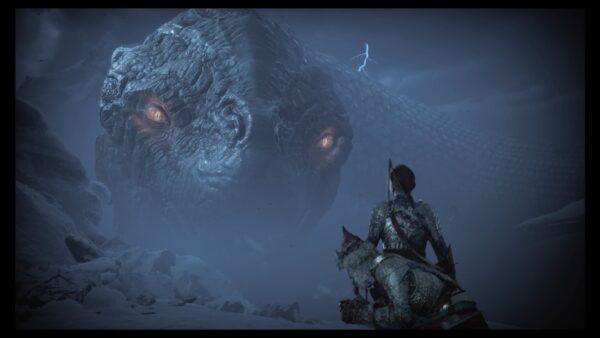 In seeking out his own destiny and learning about his own powers, Atreus takes on quite a few solo missions without his father as a chaperone.
It's heartwarming to see Atreus maturing and coming into his own, and the game gives him a lot of opportunities for his growth as well as building relationships with others.
He also contributes a lot more in the battles together with his father, and is an accomplished climber on his own and does not need to piggyback on his dad to scale walls any more.
While fans of the previous game are used to Kratos being the reticent and grumpy dad, we do see a softer side of him towards Atreus. He struggles with wanting to protect his son but trying not to stifle him, something all parents can relate to.
At its heart, GoW: Ragnarok is a beautiful story about the relationship between father and son, and this comes vividly through the conversations between Kratos, Atreus, and their dialogues with others.
GoW: Ragnarok features a nice balance of comedic relief as well as emotionally heavy moments. Be warned that some scenes are truly emotional and will bring tears to your eyes early in the game, so this is not a good game to show off how tough you are if you are blubbering uncontrollably.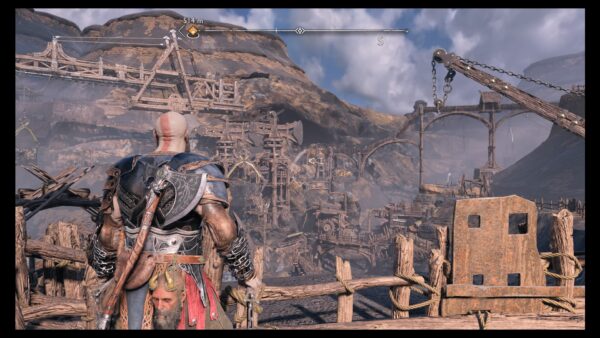 Humour and wisecracks are contributed mostly by Mimir, "the wise one", who is the disembodied head that Kratos carries around on his hip.
Not only does Mimir provide a rich source of lore, he also cracks plenty of ageist jokes at Kratos' expense. Mimir is usually the voice of reason and warning, so he's really a nice guy to have around.
In addition, there are the delightfully helpful dwarven Huldra Brothers, Brok and Sindri, who are occasional companions to Kratos and Atreus and crack some jokes while traveling together.
The brothers also serve as great hosts to the father-son duo in their beautiful home conveniently located in the Realms between Realms, a crossroad between the Nine Realms.
As the God of War, Kratos fights epic battles with gods in Norse mythology, including Freya, Odin and Thor. Sadly, the Thor in GoW: Ragnarok isn't at all like the dashing one in the Marvel Cinematic Universe but more like the beer bellied and scruffy one when he slips into despair.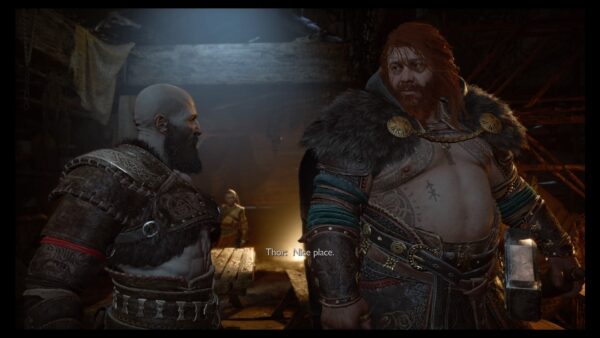 Brawn and brains
Similar to the 2018 game, GoW: Ragnarok features satisfying combat, stylish combos and spectacular finishers for Kratos and Atreus.
With careful aiming, you can use ranged attacks to trip over enemies, score several hits with a boomerang effect, chain melee attacks to devastate groups of enemies, and even unlock new attacks as you level up. I especially enjoy getting other companions to assist in stunning a foe, then going in for a final finisher.
Kratos's weapons include the familiar Leviathan Axe with ice damage and Blades of Chaos with fire damage that were featured in the 2018 game, as well as a variety of shields for Kratos to block and parry with.
There is also a new weapon in the form of a spear which is obtained late in the game. This means a lot of areas need to be revisited in order to unlock all hidden areas, loot and collectibles and you have to solve the puzzles that previously could not be solved without the spear.
While Atreus assists with his bow as well as close-up melee attacks, he also has a new sonic arrow ability, which is key to solving certain puzzles in the game and is also useful in stunning enemies so that daddy Kratos can deliver a killing blow.
Atreus also has his own skill tree for development of his unique abilities, which brings him to the fore as a main character.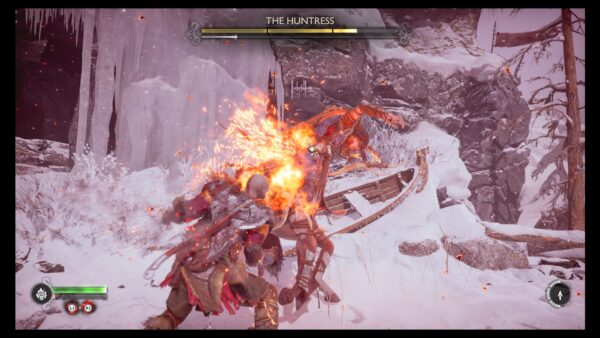 The duo's weapons and armour can be upgraded as they find hacksilver, which is required as payment, as well as rare crafting components in chests and loot drops, such as rawhide, slag deposits and forged iron.
It also pays to smash all the crates, chests and barrels to find healthstones and ragestones that replenish their health and super powerful rage abilities, which can help turn the tide in tough battles.
Another useful item that can be purchased from the dwarves is the Resurrection Stone, which can bring your protagonist to life one time during a tough boss battle.
GoW: Ragnarok features a fabulous variety of enemies to bash, including undead draugrs, flying nightmares, light and dark elves and trolls, just to name a few. Different enemies may have specific resistance to certain elements, so switching weapons is required at times.
There are also boss and mini-boss type of enemies to mix things up, but being a God of War game, there isn't any sneaking involved — all battles are full on attacks with dodging and parrying as the best defense.
GoW: Ragnarok isn't all just about running around bashing enemies mindlessly — there is a good deal of puzzle solving involved as well.
Puzzle mechanisms are quite creative, which includes using the various weapons and abilities that Kratos and Atreus have, as well as reflective surfaces on stones that reflect projectiles, bombs that blow open a new path and contraptions that can be manipulated.
There are also optional locked chests that contain rare and precious loot which require some puzzle-solving to open. Some annoying ones will require you to strike three runic targets on bells and quickly open the locked chest before they stop ringing, or use a pendulum in motion to solve a puzzle before the pendulum stops oscillating.
It got so frustrating for some of them that I gave up after multiple attempts, despite my completist urges to open them all.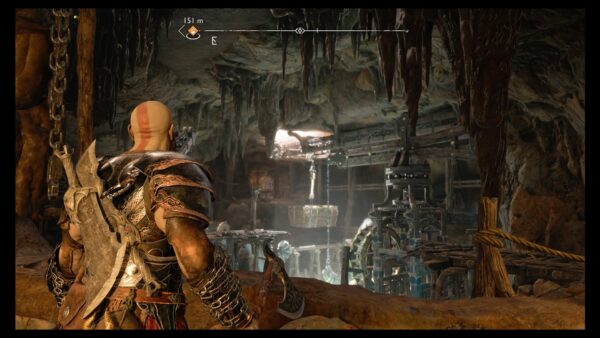 Apart from loot, there are plenty of collectibles which include lore stones, runes, pages of poetry, as well as Odin's ravens to be killed.
What I really enjoyed collecting are the poetry pages by Kvasir, which are a thrill to read as they pay tribute to other great PlayStation games like Horizon Zero Dawn, The Last of Us and Ghost of Tsushima.
Explore the Nine Realms
In terms of the levels, Ragnarok is also much bigger than its predecessor, with all Nine Realms of Norse mythology accessible through a doorway on Yggdrasil, the World Tree. These are Alfheim, Asgard, Niflheim, Helheim, Jotunheim, Midgard, Muspelheim, Svartalfheim, and Vanaheim.
The home of the dwarven brothers in the Realm between Realms also serves as a nice base for the duo to rest, upgrade their gear and enjoy the fellowship of their allies.
The locations are varied and magnificent in their own right, such as the warm and sunny Svartalfheim with geysers, the mysterious forest in the Lost Sanctuary of Jotunheim, and the gleaming towers of Alfheim rich with wondrous flora.
Graphics in GoW: Ragnarok are definitely a step up from its predecessor. The water is clearly more stunning and beautiful than the 2018 game.
Even for certain places that are a revisit from the original game, like the elvish domain of Alfheim, the design and graphical detail in Ragnarok are definitely a notch above.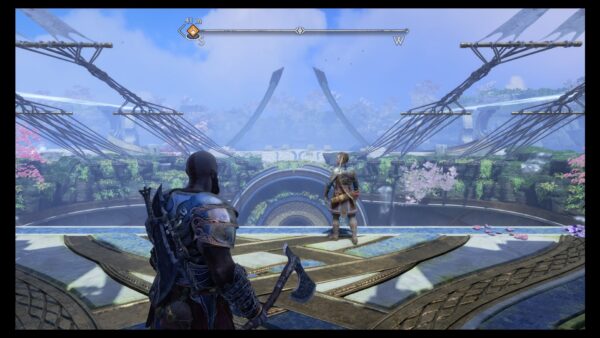 With its focus on telling the story, GoW: Ragnarok features plenty of blockbuster quality cinematic cutscenes which are a real pleasure to watch, and provides a nice break for your fingers from mashing the controller buttons to death.
Emotions of the actors and creatures are captured magnificently, even from the usually stony-faced Kratos, that will tug at your heartstrings.
As a gamer, I really appreciate the game's thoughtful convenience features. One example is that Sindri, the dwarven blacksmith, can traverse realms and set up shop at convenient junctures and gift important items or upgrades to the duo at a timely fashion.
Also, in a wide open desert area, a dogsled conveniently shows up for you to ride on and explore the area. Yes, it might be rather incredulous but the game is a fantasy, so anything that makes my life easier goes!
I really enjoy exploring the Nine Realms, but just like the original GoW, Ragnarok is a limited open-world game as the paths that can be taken are pretty fixed in most maps.
Each area offers a little bit of exploration but is mostly restricted to certain paths, so Kratos and Atreus cannot wander about freely. Solving certain puzzles can unlock a new path to advance forward or to discover rare loot, but you cannot jump off ledges or scale walls freely to explore.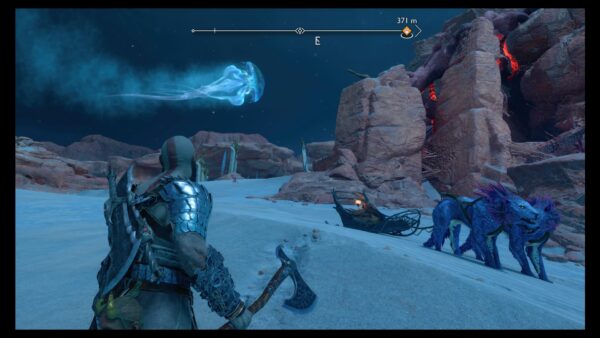 GoW: Ragnarok makes good use of the controller, with sounds of motion and vibrations being sensed in the DualShock controller on my PS4. It should feel even better on the PS5 DualSense controller.
As Kratos is overly forceful in every single action and makes the controller vibrate a lot, I find that my controller loses power very quickly while playing Ragnarok.
I like that the lights on the controller change depending on the events in the game, such as blue when the duo is in water, and red when Kratos's health is low.
GoW: Ragnarok is a pretty lengthy game with 17 chapters and lots of optional side quests, known as favors, which are pretty beefy and substantial in their own right.
Even though I am playing on a basic PS4 (not a pro version), the game runs well and looks great despite the console feeling rather hot during gameplay.
Although there were reports of glitches, I didn't experience any myself, even during hectic boss battles and swinging wildly around while attacking fast-moving enemies. If you are still hanging onto a PS4 like me, there's no reason not to enjoy GoW: Ragnarok.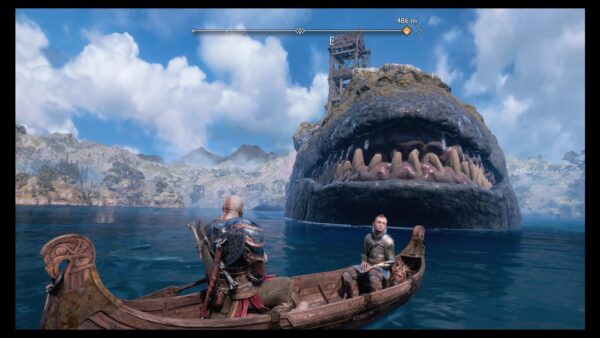 TL;DR
GoW: Ragnarok is an enjoyable and grand epic action game focused on Norse mythology with fabulous combat, characters and story, with varied puzzles to solve and loads of cool collectibles that will please collectors and trophy hunters. The strong theme of family and relationships and Atreus's coming of age also makes for great storytelling.
The best part of the game is the fabulous combat system with the varied use of ranged, melee, support attacks, combos, dodge and parry tactics as well as stylish finishers, which makes every fight full of endless possibilities, and so satisfying to execute. Be warned that there is plenty of brutality in the game, so it's not for the really young kids.
The parts I find lacking are that most levels are not truly open world, and also the annoying and tedious timed puzzles to unlock loot chests which can be really frustrating. Thankfully, most puzzles are quite clever and fun to solve.
GoW: Ragnarok is available for the PlayStation at the PlayStation Store at S$79.90 for the PS4 Standard Edition and S$97.90 for the PS5/PS4 edition and S$109 for the Digital Deluxe Edition with additional gear, digital artbook and soundtrack.
Yaay
Breathtakingly beautiful graphics and environments
Epic Norse mythology with access to all Nine Realms
Satisfying and stylishly executed combat
Naay
Lack of a dedicated photo mode
Tedious timed puzzles
Restricted open world exploration