Atomic Heart is a single-player first-person shooter (FPS) game with plenty of puzzle solving. Set in a reimagined open-world in the 1950s in the Soviet Union, Atomic Heart is reminiscent of iconic and story-driven FPS games like Bioshock and Half-Life.
The game's release is rather controversial at a time Russia is still at war with Ukraine. Although the game started development in 2017, the developer Mundfish has ties, studios and investors in Russia.
To be honest, its setting in the Soviet Union and focus on military technologies make it a rather unsettling experience to play at the present moment.
Thankfully, with the imaginative, fantastical retro setting as well as the enemies being robots and mutants rather than humans, Atomic Heart plays more like a sci-fi shooter than a realistic war game.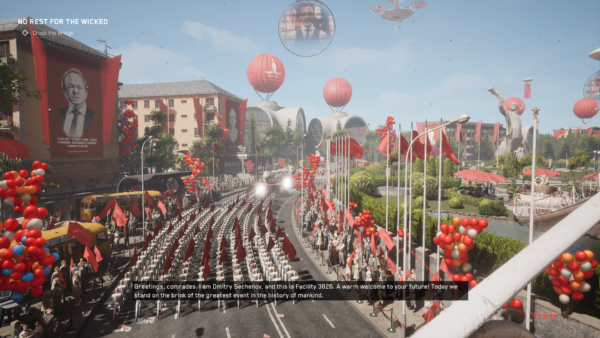 Heart of darkness
Atomic Heart is set in the 1950s, where Russian technology has created groundbreaking artificial intelligence (AI) and robots that can serve humans. The game begins just as the launch of "Kollektiv 2.0", a neural interface network for humans to control robots, was about to take place. But Viktor Petrov, one of the engineers in the project suddenly went rogue and activated a program, making all the robots hostile to humans, and a massacre ensued.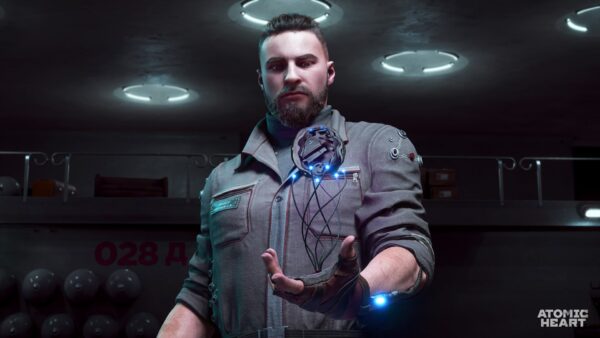 You play Major Sergey Nechaev, codenamed "P-3", who is an elite veteran of the Soviet Union military brought back to life after being severely wounded. He was also physically augmented by Professor Sechenov, the ingenious scientist who led the development of an amorphous substance known as Polymers and advanced artificial intelligence. Out of loyalty to his saviour, P-3 makes it his personal mission to carry out Professor Sechenov's bidding in hunting down the traitorous Petrov and launching the Kollektiv 2.0.
P-3 is a gruff and curt character, with little patience for incessant chatter and setbacks. Unfortunately, his companion, a Polymer glove nicknamed Charles, is a chatty and naggy AI that is full of information and theories, and is not shy to share them.
Atomic Heart's lengthy and action packed introductory scene gives you a taste of the utopia where robots are subservient to humans, and the promise of a future where all menial labour will be undertaken by robots. But it all transforms into a nightmare the moment the robots turn hostile and you have to fight for your life.
Exploration, electrocution and annihilation
Atomic Heart offers up a good mix of combat, puzzle-solving and scripted events that set your heart pounding. With eight main zones to clear, Atomic Heart's open world exploration feels somewhat limited. Although there are certain above ground zones that encourage exploration, much of the game takes place in massive underground labs and bunkers which offer limited exploration. You cannot return to the previous zones once you have cleared them, although you can freely explore and access most places within the zones.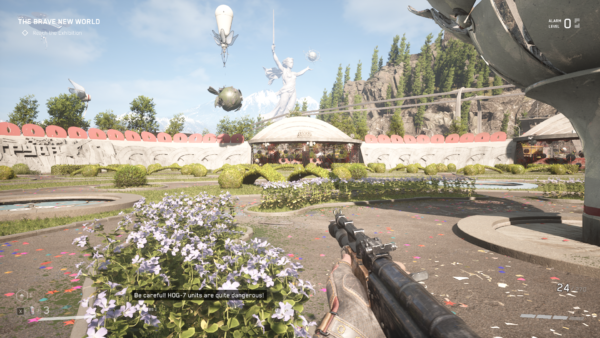 Since the zones are quite compact, there isn't a fast travel option in the game. There are opportunities to drive at times but the driving mechanic is so terrible with poor visibility and awful controls that you're likely to crash anyway.
There are no side quests to speak of, but there are optional areas known as Testing Grounds for additional exploration and rewards. These facilities are filled with puzzles and enemies that reward you with blueprints for creating weapons at the end, so they are worth your time to explore.
Testing Grounds are best located using the map, which works only in the open world areas. I wish there were maps for the subterranean facilities too as I have a tendency to get lost, especially during lengthy fetch quests that force you to explore all the far flung corners of massive underground structures.
The game includes some element of sneaking but it is almost impossible not to be spotted by the many cameras and flying surveillance robots, especially in the open above ground areas.
Cameras can be temporarily disabled but maintenance bots will repair them quickly, so one has to move fast and destroy them again when doubling back. That said, the cameras do play a part in puzzle-solving since they can unlock doors remotely, so they aren't all bad.
Atomic Heart features a good assortment of puzzles, some which are quite ingenious. Some door locks require P-3 to click his fingers in time with flashing lights to unlock, while others need beams of coloured lights to be aligned with the same colours.
Then, there are rooms that require electric shocks to reverse magnetic polarities in order to move platforms around. There is also an innovative element of an amorphous gel known as the Polymer that can be used for traversing buildings and rooms, which adds a different dimension in puzzles.
While there is some quiet time for puzzle solving, Atomic Heart features a host of enemies, both robotic and organic, that are hell-bent on destroying you.
These include menacing moustached "Lab Tech" androids who will attack viciously on sight, and can even break your neck if you are unable to break out of their stranglehold. Other threats come in the form of mutated zombies infected by plant-like lifeforms known as Sprouts.
In addition, there are various forms of robots that you will encounter, such as humanoid androids, flying robots, farmer drones and even boss-type mega robots, which are fast, tough and reminiscent of those encountered in Bioshock.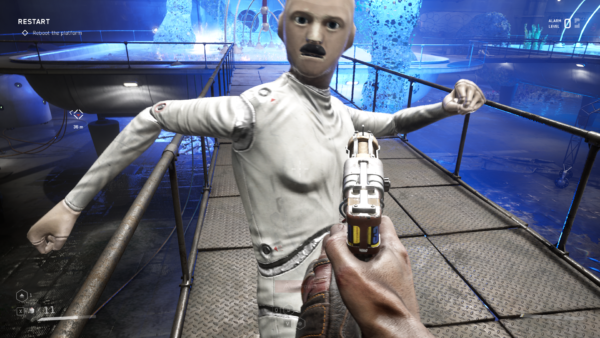 Although most things that are left alive are hostile, there are some memorable non-playable characters (NPCs) that P-3 can have a dialogue with.
One such interesting character is Granny Zima, a cool old lady who is a survivor and helps P-3 out several times in the game, and even offers her mobile home as a respite for P-3. Her cute chicken with a house on its head also provides some comic relief.
There are also characters who have passed on but are still able to hold a conversation with P-3 with their remnant consciousness. Although the constant chatter makes the entire experience less lonely, I found it rather irritating to have both P-3 and Charles prattling on incessantly while I was trying to concentrate on solving puzzles or eliminating enemies.
Even the fridge-like crafting, storage and vending machine known as Nora has a lot to say. As described by P-3, Nora is a "pervy lunatic fridge" who spouts over-the-top sexualised and cringe-worthy lines that will make even a hardened gamer squirm.
Thankfully, she lays it off later in the game as it gets really annoying after many hours. On the flip side, the Nora machine is a blessing as it lets you upgrade weapons and Charles's skill tree, craft new weapons, and create consumables such as Health Capsules, ammo and cartridges for special damage.
It also has the coolest music track in the game, so I do feel very relieved when I see a Nora machine.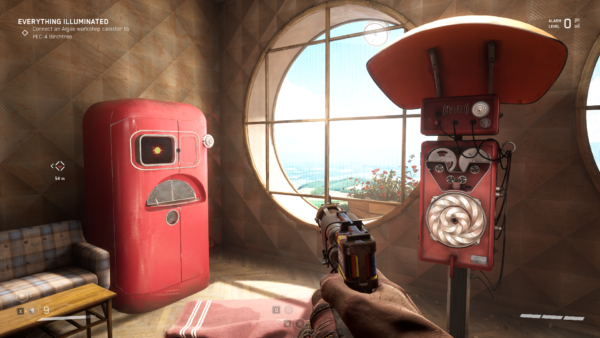 Atomic Heart is quite a forgiving game as there are plenty of safe rooms equipped with save points and Nora machines, which takes away the frustration of accidentally dying after solving an annoying puzzle or eliminating tough enemies.
I heart gear
Atomic Heart has an impressive arsenal of weapons that can be crafted and upgraded. Apart from a cool selection of melee weapons, there are also an assortment of firearms, shock weapons and also huge ballistic weapons.
Dealing with different enemy types requires different weapons, such as shock weapons for robots, firearms for organic enemies and ballistic weapons for those big bosses.
The game features a sophisticated weapon upgrading system where each weapon can be upgraded with various mods, such as enhancing the magazine, barrel and sights, so each weapon can function differently.
For instance, I chose to upgrade the assault rifle with longer range, the shotgun with additional damage, and the handgun with less recoil, so I can easily swap the weapons depending on the proximity, speed and number of foes.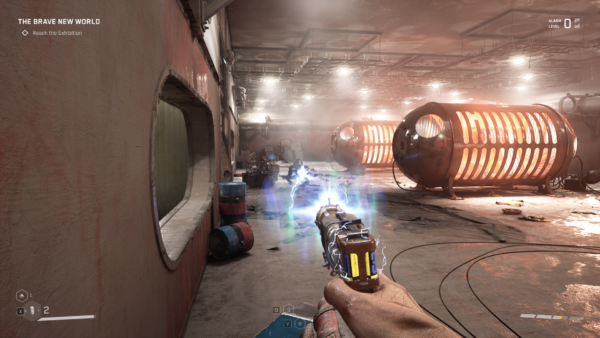 My personal favourite is the Electro pistol which delivers an electrical shock to enemies at medium range. It doesn't require ammo but needs time to recharge, and can truly pack a punch against the many robot enemies when properly modded. When complemented by Charles's "Shok" ability, one can deal satisfying devastation to a large group of robotic enemies!
To craft new weapons, you will need to collect blueprints which are available as rewards when you complete the optional Testing Grounds. To upgrade weapons, various parts need to be scavenged from chests, desks and drawers as well as destroyed robots.
Thankfully, for hoarders and packrats, Atomic Heart has an infinite storage system – whatever cannot fit into the inventory will be stashed away remotely in storage where you can access using the Nora vending machine.
Apart from regular weapons, you can also invest in perks and buffs for Charles that can enhance your survivability, such as a stronger shock ability, faster health regeneration and capacity, as well as faster movement speed.
Although there is no armour for P-3, there is a Polymeric Shield perk that you can equip and activate temporarily to get you through some sticky situations.
For upgrading perks, Neuropolymers are needed and these can be collected by conscientiously scavenging and looting, so leave nothing unopened and unlooted!
Half hearted
Atomic Heart's rich atmosphere and stylish retro Russian décor, with certain elements that seemed to be inspired by Bioshock, creates an impressive world to explore. Its mix of underground bunkers and above ground landscapes keeps things visually interesting.
However, after the strong initial impressions, the various levels and quests start to flat-line and feel rather repetitive. Even the scripted jump scares that make you jump in the beginning gets predictable after a while – dead-looking androids are not always dead, and always check the toilet stalls.
Despite the occasional frenetic action and crowded skies filled with robots, I found that the game runs smoothly on my PC with few glitches, except for occasionally landing in a spot that gets P-3 stuck, though the dodge ability usually frees him. This is quite a feat for an open-world game.
The game also has a generous dose of cinematic cutscenes that move the story along, but I feel that the plot tries too hard to tie everything together and becomes overly convoluted as a result.
The data points with communications between scientists and staff are novel to read initially as they offer some insights into how the labs were run and clues on where to find certain items, but there are a lot of them to sift through. This gets tedious eventually.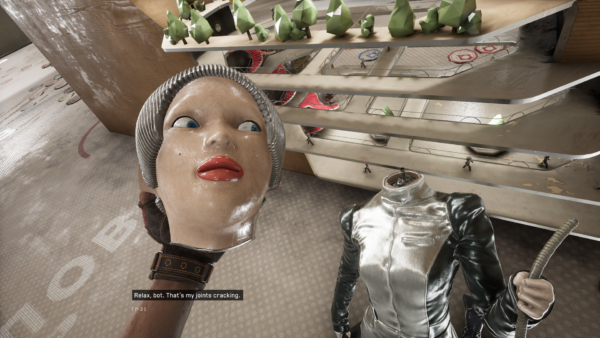 Atomic Heart's soundscape is rather messy with speakers blasting rousing militaristic tunes, swinging 1950s tunes and classical pieces, and occasionally loud opera pieces that drown out the sound of approaching enemies.
In addition, there are loud propaganda messages barking over the speakers and in the communication devices, so much so I had to turn down the volume at times.
In addition, I found the English voice of P-3 to be irritating and switched to the Russian voice instead, which I found suited the gruffness of P-3 better. Even so, P-3 has a bad attitude and a foul mouth, and swears frequently, so keep the kids away.
TL;DR
Atomic Heart scores with its wildly imaginative and memorable, although slightly problematic, Russian militaristic science fiction setting. With stylish retro designs, the game looks great and plays well with few glitches.
It offers enjoyable gameplay with a good mix of action, exploration and puzzle-solving at the start, but the repetitive quests and scripted events soon become predictable and tiresome midway into the game.
Atomic Heart is free to play on Xbox Game Pass subscribers on PC and Xbox. It is available for purchase for Microsoft Windows at S$69.90 on Steam, PlayStation 4 and 5 at S$98.82, and Xbox One and Xbox Series X/S at S$99.75.
Yaay
Stylishly retro visual design and graphics
Smooth and stable gameplay on PC
Good mix of crafting, shooting and puzzle-solving
Naay
Cringey dialogue with excessive swearing and sexual innuendos
Predictable and repetitive quests and scripted events
No mini maps for underground areas