A lot has been written about Google's new flagship phone, the Pixel 4. It has garnered mostly positive reviews with a few concerns expressed.
It is not my intention of going through the same process again. Instead, I would like to talk about how it feels to use the phone as the daily go-to device. There is much that I like about the Pixel 4 but there are also things which disappoint.
First, the basics: The Pixel 4 comes in two sizes, the Pixel 4 which comes with a 5.7-inch screen and the Pixel 4 XL which comes with a 6.3-inch screen. That's not the only difference between the two phones.
The Pixel 4 has a Full HD+ resolution, while the Pixel 4 XL has a Quad HD+ resolution. Both phones come with OLED screens that have a 90Hz refresh rate and both support HDR.
As with previous generation Pixel phones, the Pixel 4 doesn't come with external storage and has just two storage options, 64GB and 128GB. As I'll discuss later, this is can be deal breaker for many.
The price in Singapore for the 64GB variant of the Pixel 4 is S$1,119 and S$1,319 for the Pixel 4 XL. The 128GB models retail for S$1,269 for Pixel 4 and S$1,469 for Pixel 4 XL.
The testing unit that I used was a Pixel 4 XL with 64GB of storage.
Disappointments
Let me start off with what I found disappointing in the Pixel 4.
Top of the list would be storage. While it has been Google's philosophy that storage should be in the cloud, the fact remains that a lot of stuff does get stored in the phone and many current day apps take up quite a bit of space.
As a dedicated Google ecosystem user for more than a decade, I use cloud storage extensively, particularly for photos.
Despite that, when I did a full content transfer from my Samsung Galaxy Note 9 phone, using the cable provided by Google, I found that that 80 per cent of the 64GB was filled up even before I started using the phone.
There are probably apps and other data on my phone which can be deleted to free up space. However, the point is, Google is not selling these phones cheap and the competition offers far more internal space since storage is so cheap.
While at a high-level, the cloud everything is a fine concept, the Pixel 4 will have to compete with other phones which offer greater internal storage and are available in the same price range.
Another disappointment is the battery. The Pixel 4 has a 2,800mAh battery while the Pixel 4 XL has a 3,700mAh battery. This, to my mind, doesn't cut it.
With the phone sporting a 90Hz display (which automatically dials down to 60Hz when not in use) the strain on the battery is pretty obvious. By the early evening, you end up looking for a charger.
Almost all Android phone makers have been kitting out their flagship phones with large batteries in the range of 4,000mAh to keep them powered for a full day. Google definitely bucks the trend and that may not make users happy.
Google makes money when a user interacts with its services through the phone. Obviously, it wants users to be on their phones for more hours a day and yet the devices do not have enough juice to last through the day when used in power mode.
The third and final point is not really a disappointment but rather a question mark. It's about the design.
Major phone makers like Samsung, Apple and Huawei, against whose products the Pixel 4 is competing, are really piling on the design bling.
Look at their almost bezel-less screens, metallic or high gloss bodies and other shiny stuff that make the phones almost look like a piece of jewellery.
Next to that, the Pixel 4 with its (relatively) big bezels, top forehead and thick chin front display, looks, well so 2016-ish.
Personally, I have no issues with that and frankly the design kind of grows on you. In any case, you'd probably be using a fancy case to protect your phone. Yet, at this high price point, looks or the lack thereof, could be an issue for some buyers.
Things to really like
Beyond the marketing hype of bezel-less screens and aluminium body, ultimately you spend less time admiring your phone's "good looks" and more in using it for various purposes.
In other words, it's what's inside the phone that matters the most once you have made purchase decision based on "looks".
In this respect, the Pixel 4 is a dream machine, especially for someone who's invested heavily in the Google ecosystem.
Its true for all Android phones, and that means close to 90 per cent of all smartphones out there, plug into the Google ecosystem, but the user experience on the Pixel 4 takes it to another level.
The Pixel 4 and 4 XL run on Google's latest operating system, Android 10, out of the box, the only Android phone to do so at present. That's a big plus for folks who want the latest.
While not much has changed dramatically in the latest generation, the software is silky smooth, especially since it doesn't have a phone maker's own skin or launcher running on top of it.
Google Assistant is integrated even more deeply into the Pixel 4, making for much quicker response times.
Google has introduced an on-device version of its language modes that run in its data centres. The net result is many Google Assistant interactions take place on the device without the need to connect to the cloud.
This is especially so for relatively simple tasks like setting an alarm or starting the timer. The Assistant now supports "continued conversations" — a first for smart phones.
This means you will be able to ask follow-up questions to the Assistant without having to say the trigger phrase "Hey Google". It's not quite there yet but it's obvious that Google is working towards a full hands-free experience.
The phone comes with a new radar technology, called Soli, that allows it to identify when a user is about to reach for the phone so that the screen can turn on and be ready and waiting.
Motion Sense, combined with Google's Face unlock, makes getting into the phone an ultra-quick experience. In fact, the phone might be too eager to open up — the Pixel 4's Face unlock feature works whether you're staring at your phone or not.
This means someone could theoretically put your phone in front of your face when you are sleeping and gain access to it. Google is aware of this glitch and working on a fix that will require both your eyes to be open to unlock the device.
Unfortunately, Google has ditched the finger printer sensor as a second option to unlock the phone, something that the Pixel 3 had.
Soli is an interesting addition even though its use cases are very limited at present. It creates a bubble around the phone and any object (for example your hand) that comes within the bubble triggers Soli. In future, this could be used by app developers to devise new use cases.
Motion Sense, along with quick gestures, allows users to skip songs with just a wave of the hand. While in theory this is a neat little trick, it still only works with Google Music and Spotify. To make it really interesting Google needs to push for more apps that use this feature.
Also, more than song skipping, volume control is more useful and Motion Sense still can't do that but according to the good folks at Google this might come in the near future.
Apart from songs, the alarm functions are integrated with Motion Sense so it is possible to turn off the alarm with a hand motion.
Camera to die for
As with previous generations of Pixel phones, the camera is the phone's most outstanding feature. Both the Pixel 4 and 4 XL have a rear-facing 12-megapixel Dual Pixel sensor and a 16-megapixel telephoto lens for 2x zoom.
This results in wider range of photographs particularly for portrait shots where the two lenses capture in dept information. There's also a hyperspectral sensor in the rear camera array to help improve image quality.
Another new feature is live HDR+. This allows users to preview HDR+ processing in the camera app before taking the photo. Yet another useful addition is Dual Exposure controls, which let users tweak shadows and highlights in a shot before taking the photo.
The Pixel 4s also features machine learning-based white balancing in all photo modes, not just in Night Sight mode like in the Pixel 3. This results in more accurate colours across the board, not just in Night Sight mode. The front-facing camera comes with 8 megapixels and takes very decent pictures as well.
Most top-end phones today have superb photo taking abilities. For example, the Samsung Galaxy S and Note series have a Pro mode where multiple manual adjustments are possible, almost like a DLSR.
However, the practical problem is when you are clicking a quick shot at a party or when you are travelling you don't often have the time to make these manual adjustments which are a bit tricky,
Unlike DSLRs which have dedicated buttons for each adjustment, you need to open various features on the screen and then adjust, taking up valuable time.
They also require a good understanding of photography in order to used properly. In the end, you more often than not end up taking pictures in auto mode.
This is where the Pixel 4 scores big — it has just three adjustments on screen, irrespective of the shooting mode. They are zoom and background and foreground lighting.
The rest is done by Google's superb artificial intelligence (AI) driven software programme. Moreover, the foreground and background lighting adjustment can be seen on the screen thanks to HDR+. The result is almost every shot looking like it came out of a DSLR camera.
The Pixel 4's zoom really works wonders and is easily the best in class as these two photos will testify: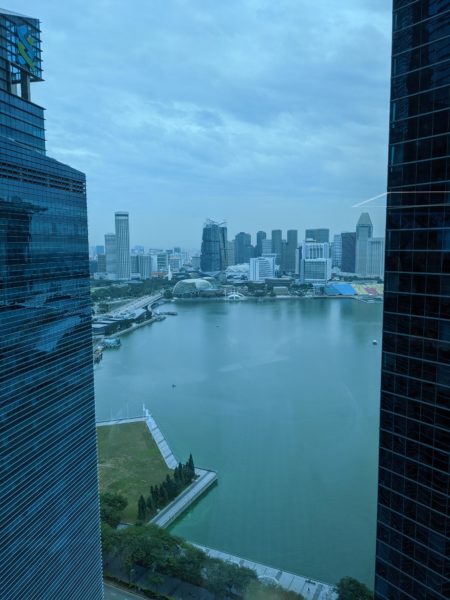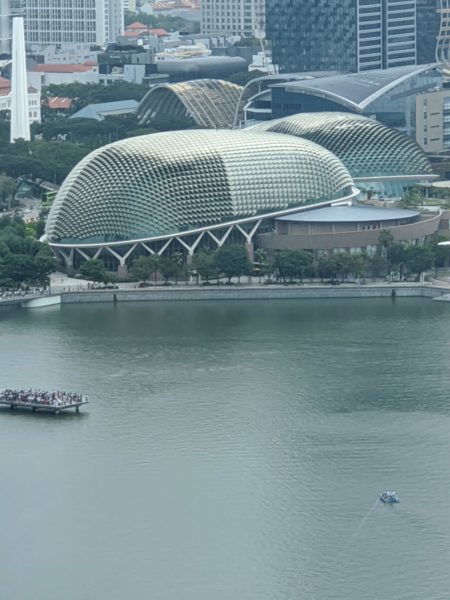 The first picture was taken without zoom while the second one taken with full zoom from the same place.
Notice that even at extreme zoom the image, comes out well with very little artefacts or pixelation. Both pictures are straight out of the camera without any editing.
Low light photography is also very impressive as this following picture will testify. It is taken in extreme low light, handheld, using the phone's Night Mode.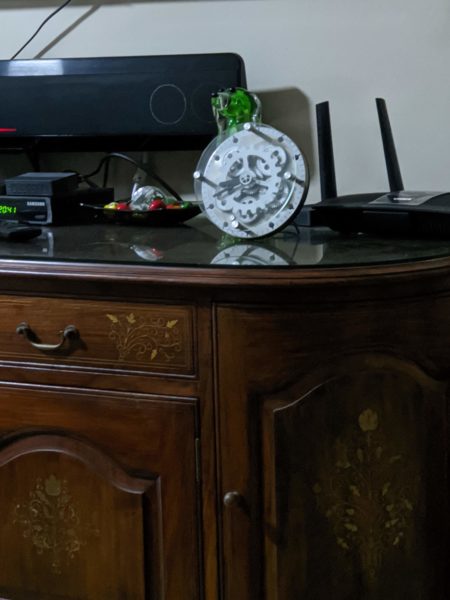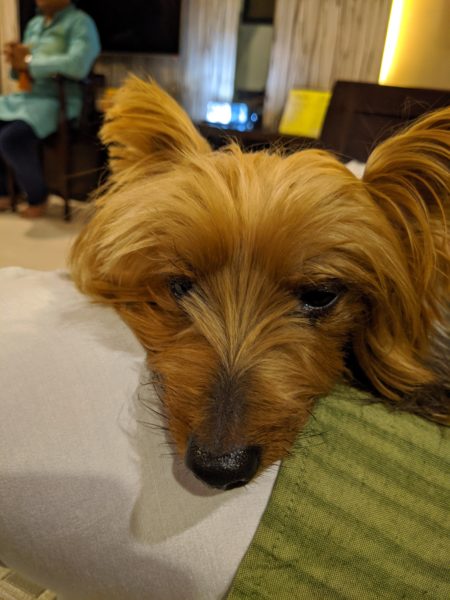 As a last exhibit of the camera's ability, here's my friend's adorable dog. The picture is taken indoors with complicated lighting. Note the shadow of the dog's face, that's not easy to get.
Conclusion
My final impression is that, there's a lot to like about the phone and I could consider making this my next regular device.
However, there's a big caveat here. And that is I'm fully invested in the Google eco-system. While any Android phone is good enough to enjoy the many benefits of the Google ecosystem, the Pixel 4 brings the user experience to a new level.
For power Google ecosystem users, this could be a big draw. Alerts, notifications and how the phone behaves when various parts of the ecosystem are in use make the experience really seamless.
However, for those who are less tied to the Google ecosystems, this user experience may not be as much as a draw. Unlike the Apple ecosystem, it is possible to enjoy Google products without having to buy the Pixel lineup of phones.
In such cases, the shortcomings mentioned earlier might just be a major factor to influence a buying decision. Price and looks would definitely be important. At the end of the day, if you enjoy using Android phones, this is the ultimate machine for you.