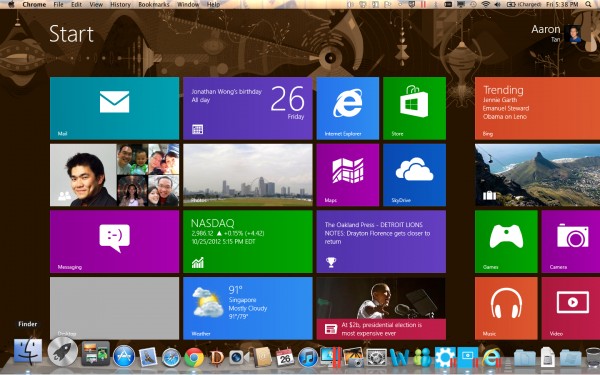 Running Windows and other operating systems (OS) on a Mac has never been easier, thanks to desktop virtualisation software that has become snappier and easier to use in recent years.
While you can install Windows on a Mac with Apple's Boot Camp software, you will not be able to work with Mac and Windows applications simultaneously. Moreover, the overheads of running a virtualised copy of an OS has been reduced significantly, which means programs can now run nearly as fast as those that work in a host OS.
The desktop virtualisation market for Mac computers is currently dominated by two players — Parallels and VMware — which have been slugging it out to gain a leg up over the other in performance, desktop integration and support for the latest features in Mac OS X.
Earlier in September, Parallels, which commands nearly 80 percent of the market, took the wraps off Parallels Desktop 8 (PD8), the latest iteration of its virtualisation application for Mac OS X. With it comes a slew of new features that take advantage of the Retina displays of new MacBooks, improved performance and seamless OS integration.
I installed PD8 on a 2011 MacBook Pro that runs on Mac OS X Lion and was surprised by its speedy performance, particularly when using Windows 8 as the guest OS. Parallels claims PD8 is 30 percent faster than the previous version, and this is evident with the snappy Metro-based apps, smooth scrolling and transitions, as well as seamless switching between Mac and Windows 8 apps in Coherence mode.
With PD8, Parallels gave Coherence mode a shot in the arm by making it easy to access and quit Windows 8 apps directly from the Mac OS X Dock, as well as switch between application windows with Mac OS X Lion's Mission Control.
You can also place your favourite apps in the Dock or Launchpad for easy access. Note though, that if your Windows virtual machine (VM) isn't running, you'd still have to wait for the OS to load completely before the apps can be launched.
Like previous implementations of Coherence mode, you can view Windows system tray settings and indicators such as volume, power and systems notifications on the Mac OS menu bar. If you are on Mountain Lion, PD8 will also send Windows notifications like Messenger and Mail alerts to the Notification Centre.
Coherence mode also includes a new Crystal Menu. This can be activated by clicking on the Coherence mode icon in the Mac OS X menu bar, followed by the Alt key, to reveal more options such as Virtual Machines List that lists your VMs, along with their CPU and memory consumption levels.
With Retina support in PD8, graphics artists and video producers can expect their Windows-only applications to look just as good on a MacBook Pro with Retina display, that is, if they have the moolah to afford those expensive machines.
A feature I found useful while running my Windows 8 VM as a separate application window on its own is "Sticky Mouse". As Windows 8 relies on "hot corners" to launch controls such as the charms bar, moving your mouse to each of the four corners will snap the mouse cursor into place. Without this, it would be difficult to pinpoint the exact position for activating those controls.
Another notable feature is the addition of an Internet Explorer (IE) button to the Safari toolbar as part of the installation of PD8. This comes in handy when you encounter websites like Singpass that work best with IE.
All in, even if the Windows 8 features do not apply to folks who are happy to stay with Windows 7, the performance improvement over PD7 and enhanced Coherence mode should provide enough reasons to upgrade, especially if you are still using Parallels Desktop 6.