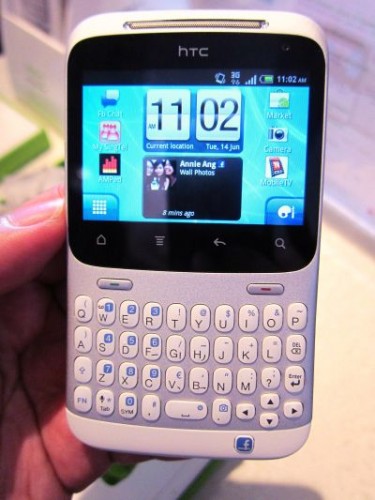 I'll be honest I wasn't the most excited when I headed to HTC's launch of the ChaCha Facebook phone today. How would it hold a candle to the dual-core-powered phones boasting large screens that are coming out just about now, I had asked.
Well, the answer is the interface, ease of use and most importantly, value to first-time smartphone users.
Given away free by SingTel when you sign up for any mobile plan with a data bundle (or S$438 without contract at SingTel shops), the phone comes with both a handy 2.6-inch touch-screen and a Qwerty keyboard for hardcore messaging addicts as well as heavy Facebook and Twitter users.
At this price, this Android 2.3 device is definitely the first phone to consider before others. If I were working for Huawei, which launched similar low-end Android devices in Singapore this month, I'd be really unhappy to see the ChaCha. If I were Research in Motion, I'd be worried my customers will switch from their familar keyboard-based Blackberrys to the ChaCha's really handy keyboard.
At its asking price, the HTC gizmo will appeal greatly to those who want both a keyboard and a touchscreen. And surprisingly, with an 800MHz processor, the interface is pretty fast when you swipe across the various screens and betrays no lag.
Fiddling with it during the launch today, I am reminded of how easy it was to pick up a Blackberry and simply use it to text away. In terms of user-friendliness, the ChaCha is one phone you can pass to a first-time smartphone user and not have to "teach" the person how to use it.
The other thing to note is how deep HTC has integrated Facebook functions. Sure, there's the Facebook button at the bottom that lets you instantly share your status online, or any picture, video or even webpage that you come across on screen.
But the ChaCha also has interesting features like a Facebook chat widget, which lets you chat with friends on Facebook's chat feature just like regular Google Talk or SMS. Again, for the first-time smartphone user, the interface is familiar and makes it really easy to take the first steps onto social networks.
What also impresses me is the hardware, which is stellar for a phone aimed at the low-end. There's a 5-meg camera with LED flash, microSD slot to complement the 512MB storage and an 1,250mAh battery to last you an entire day of updating your Facebook status.
Very significantly, the difference between this phone and others that are slightly cheaper is the build. With a metallic mid-body section and curved to fit the fingers for easier typing and for answering calls, the 124g frame feels solid to hold. It handles like a more expensive phone.
What's there not to like about the ChaCha? Not much, except for one or two apps that may not run well in the small 480 x 320 screen. Angry Birds ran fine, as journalists were shown this morning, but I'm told one office productivity app may not run correctly at the ChaCha's resolution.
That doesn't detract much from the appeal of the ChaCha though. Overall, it's a great phone to buy for first-time smartphone users – it's top of my list now, in fact, for that segment. Plus, there's a nice purple metallic version if you don't like the regular white one.