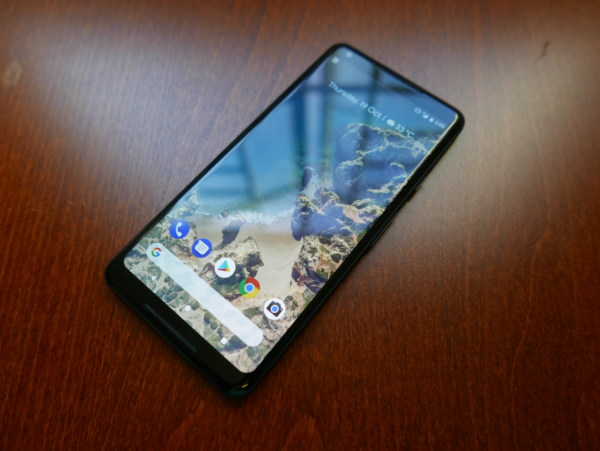 After the success of the original Pixel, it's easy to see why the next Google phone is so hyped up before its launch. A day in your hands and the Pixel 2 XL is so clearly the pure Google experience that fans of its Android system and online services seek. 
The phone is packed with the latest Google smart services, such as a song recognition app that automatically tells you what track you're listening to. Or an on-demand object recognition app that recognises objects you take a picture of.
With the latest Android 8.0, the phone also offers an unrivalled, buttery-smooth interface. As Google phones go, whether a Pixel or Nexus, that's what you'd expect out of the box and the Pixel 2 XL delivers.
It's clear Google is using the Pixel 2 XL, along with the smaller Pixel 2 launched earlier this month, to showcase a cutting-edge mobile experience. It's also a guide to other Android phone makers.
Artificial intelligence (AI) is a big part of that, especially with supposedly improved on-chip performance. Heard that before? Yes, Huawei just launched such a phone – the Mate 10 – this week.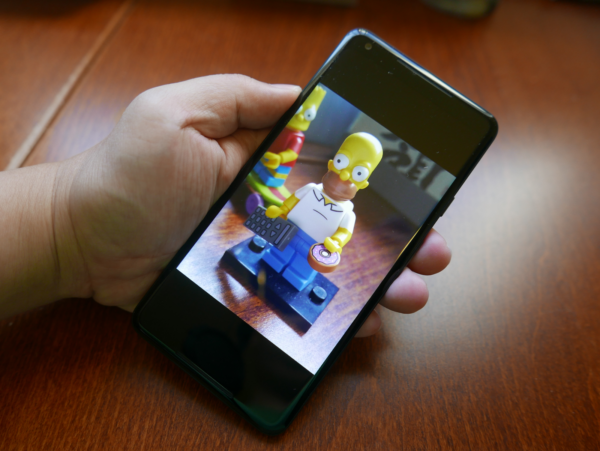 What the Mate 10, or indeed any Android phone, won't have for now are some Google Pixel-only nifty features.
One of them is the Now Playing app, which lets the phone automatically find out what song is playing in the background. Yes, like Shazam, but it does this when the phone screen is locked, so you don't have to even fire up an app.
It's not foolproof, of course. Because it checks for a song only every minute, things are not updated on the fly. The phone can detect a song within seconds, but if you change songs quickly, it has to catch up. I switched from one Adele song to another within a minute, and the Pixel 2 XL took a while to update the new song title.
Another cool feature comes in the form of image recognition. A small icon on the photo app lets you instantly query what the object is. Okay, if you look for a famous landmark, it might work, as Google executives showed during a demo here in Singapore last week.
However, it didn't work as well for me when it came to random items and locations that are not as well known. It didn't know tempura for sure – it thought it was panko. A bowl of Japanese somen? It replies "al dente". Close enough. Okay, Google.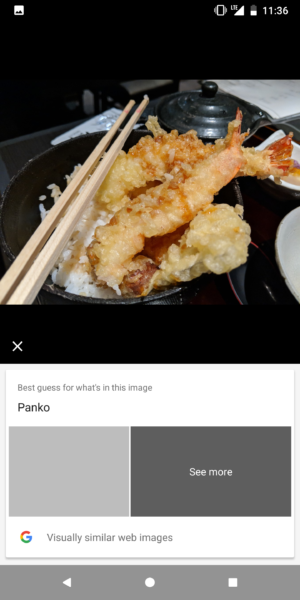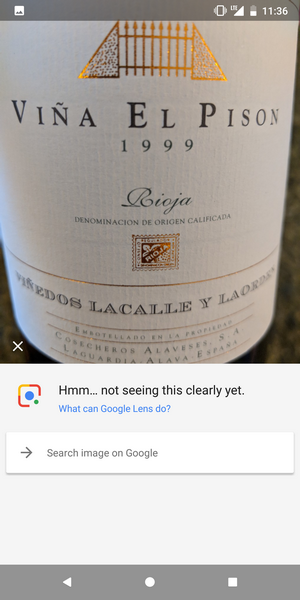 And what of a night scene in Punggol? Google thought it was a canola field. It didn't know a wine label either, so I guess my Vivino wine app is safe for now.
It's early days, I know, but clearly Google has some work to do for its AI. It's not the all-knowing virtual assistant yet, though the interface and speed displayed show promise. It's the accuracy that needs work.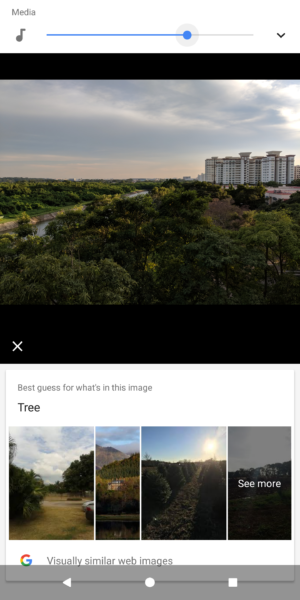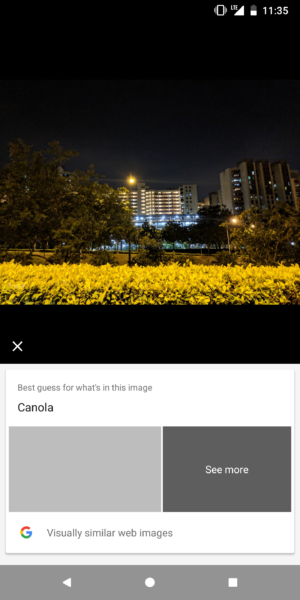 What about the phone itself? I have to say the hardware design does not excite half as much as the services it delivers.
While the design isn't downright old-fashioned, it lacks the polish that rivals in the cut-throat flagship segment now have. The bezel around the screen, while slimmer than the original Pixel, is a far cry from what you get on bezel-less options on Samsung or LG, for example.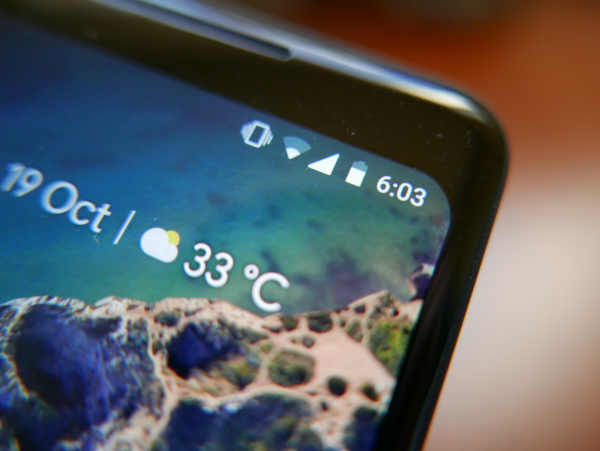 Place the Pixel 2 XL next to a Galaxy S8+, and it's clear who wins the beauty contest. In terms of style, Google still has a lot to learn from the best in design.
For the back of the phone, it has gone for the rather dated look of a shiny black top-end with a smooth matt finish at the bottom. This looks somewhat tacky and plasticky at a time when glass and metal are preferred.
I know, the Pixel 2 XL uses a water-resistant aluminium unibody, but this isn't quite obvious. Google should just keep things simple – a single matt and fingerprint-free surface, and the Pixel 2 XL would have looked much better.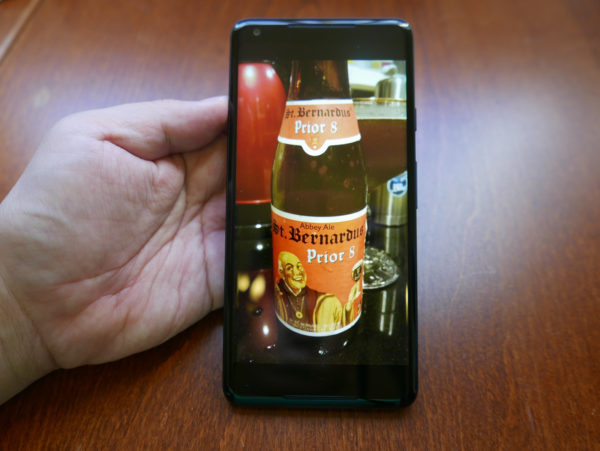 Fortunately, there's no faulting the robust engine that's in the Pixel 2 XL. The Qualcomm Snapdragon 835 chip is the "latest and greatest", so it should keep your apps running smooth for a while.
The 4GB memory may not be as much as the 6GB now on some rivals, but it should suffice. The 64GB onboard storage that Singapore is getting on the Pixel 2 XL may not be the most generous out there, especially when there's no microSD card slot, but as you might already know, Google wants you to use the cloud to store your photos with its offer of unlimited capacity online.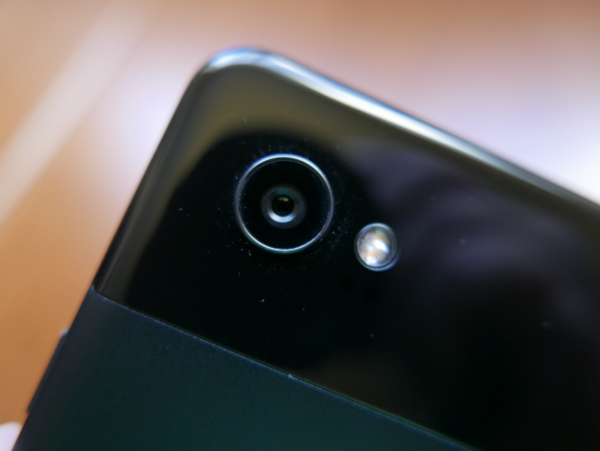 Speaking of that, the top-notch camera you read about in the original Pixel is replicated in the Pixel 2 XL as well. As cameras on phones go, this is a surefire shooter.
In regular shots of food, people or places, the 12.2-megapixel main camera must rank as one of the best, if not the very best. In night shots, it is able to brighten up a scene with an f/1.8 aperture without making everything look washed out or artificial.
It helps too to have laser autofocus and dual pixel phase detection, which let you snap away quickly. After all, the best image is one that you actually managed to capture, not one you missed.
Perhaps most impressive is its intelligent sensing of a scene. Even when facing strong backlight in sunny Singapore, the phone adjusts smart enough to take a decent photo of an especially dark subject in the foreground.
There are lots of nice touches all round, software-wise as well. The phone automatically shoots a short video when you snap, so that you have the option later to save it as a GIF-like video to share online. It's not new – yes, HTC had it years ago – but today these GIFs are all the rage on social media, so Google is cool.
The Pixel 2 XL has a very sharp 2,880 x 1,440 screen as well, so I don't have a complaint at all about the 6-inch display. The contrast is noticeably high and there's no faulting the natural colours, as opposed to Samsung's more dialed-up version.
The pOLED (plastic organic light emitting diode) display is a regular OLED display with a plastic substrate, though it should not be much different from the OLED displays on top-end phones today.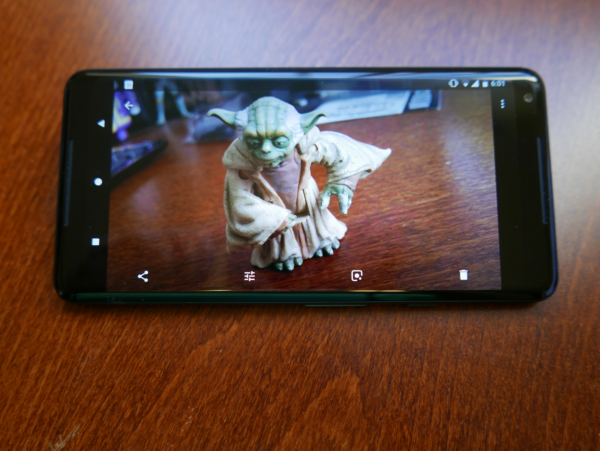 So as a whole package, the Pixel 2 XL is very attractive. Many of the Google software features really make a difference in everyday use. The question is whether they make a big enough difference in your buying decision.
There's another snag. Unless you are with Singtel, or plan to join the "red" telecom operator, you don't have an option of buying the Pixel 2 XL in Singapore.
There's always parallel import, of course, and the Google folks in Singapore said the services on the phone shouldn't work differently from one sold by Singtel, but you'd have to worry about warranty and support.
Prices here have not been released, but the retail price in the United States is US$849 (S$1,159). It isn't cheap at all and will face competition from the likes of Samsung's Galaxy S8 or LG's upcoming V30, which are better looking.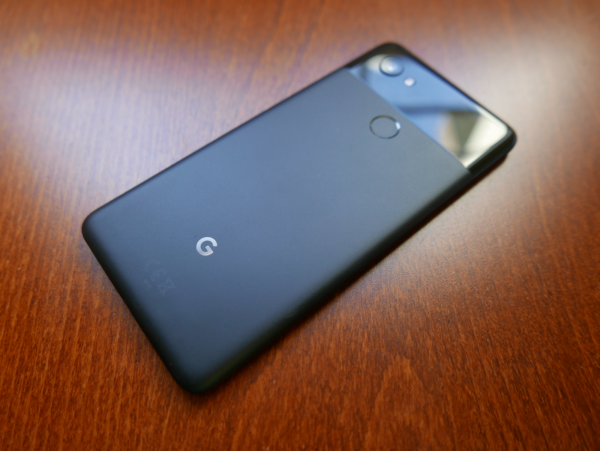 Don't forget the Google Pixel 2 XL comes with some hardware compromises as well. While its audio is decent with front-firing speakers, it lacks the better-tuned quality, for example, on LG flagships with a proper digital-to-analogue (DAC) chip.
Heck, there isn't even a headphone jack. You get a dongle in the box, fortunately, but it's an additional hassle. Google says some headphone makers are coming up with USB-C headphones, but that's not an attractive option if you have invested in an expensive pair of headphones and want a good audio chip onboard.
To be sure, the Pixel 2 XL is very appealing, especially if you want the latest from Google. It's not perfect though, and I won't even call it the best Android phone around. Hardware-wise, you'll have to forgo some features that have become common on other Android flagships.
And while it used to be that Google Nexus phones had the smoothest Android interface that no one else offered, today's Samsung, LG and Sony have some very nifty ones too.
Even for someone who has bought the, Nexus One, 4, 7, 9 and 10, I am less thrilled by the Pixel 2 XL now. It's not that it isn't fantastic. It's that other phone makers have caught up in terms of the Android interface. They also have better hardware design.