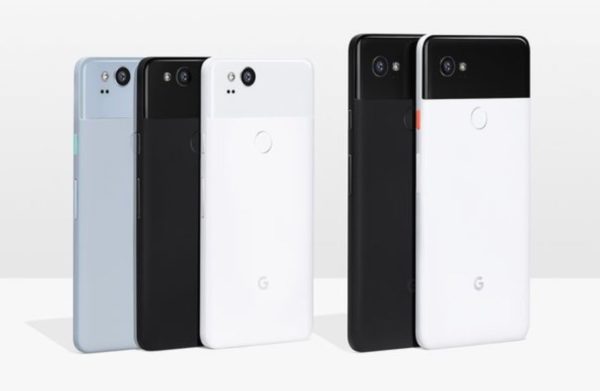 After years of ignoring the Singapore market, Google finally opened an online store selling its new Pixel 2 XL phone and other hardware early today. However, there's nothing you can buy on it, for now.
The Pixel 2 XL, the new Android flag bearer from Google, is out for pre-order in the United States, but Singapore users will only get it on November 15 if they sign up with Singtel.
It is unclear how long this exclusive deal is and if other users can buy the phone from Google eventually. On the much-awaited Singapore store, which opened just before 2am Singapore time, you can only get on a waitlist to purchase the Pixel 2 XL.
There's no indication of the local price, though it is expected to be similar to the US price of US$849 for the basic version. Singtel also has a pre-order page up for folks who want to subscribe to its services.
If you can't buy the new phone on the Singapore Google store, what can you buy? Nothing right now, it seems. At launch, the store only lists two other items – the Wifi mesh networking kit and Chromecast for streaming videos – and you can't order them directly.
For the Wifi kit, Google directs you to StarHub, its exclusive partner here in Singapore. For Chromecast, it tells you to buy from Lazada, an online store.
This is like walking into a store with only three products on display – none of which you can buy and take home. The storekeeper merely tells you to buy them elsewhere. What kind of store sells nothing on opening day?
There's also no sign of the Pixelbook laptop announced at the same time. Nor is there any news of the Pixel 2 phone, which has a smaller 5-inch screen compared to the Pixel 2 XL's 6-incher.
Singapore is a small market, I get it. It serves as a regional hub for other new stores that Google also opened at the same time, including Indonesia, Thailand and the Philippines. But there's no avoiding the fact that Google has got its regional launch all wrong.
Why has it tied up with StarHub and Singtel for exclusive deals if it was opening a store to sell the same products? And surely, when you open a new store, you want your latest and greatest in there. But not Google, it seems.
In drawing up exclusive deals, it is excluding large parts of the market. It cut a deal with StarHub to sell its Wifi kit to just a fraction of the fibre broadband market that the operator owned. Now it is selling the Pixel 2 XL only to Singtel, which has roughly half the mobile market.
What about the rest of the market? Google doesn't seem interested.
Don't get me wrong. As someone who has bought Nexus devices over the years, the opening of a new Google online store should be good news. You buy direct instead of parallel imports, so there are fewer issues with warranty, for example.
Yet, there's no question this is a huge letdown for folks who have looked forward to a change. I ordered the first Google phone – the Nexus One – the day it was unveiled in 2010. A great phone, it remains the first and only gadget that Google has sold directly to Singapore so far.
Over the years, I've also owned a Nexus 4, Nexus 7, Nexus 9 and Nexus 10. All were bought overseas because Google didn't bother to bring them here. It often left it to the manufacturers themselves to ship them here months after the US, if at all.
So, I was keen to see the Pixel 2 XL sold directly in Singapore at launch. This was a chance to prove to many Nexus and Pixel users here that Google bothered with us. Sadly, it will have to do a lot more in the months ahead.
Over time, you'd expect things to improve if Google starts stocking up its store. For a start though, it has been a huge disappointment. If it wants to be up and running in the region, Google has started on the wrong foot.
UPDATE at 05/10/2017 at 8:22am: The story has been updated to reflect that the Pixel 2 XL will be sold exclusively by Singtel.