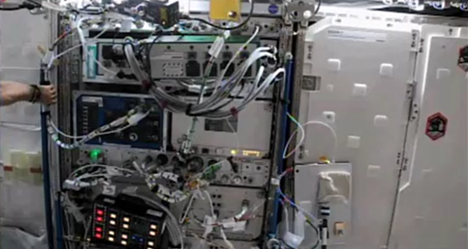 Space, the new frontier. Hewlett Packard Enterprise (HPE) is angling its way into intergalactic travel.
Commercial space travel maybe years away. However, a nascent industry is beginning, built by the likes of Elon Musk, Richard Branson and Jeff Bezos who have invested in aerospace and spaceflight companies such as SpaceX, Virgin Galactic and Blue Origin respectively.
HPE is undaunted by the long view it is taking to opening a new market. It is taking a baby step by putting its supercomputer into space in a collaboration with the National Aeronautics and Space Administration (Nasa).
Called Spaceborne Computer, the supercomputer was installed at the International Space Station (ISS) last month for a one-year pilot to check if it can withstand the pull of gravity and harsh conditions of space.
Nasa's goal is to explore Mars in the 2030s, an interplanetary journey likely to take a year. It has identified that the computers accompanying the astronauts must be self-reliant, robust machines capable of handling intensive computational activities and dealing with unexpected challenges.
The computers will likely be steeped in artificial intelligence and machine learning so that it can predict astronauts' well-being, equipment failure or events in the future.
Mars astronauts need near-instant access to high performance computing as their spacecraft hurtles towards the red planet more than 54 million kilometres away from Earth. According to Nasa, Mars is 26 light minutes round-trip away.
There's no option for any communication lag because Earth's interplanetary explorers will have no one to rely on except the computers. They cannot wait 26 light minutes to get critical answers during a system failure in a life-and-death situation.
Can any computer meet these specifications?
Dr Goh Eng Lim, chief technology officer of SGI at HPE, believes his company's machines can do the job. The Spaceborne Computer contains two of HPE's beefy Apollo servers, built using off-the-shelf servers and custom-built software. It was submitted for rigorous testing before being certified by Nasa as fit for space travel.
In the past, customising computers for space took a long time. By the time the space mission was launched, the computers were already several generations old because the pre-flight testing took very long.
The Spaceborne Computer passed Nasa's tough pre-flight tests in a very short time because of HPE self-care intelligence concept for computers developed by Dr Goh.
This concept sees computers imbued with machine learning capabilities so that it can take care of itself for example, undertake virus scans and then acts to protect itself against malware.
Dr Goh believes such a machine will take care of itself in space. The astronauts will not have to be IT engineers to maintain it.
The Spaceborne Computer is housed in a locker-like casing which can be installed in the spacecraft using regular tools. It was installed with standard Ethernet cables, standard 110-volt AC connectors and NASA-approved water cooling technology for keeping the system from overheating.
It also uses the low temperatures of space to cool itself and is fully powered by solar cells. Tests conducted at the ISS have shown that it can achieve over one trillion calculations per second, or one teraFLOP, which is up to 30 times faster than a laptop.
HPE says that it is the first high performance commercial off-the-shelf (COTS) computer system to run one teraFLOP at the ISS.
On Earth, Nasa's certification showed potential HPE customers that the Spaceborne Computer is  robust and reliable which makes them ready to be used anywhere.
Nasa's planned trip to Mars is about a decade away. Hopefully, HPE will survive its business pressures to explore the new market frontier of space.