There's now a way to pay for a meal with your phone, not just because it's cool to do so, but because that gives you discounts over that nice plate of Thai fried noodles or mug of beer you just had.
With the Mogi app on your smartphone, you can buy, say, $100 worth of credit from a restaurant like IndoChine and flash it at the waiter when you are presented with the bill. The amount is then deducted from the stored value, and a discount and loyalty points are thrown in for going digital.
Unveiled yesterday, the technology is the brainchild of Singapore firm, Mobile Media Creations (M2C). It has designed its Mogi app to work on both Android and Apple phones, while promising to make things easy for merchants.
It can be used at 70 retail, health and beauty and dining outlets across the island, with another 150 ready to be rolled out in the near future. These include IndoChine restaurants, O'Briens sandwich bars, Platinum Yoga and a number of beauty and heath outlets.
Is Mogi yet another loyalty or discount programme? It certainly looks like it, but what's unique here is the technology involved.
For users, they can choose to buy a voucher or credit any time, even when they are sitting in a restaurant and about to pay. They do this by simply paying for it on the Mogi app, which charges them via PayPal.
Once credited, the phone is ready as an e-wallet of sorts. Each time a user wants to pay for an item, he is prompted with a password and then shown a secure QR code. This is presented to the waiter at a restaurant or a cashier at retail outlets.
From here, the sales staff slides the phone into a nifty terminal that reads the QR code with a camera, verifies it with M2C's servers over a 3G network, and approves the transaction.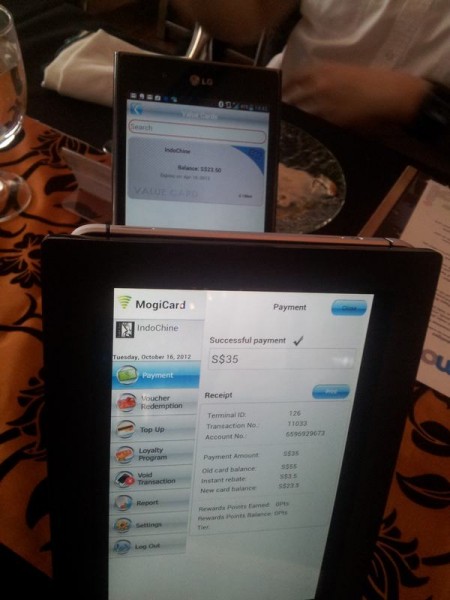 The terminal is actually a Huawei tablet running a retailer's version of the Mogi software, and linked by a SingTel machine-to-machine 3G network that is supposed to be less congested than the consumer version.
Alternatively, merchants can also download the app separately to their phones and use them as mobile payment terminals. This works out nicely for restaurants like IndoChine, which has outdoor sitting.
M2C CEO Rashad Budeiri, said near-field communications (NFC) was something his company had considered but he decided to go ahead with QR codes now because there are still very few such tap-and-pay phones around.
To use the Mogi payment service, merchants can pay from as little as S$50 a month to get a terminal set up. They also pay around 10 per cent cut of the stored value that customers buy over the Mogi network.
In return, they get a better rate from PayPal, which Budeiri says is cheaper than what is offered by some credit card companies and banks.
He said the key benefit for Mogi merchants was the discounts on offer, which will encourage customers to return to their favourite restaurant, coffee shop or beauty salon.
But unlike the aggressive 70 to 90 per cent discounts offered by rival discount programmes, he said Mogi clients are wary about cheapening their services and prefer to reward repeat customers.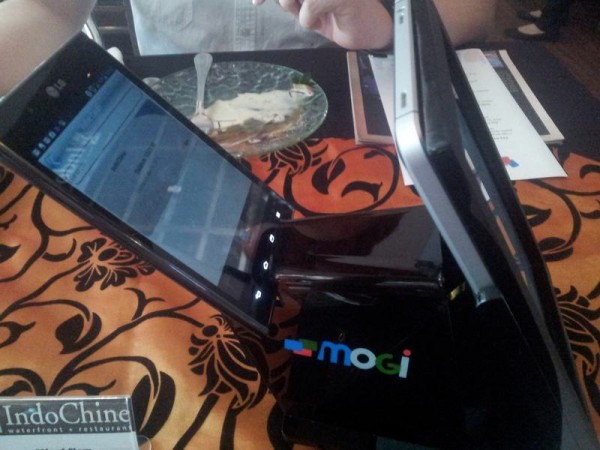 If there's one thing that can be tricky, it's the patchy mobile Internet connections in Singapore. Without a link to the Internet, a Mogi user cannot use his phone to authenticate with Mogi's servers. He cannot pay for his dinner, as a result.
Still, the folks behind the app are optimistic their Singapore-made innovation will attract users. The hope is to make mobile payments more common here, years after users in Japan have been paying for anything from train rides to instant noodles with their phones.
Check out the Mogi app at the Apple App Store and Google Play and let us know what you think.
CORRECTION, October 18, at SGT 3.30pm: In our original report, we had reported that the merchant is paid by PayPal at the end of a month. This is incorrect. The merchant receives the amount in his account when the transaction is completed. We are sorry for the error.