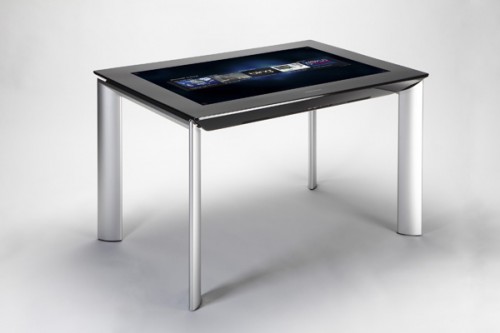 Fancy a US$8,600 coffee table? With the second generation of Microsoft Surface on sale in late 2011 in Singapore, you certainly can. Microsoft has partnered with Samsung to debut the new Surface, citing the latter's experience and expertise in LCD technology, hardware design and manufacturing, and worldwide marketing and sales of large format displays.
The Surface SUR40 has a 40-inch full HD display powered by an embedded 2.9GHz AMD Athlon II X2 dual-core processor and the AMD Radeon HD 6700M Series GPU with DirectX 11 support. At only 4-inches thick, Surface 2.0 is a major improvement over Surface 1.0. Customers can choose whether to mount it onto the wall, or use it as a table. Custom legs can also be built for the Surface.
The Surface is essentially a giant touch-screen computer in the form of a small coffee table. It is able to recognize more than 50 points of contact at any given time, making it ideal for multiple people interacting on the same computer in the living room. In addition, it can recognise pre-tagged objects.
The original Surface was a large brick with no room for your legs. That's because its body housed the internal components including projectors and cameras necessary for touch and object recognition. With Surface 2.0, Microsoft utilised what they call PixelSense, where the pixels themselves "see" what's touching the screen, doing away with the need for bulky machinery.
Physical objects can also be "byte-tagged" so that the Surface can respond when the object is placed on the screen. A byte-tag is a pattern of dots which can be read by the Surface's screen, and works by reflecting and absorbing infrared. Microsoft demoed a miniature high heel shoe which launches a Bing search for "Jimmy Choo" immediately when it is placed on the Surface.
The byte tags make the Surface useful in a variety of setting such as retail shops. Not sure what this pair of shoes are made of and what other colours and size the store has in stock? Slap it on the Surface and a custom app will deliver the information you need in seconds. I imagine it will also be particularly effective in highly specialised industries, such as pharmaceuticals, letting customers quickly find out more information about a particular drug or medicine through byte tags.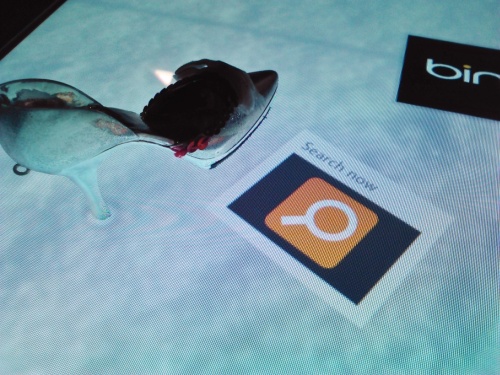 Indeed, the device is targeted at verticals, such as retail, hospitality, and banking industries, where Microsoft claims the Surface can act as a branding tool to enhance customer interaction and user experience. For example, the Royal Bank of Scotland already has a custom app which helps customers "visualise" their savings on the screen and also consists of a game to help entertain the kids while the parents do their banking stuff.
But what about at home? The Surface certainly seems great for a couple of friends to gather round and play some casual games (imagine poker with byte-tagged cards on this thing!). But without an app store for developers to sell custom apps, it will likely stay stuck as a niche device in the enterprise sector. Furthermore, businesses usually prefer to engage developers directly to create customised apps, making a consumer app store for Surface a distant hope.
There are, however, some games on Surface, including a tower defence-styled game that can be played between four players, so we can really see the lifestyle and entertainment potential there. Plus, developers are doing really cool stuff with Surface, and all Microsoft (and Samsung) needs to do is drop the price to a more consumer-friendly level.