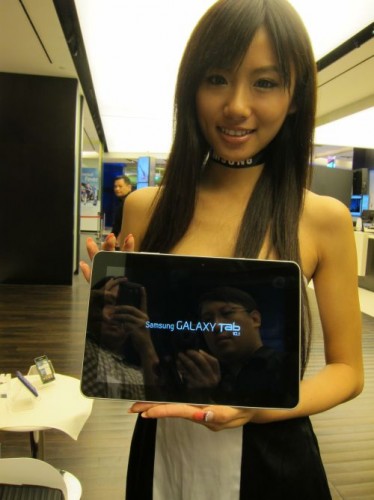 After seeing Apple launch its ultra-thin iPad 2, the Korean firm went back to the drawing board by designing an even slimmer version of an already attractive Galaxy Tab 10.1 tablet (original hands on here).
The result: a tablet that is, hands-down, the one to get. From a quick hands-on today at a Samsung launch event in Singapore, I can say that the super-light frame (560g for the Wi-Fi model, 565g for 3G model) is definitely a lot more handier than many other Android tablets of the same size.
At only 8.6mm thick, it is also the thinnest 10.1-inch tablet by a whisker, beating the iPad 2's 8.8mm.
The best thing is that it is priced very competitively in Singapore.  The Tab 10.1 3G starts from S$848 for the 16GB, S$978 for the 32GB and S$1,108 for the 64GB. The Wi-Fi version goes for S$668, S$798 and S$928 respectively.
The slim case somehow manages to pack in a generous 7,000mAh battery, which will surely come in handy when you are firing up the screen all day with Angry Birds, or well, working on your e-mail.
I believe the Tab 10.1 will ship with Android 3.1, which means it will come with the latest version of the Honeycomb build made for tablets. The Android experience is way superior to Apple's icon-driven iOS, which while offering a nice zippy touch and feel, is looking increasingly dated, limited and closed.
Want to drag and drop files onto an Android tablet? Simply hook up via USB and transfer your songs, movies and Excel files over. Forget about iTunes. Want to simply download free apps? No, you don't have to hand Apple your credit card details once you fire up your tablet.
And being a true "post-PC" device, Android gizmos like the Tab 10.1 don't have to sync with your PC at all if you choose not to. All I have to do is log in with my Google password, and my e-mail, contacts, schedule and apps are all ready to be accessed (apps still have to be installed).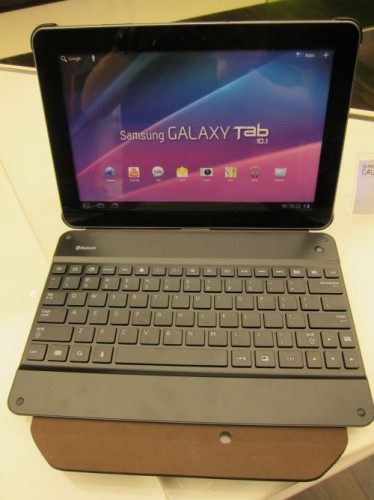 And Android 3.0 is so much more. The true multi-tasking lets you switch between apps without any of the limitations that Apple presents. A game can run in the background, along with several other apps, without losing any data or slowing things down.
The new interface is also a lot better than the Android 2.2 I use now with my older 7-inch Galaxy Tab, which Samsung says today will continue to be on sale. When e-mail comes in, a small indicator alerts you at the bottom of the screen, instead of the drag-down menu for the smaller-screen version.
Gmail, for one, is a stellar offering. It is as full-featured as what you get on a PC and you get all your mail labels as well as useful previews on a widget on the front page.
The browser too, is way more souped up and very, very fast. Try loading a "heavy" website like Techgoondu, for example, with all the embedded Flash-based videos and things are smooth as butter. No need for Flash, you say? But why choose? Just use it when you need it.
And what about apps? The gap between Apple and Google is closing day by day. There's no need to choose an "HD" version of Angry Birds and a regular one. Android Market automatically detects that you are using a tablet and lets you download the right version. And you know what, Angry Birds is free on Android still.
With an 1GHz dual-core processor, just like most Android tablets now, the Tab 10.1 is smooth when going through all these tasks.
And one more thing – it supports downloads of up to 21Mbps with HSPA+, so where available, over-the-air downloads are going to be pretty fast.
If there's one thing I will knock Samsung for, it's that the Tab 10.1 has no memory card slot. To be fair, of course, the tablet is so slim, there's probably no space for that. Another thing is the fact that it looks a little like an iPad. That's not a bad thing altogether, because the iPad 2 is a well-made device, but there will be Apple fanboys calling it a copycat.
Not that it matters to me, of course. This is one tablet I can recommend heartily. That brings me to the biggest grouse – it's only here in July!
Samsung GALAXY Tab 10.1 Product Specifications
Network

HSPA+ 21Mbps: 900/1900/2100
EDGE/GPRS: 850/900/1800/1900

OS

Android™ Honeycomb

Display

10.1" WXGA 1280×800 TFT

Processor

1GHz Dual Core application processor

Camera

Main(Rear) : 3.0-Mega Pixel Camera AF with LED Flash
Front : 2.0-Mega Pixel Camera

Video

Format : MPEG4/H263/H264
Playback : 1080p Full HD Video @ 30fps
Recording : 720p HD Video @ 30fps

Audio

MP3, AAC, AAC+, eAAC+, OGG, MIDI, AMR-NB/WB/WMA
3.5mm Ear Jack, Surround Sound Stereo Speakers

Enterprise Solutions

Microsoft Exchange ActiveSync

Quickoffice HD Editor

Value-added Features

Android Market™

GoogleMobile Services :
Google™ Talk Video Chat, Google™ Maps, Books, etc.

Samsung TouchWiz UX

Samsung Mini Apps Tray

Social Hub

Game Hub (upcoming)

Readers Hub (upcoming)
*Availability differs by region

Adobe Flash Player 10.3

Connectivity

Bluetooth® technology v 2.1 + EDR
USB 2.0
WiFi 802.11 (a/b/g/n)

Sensor

Gyroscope, Accelerometer, Digital Compass, Ambient Light sensor

Memory

RAM: 1GB; Storage: 16GB / 32GB / 64GB

Size

256.7 x 175.3 x 8.6 mm

Weight

560g (WiFi)

565g (3G)

Battery

7000mAh