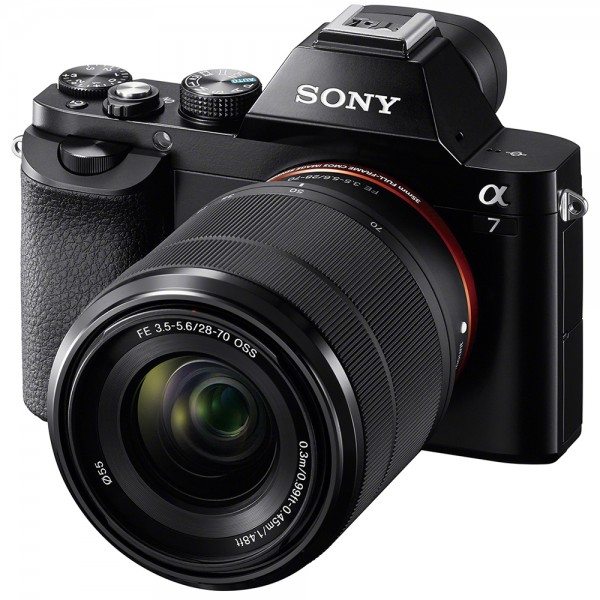 The Sony Alpha 7 is a camera that has garnered a lot of interest lately and it is clear why. It is arguably one of the cheapest, if not the cheapest, around to house a 35mm full-frame sensor. It's also a handy mirrorless camera system.
Getting the largest possible sensor in a camera is what most photographers would dream to own just a couple of years ago and last year was when full-frame shooters including Sony's rivals such as the Canon 6D and the Nikon D600, became affordable.
Launched at the end of 2013, Sony's Alpha 7 created quite a stir. At S$2,499, the kit bundled with Sony's own FE 28-70mm f3.5-5.6 lens makes it easy for many users to enjoy the image quality that was once reserved for those with very deep pockets.
Although it only uses an electronic viewfinder to frame shots, going mirrorless has certainly made the Alpha 7 smaller and lighter at just 416g. Yet, the metal finish on the body has enough heft to give it the premium feel of a expensive shooter.
If you are a seasoned digital SLR user, the Alpha 7 has a familiar feel and will quickly get up to speed. The usual front and rear scroll wheels to control aperture and shutter and the exposure value compensation are at familiar places and easy to reach.
Plus, the use of the rear wheel dial as the ISO setting dial is a nice touch. I wonder why it took someone so long to actually think of this.
Like any top end consumer camera, it also has an articulated 3-inch screen at the back to easily shoot over the head or close to the ground.  There are also three fully-customisable buttons to suit the way you control the camera.
During my test with the Alpha 7 recently, I used a Carl Zeiss 35mm f2.8 prime lens and a 24-70mm f4 constant-aperture zoom lens. These lenses are great companions to the Sony A7 as they consistent produce images that are both sharp and smooth in terms of colour graduation.
However, there are times the lens does go hunting for the correct focus, more so when lighting conditions are not optimal, especially at night.  I would expect some firmware updates from Sony to address this issue for those using the Carl Zeiss lens.
The Alpha 7 supports a number of lenses. Since the Alpha 7 supports the E-Mount on Sony's Nex range of cameras, you can upgrade from your existing Nex camera by re-using their lenses. The drawback is that the Alpha 7 can only capture APS-C images on the sensor using a Nex lens though it allows auto cropping.
For those who want to use lenses for full-frame Sony Alpha mounts, the company has adapters such as the LA-EA4 to enable the use of these lenses with full auto-focus functions.
Image quality wise, the Sony A7 performs really well. The 24-megapixel full frame sensor produces impressive colour when the settings are set right.
Daylight shots are excellent though the auto white balance can be a little of a struggle when you are using the camera indoors with artificial lighting. I find that I have to rely on some custom white balance settings to get more accurate colours.

Great graduation of colours. The shimmering yellow gold hue is rendered well here.

The Sony A7 is pretty handy focusing is fast in good light. Skin tones do look cooler but is still top notch.

Shot with Sony A7 Motion Panorama function using ISO3200 handheld. Shot vertically to minimise lens distortion.

Night shoot with good ISO control.

Lighting from artificial light source can make the colour rendition a bit odd using auto white balance. Sharpness and clarity are definitely top notch.
Sony has also packed in some fun features that it hopes users will enjoy along with the serious, professional quality. The Sony PlayMemories App, for example, allows wireless transfer of photos to a smartphone for easy sharing.
The other useful app is a remote control app that allows control of the camera's main settings and functions on your phone. This lets you fire away with your phone, say, for a group shot. It's also a nice feature to have when shooting in studios, where you might want to trigger a shot remotely.
One thing to note though – I find that the A7 could not shoot in Bulb mode using the remote control app. It requires a dedicated wireless controller when shooting fireworks. Those who prefer to use wired controllers are out of luck.
All things said, the Alpha 7 is an able shooter. The body alone will set you back S$1,999, while a starter kit comes bundled with a Sony FE 28-70mm f3.5-5.6 lens for S$2399.
For its price, the Alpha 7 gives much more value than many cameras in the market. There is no doubt competitors will be scrambling to find an answer to this camera that has rightly excited many photo enthusiasts.
Those with Sony Nex cameras have a good upgrade path that doesn't break the bank. When more lenses start shipping to support the Alpha 7 system, Sony's new mirrorless shooter will be very appealing to other users as well.