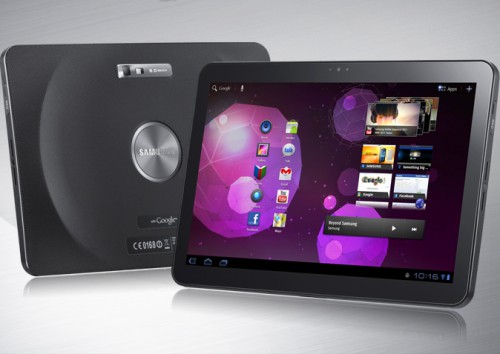 Just days after a Samsung executive was widely quoted as saying his company's tablets were "inadequate" to compete with Apple's new iPad 2, you'd be forgiven for asking why it showed off its much-awaited Galaxy Tab 10.1 today to Asia-Pacific media as "the best Android tablet".
Note the word "Android". If I were an Apple fan, I'd seize on that as a sign that Samsung is surrendering the fight with Apple, like how the poor Mr Lee Don-Joo, executive vice president of the Korean firm's mobile division, was so quickly misquoted over the Net.
The original article from AFP is here. He is saying that parts of the Android device that are "inadequate" have to be improved. Among these, he talked about how the iPad 2 is slimmer (8.8mm versus the Tab 10.1's 10.9mm) and that it is priced aggressively, putting pressure on companies such as Samsung. He did not say the tablet itself was "inadequate".
Which is why, when I saw the Galaxy Tab 10.1 today, at a Samsung show-and-tell for regional media, it felt like a much-maligned piece of work.
Let's talk about the slimness. Being just 2.1mm thicker than the iPad 2 may seem insignificant, but it does matter to folks who are looking for something that reminds them of a really thin piece of paper, rather than a slab of chopping block. So, Mr Lee is right when he said this is one big advantage to Apple.
Yet, the rest of the machine looks really impressive. First off, the Android Honeycomb OS, built from ground-up for tablets, makes swiping screens way cooler and faster than Apple's dated-looking iOS. No more just rows of icons, the screen also includes widgets that you can slide your finger through for more interaction.
Want to browse a list of YouTube videos? Go ahead, have a glance via a widget on the main screen instead of launching into the app just to get a preview. Want to scroll through a list of e-mail messages before firing up the important ones, instead of filling up the entire screen with messages? Sure, with Android Honeycomb, you can.
There's also true multi-tasking, unlike Apple's idea of multi-tasking, which is more like "switching" between apps, rather than having them truly run in the background.
And of course, there's no irritating iTunes to contend with. With Android, all you have to do when you want to watch a video, play some music or browse your photos is to transfer it over your PC (without having to install a proprietary piece of software).
[Correction: We had said earlier that the Galaxy Tab 10.1 lets users transfer data using a memory card slot, which is incorrect. There is no memory card slot on the device. Thanks to reader Bob (in comments below) for pointing this out. We are sorry for the error.]
That's not to mention that you can download free apps without having to surrender your credit card information to Apple upon opening up your beautiful box.
In short, the "pure" Google experience is superior in both looks and functionality to Apple's iOS, which has not changed dramatically since the days of the original iPhone. Not only is Android Honeycomb more powerful and attractive, it is also customisable to your heart's content.
What about the hardware then? Samsung's new gizmo is very light to carry around – much lighter than the original iPad and, on paper, just slightly lighter than the iPad 2 (599 grams versus just over 600 grams).
The back has a nice-rubberised feel that is classier than the smooth, fingerprint-loving part on the original Galaxy Tab and the smaller Galaxy S. It is also practical in that it makes the Galaxy Tab 10.1 easy to grip even when you are lounging in various positions on the couch.
The 8-meg camera on the 10.1-inch tablet is not a standout performer, but it seems decent. It is certainly fast enough so you don't end up awkwardly holding the tablet for long before snapping that shot.
And though the screen is not Super-AMOLED based, like on Samsung's smaller Galaxy phones, it is sharp and bright. A 10.1-inch screen with 1,280 x 800 resolution makes both surfing and viewing HD videos, like during my short hands-on today, quite a nice experience.
Essentially, the Galaxy Tab 10.1 is a very competent tablet and well worth considering when it hits the stores this month around the world. It will rank alongside Motorola's Xoom and HTC's Flyer as the tablets worth checking out this year.
We don't have Singapore pricing and availability yet, but do stay tuned. This looks like a great tablet to consider, even if you have the original Samsung Galaxy Tab, as I do.