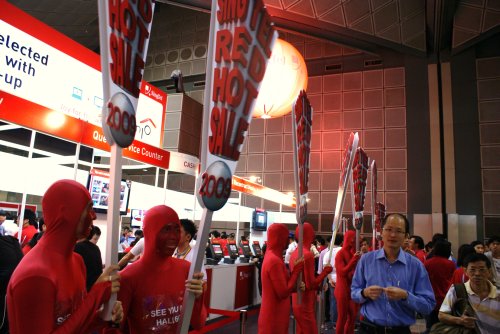 Sweaty crowds, loudspeakers and lelong prices. What else would you expect from the latest quarterly IT bazaar happening at Suntec City from today to Sunday, right?
Crowds at the ongoing PC Show seem thinner than the previous IT Show in March, perhaps due to the fears over the H1N1 swine flu, or maybe the bleak economy is finally getting to some folks. Sony, noticeably, did not turn up with a bang as before – there were no Level 2 booths you've come to see at Suntec City.
Still, there are bargains to be had. And here are my own few Goondu recommendations.
1. LG 32-inch HD-ready TV (S$499)
With 37- and 40-inchers going for as low as $899, the smaller screens are obviously free-falling in price. One deal I saw at the LG booth was an HD-ready 32-incher with a built-in terrestial DTV tuner going for a mere S$499.
Just a few shows ago, 32-inchers went for S$799 and they were not even HD-ready. At this price, this LG TV is great for a second TV in the bedroom, or for your console games.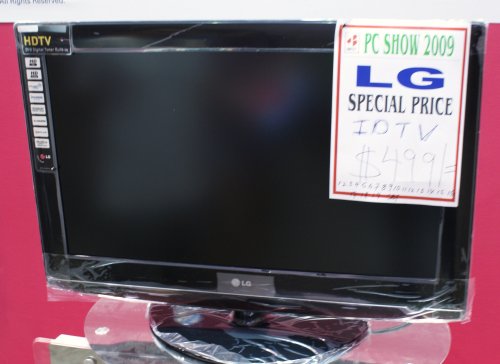 2. Toshiba 42AV550E HD-ready TV (S$1,099)
By the time you head down to the show, this might be going for even cheaper, perhaps due to the competition in the halls. But still, a 42-inch HD-ready TV for about S$1,000 is a not a shabby deal. I saw this at AudioHouse, which have a few other Toshiba TVs on offer too.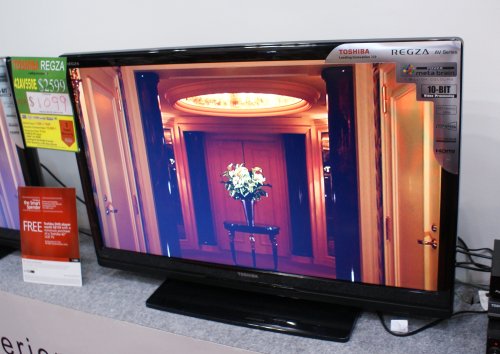 3. Linksys Wireless N WRT610N router bundle (S$308 with USB stick)
I've been a D-Link fan for a while, but finally switched back to Linksys today. Yes, I bought the WRT610N router, which offers simultaneous 2.4GHz and 5GHz Wi-Fi, which is great for me as I am getting swamped by these nasty SingTel 2Wire routers blasting their 2.4GHz signals into my apartment.
Considering that the D-Link DIR855 is still too expensive (S$299), I thought about buying a cheaper WRT320N (S$169), which could do only 5GHz or 2.4GHz at one time, which is fine because I wanted to keep my old D-Link DGL-4300 router as a 2.4GHz router and run the WRT320N as a 5GHz-only access point.
But in the end, I was seduced by the considerably cheap offer from Linksys – a S$308 bundle for the more powerful simultaneous dual-band WRT610N + a WUSB600N USB stick. I'm going fully 5GHz now for my laptop and my wife's laptop. The PDA goes on 3.5G!
4. Dell Studio XPS 435 (about S$1,999, depending on config)
Silly Dell did not bring any Alienware gaming notebooks on show, despite launching the much-vaulted brand in Singapore recently. However, it did bring the nice Studio XPS desktops, which were huge full-tower PCs with a nice reflective finish at the front. Chio!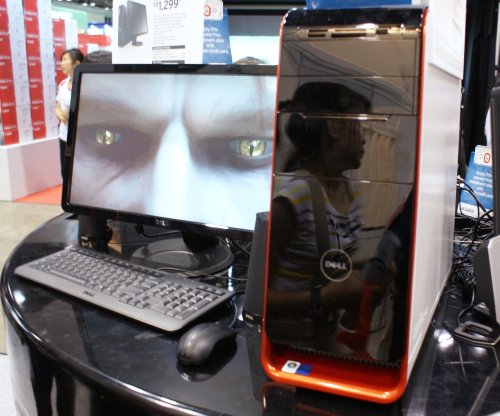 5. XFX ATI HD4870x2 graphics card (S$539)
The guy at the XFX booth said that there's only one of these king-of-the-hill graphics cards going for a whopping S$200+ off the regular Sim Lim Square price (about S$750 – S$800). By the time you read this, it might even be gone. If you are looking at a great deal for a top-end gaming card, quickly head 0n down.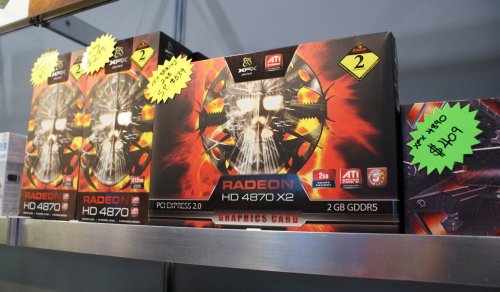 6. MSI X340 laptop (S$1,188 to S$1,388)
Forget about the Apple Macbook Air. The cheap and good laptop that you can bring everywhere comes from MSI, the lesser-known Taiwanese motherboard maker. This svelte, ultra-thin notebook (at just 6mm at its thinnest) with a 13-inch screen is really something to fall in love with.
There are two models – a S$1,388 one with Intel's SU3500 low-power CPU, and a cheaper S$1,188 one with a slower Intel Atom Z530 CPU. Both look great in black or white. If the cheap S$588 MSI Wind netbook (the cheapest netbook around, I think) doesn't seduce you, then the X340 notebook should do the job of parting money from your wallet.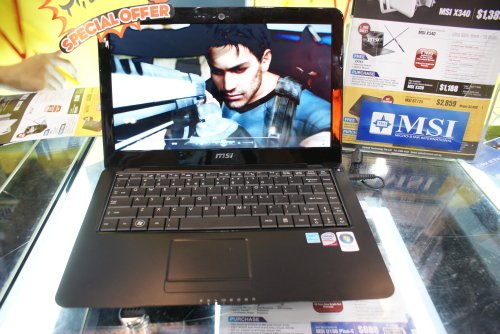 More pix here from the show… have fun shopping and tell us what you bought!
[nggallery id=7]