It's that time of the year again when the biggest consumer computer show — IT Show '09 — hits Singapore.
Running from March 12th to 15th (today to this Sunday), the IT Show takes up floors one to six of the Suntec convention centre. The show opens daily at 12pm and ends at 9pm during this four-day period.
IT Show is really huge this year. All three Singapore telcos have big booths. M1 and SingTel are on floor 2, and StarHub is on floor 3. Floor 4 is the main hall with all the big consumer brands like HP, Canon and Samsung, whilst floor 6 hosts all the small chapalang IT gadgets vendors, from computer games to memory cards to GPS gadgets.
It might be a down economy, but it sure didn't seem like it as the place was thronged with people this morning when I went. In certain places — especially on the fourth floor near the popular booths — you will get stuck in a human traffic jam trying to squeeze past the milling crowd. This weekend will be a nightmare to find parking if you're visiting the show, so public transport is advised.

Typically, computer show prices are similar to prices you can get in retail at outside stores, but with one exception: freebies. And Singaporeans love the freebies and lelongs that are part and parcel of any computer show.
Here's some stuff that caught my eye: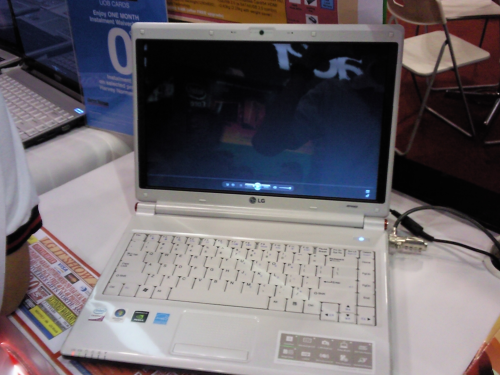 The LG R410L laptop, priced at $1,199 is an Intel Core 2 Duo processor T4200 laptop, with Intel 960 GML Express Chipset 3D Graphics,14.1 WXGA screen, 4GB DDR2 RAM, 250GB SATA hard drive, bluetooth, wi-fi 8021.11 b/g/n, built-in webcam, stereo speakers and 5-in-1-reader. It's an OK deal.
However, it's the freebies that really caught my eye. It comes with a free 500GB Western Digital MyBook 3.5 inch external HDD, LG optical mouse, and Norton Intenet Security 2009. Not a bad list! Offer is at the LG booth on hall 4.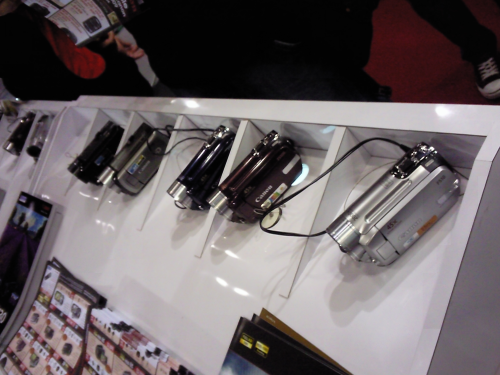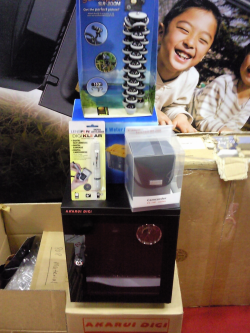 Canon's camcorders range from $799 to $2599 but again it's really the freebies that make the offers quite tempting.
Besides the free dry cabinet, tripod, video bag, SD card reader, battery, SDHC 8GB memory card (pictured on the right), Canon is also giving a free digital camera per purchase!
Depending on what make of camcorders that you buy, you can get a free Powershot camera or even the Ixus 870 IS (retail price according to Canon is $549). Buy camcorder, get free digital camera is the pitch at the main Canon booth on hall 4.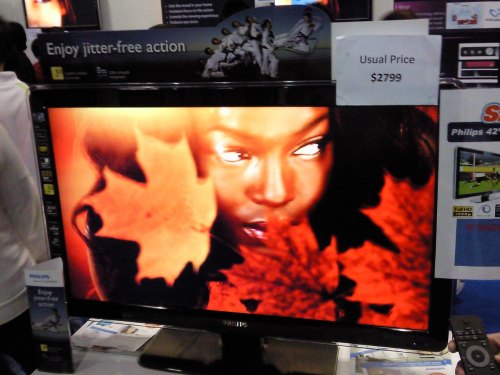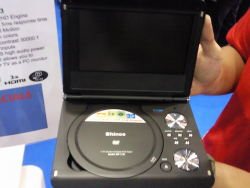 At the Audiohouse booth (the distributor for Philips products), the sales folks were touting prices of up to 60 per cent discount that can only be found at the IT Show. For example, the 42 inch Philips HD LCD TV was going at $1,499 at the show compared to the usual outside retail price of $2,399.
On top of that, they were giving away a free Shinco DVD player (picture on right) for every HD LCD TV bought.