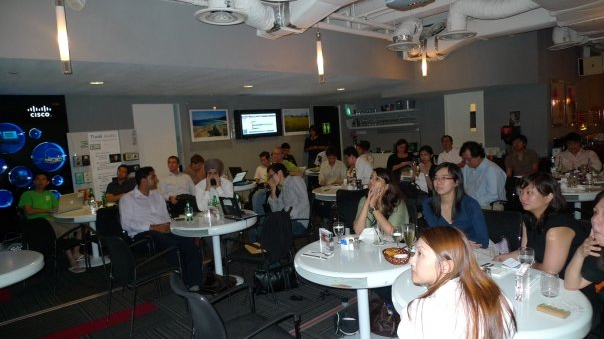 Firstly, a big thank you to the folks who took time out of their busy lives to come down for our first meet-the-techgoondus event last night. We hope you had fun, learnt something, and made some useful contacts.
Originally I had a crowd of about 20 to 25 in mind when I first planned this session, but it seems that word-of-mouth was so good that we roughly doubled that amount.
Besides the seven start-ups who did present their stuff in an informal unconference-styled event, we had a smattering of interested attendees from PR agencies, vendor brands, fellow bloggers (a shoutout to Daniel and Chinmay from Tech65), traditional media, analysts, Web2.0 community activists, and interested kay-poh friends.
Start-ups who presented include:

We had a couple of other start-ups who didn't present like seemeCV and Airvert. Not to worry. Due to good interest in this first event from anecdotal feedback (thanks to those who gave theirs!), the Techgoondus will think about running this on a semi-regular basis once in a few months. Will keep you readers posted if we do run this again. Meanwhile, if you're interested in ideas on this front, feel free to drop me an email.
It's important to recap that Techgoondu started this because we believe that the tech start-ups don't get enough visibility through traditional channels. Daniel, who runs the Youngupstarts blog, summed up this sentiment well in this entry, saving me the time of having to reiterate the purpose of the meet-ups. 🙂
Lastly, events like this work because of the content and passion attendees bring when they come for such an event — YOU folks provide the content. Feedback is crucial to understanding what works or what doesn't. If you attended the event (or even if you didn't), please feel free to give your unvarnished feedback on this post, or drop me a note via email. Thanks!