Do check out Part I if you haven't done so!
At every computer show I always check out memory card prices just to see how much they have fallen. Here's what I spotted at the Kingston booth at Hall 6.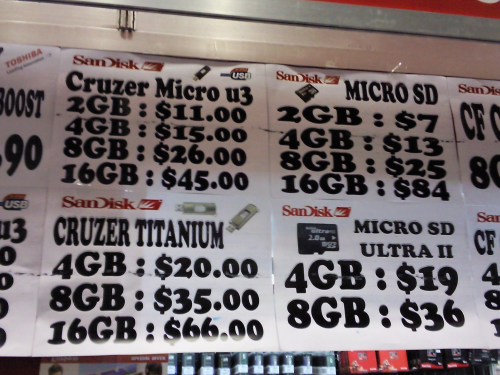 For a comparison, look at some of the memory card prices from last November's Sitex.
Prices of memory cards, especially the 8GB and 16GB varieties, have fallen. The 8GB micro SD has dropped from around $32 to $25 and the 16GB micro SD from $112 to $84.
I was on the lookout for a netbook, and went to both the Asus and Acer booths to look at their EePc and AspireOne range respectively.
Will probably trawl IT Show some more this weekend for more cheapo offers, but overall felt that I liked the Asus AspireOne 10.1 inch netbook (in blue) better because of the overall nicer finishing.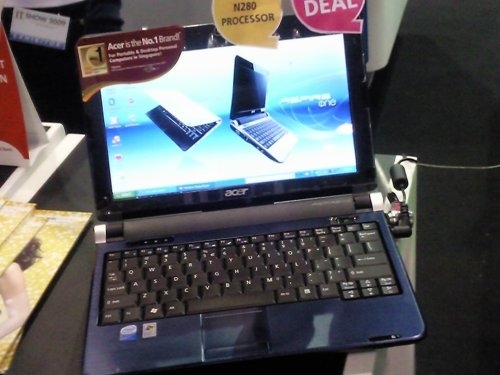 The price is $688 for the Intel Atom Processor N280 , Windows XP Home edition version, 1GB onboard RAM and 160GB hard disk. The weight is 1.33kg with battery (the whole point of buying a netbook is that it is light!), and it comes with wi-fi 8021.11 b/g and bluetooth, which is pretty standard.
There were no freebies packaged with the deal, but I was told the outside retail price is $799. Of the few resellers selling the Acer AspireOne at the IT Show, the Best Denki booth threw in a free upgrade to 2GB RAM which I will strongly consider if I go back this weekend to snipe a good deal.
If you find any great deals at the IT Show, drop a comment on this post and share your experience!