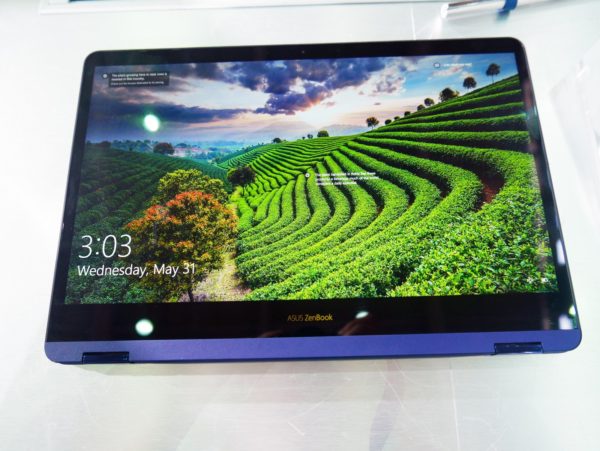 Many two-in-one convertibles that try to be both a laptop and a tablet often are a master of neither. For the convenience of holding a single device on the go, users have to contend with things like a bulky frame.
Enter the Asus ZenBook Flip S. The thinnest in its class now at 1.09cm, the flip-around device launched last week at Computex in Taipei is the best looking one yet for such convertibles.
The svelte 1.1kg frame helps a lot, as I found during a quick hands-on at the Asus booth last week. It's the biggest draw, I'd say, compared to other alternatives which often have a difficult-to-use hinge or end up being too cumbersome.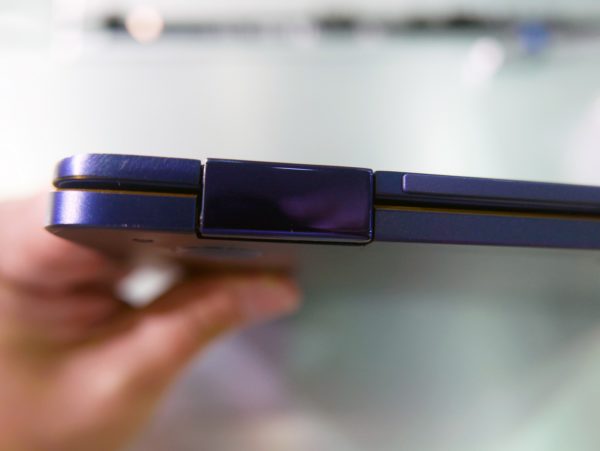 It doesn't hurt to have the ZenBook's well-liked brushed aluminium finish, which looks and feels attractive. And perhaps seeing how well the Dell XPS 13 has done, Asus has gone with a very thin bezel this time. That's a good thing for saving weight and space.
Plus, the ZenBook Flip S sports a nifty hinge that lets you flip the clamshell laptop all the way back, and it feels at home as both a tablet and a laptop. Okay, as a laptop, the 13.3-inch model doesn't feel different from other thin-and-light ultrabooks that have been in the market.
That's a good thing, because it also comes with the added bonus of a tablet mode. As a user of a Nexus 9 tablet, I find the larger screen a little unwieldy at first, but you get used to it pretty fast.
And these days, with the Apple iPad Pro going up to 12.9 inches, the ZenBook Flip S won't be too out of place among, say, frequent flyers or road warriors.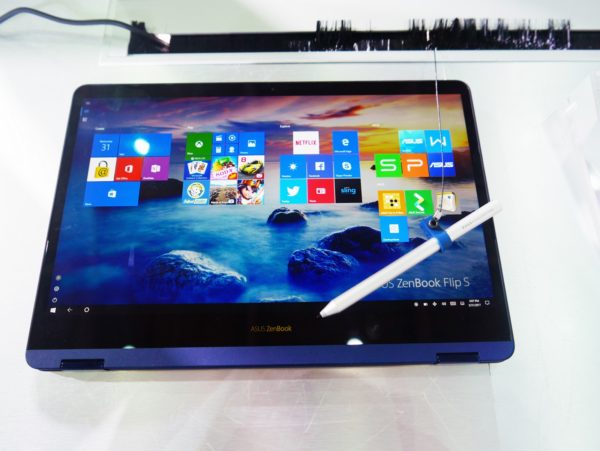 I didn't try out the included stylus extensively at the Asus booth, but it worked as expected without any perceivable lag. In terms of accuracy, I'd like to see how it stands up to the standard now, which is Apple's iPad Pro stylus.
What impressed me for sure was the Asus machine's keyboard. For a slim device, I was surprised at the amount of key travel there was. Either that, or the keys offered great tactile feedback, making typing a joy. For someone who writes for a living, I'd pick the ZenBook Flip S' keyboard over many other thin and light machines.
Happily, the large touch pad, reminiscent of Apple MacBooks, is also a good performer. Smooth and fast with the movement on screen, it lets you do away with the mouse for many tasks, especially when you're just firing off an e-mail at a cafe.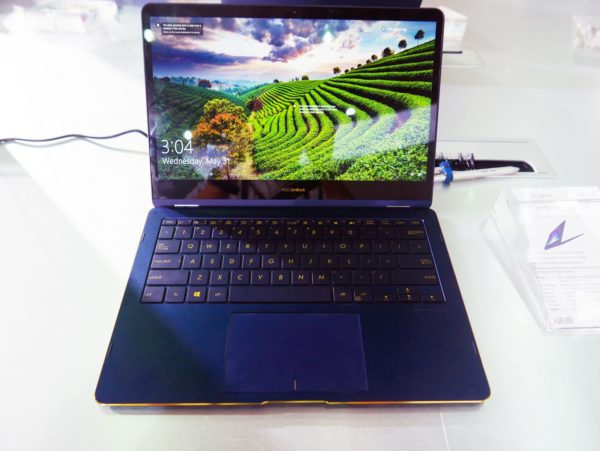 I won't dwell too much on the specs, because what we might get in Singapore depends on what the company ultimately delivers here. Screen-wise, there's a Full HD or 4K version, though I'm suspecting the cheaper Full HD option would be the more popular model as many people are happy with the lower resolution on a laptop screen.
You can also choose between a seventh-generation Core i5 or i7 from Intel, as well as 8GB or 16GB of memory. Plus, you can boost your solid state drive (SSD) capacity to 1GB.
All of which points to a decent machine, even in the lower-spec'd versions. If Asus keeps to its promised price of US$1,099 for the basic model, the ZenBook Flip S could be very attractive.