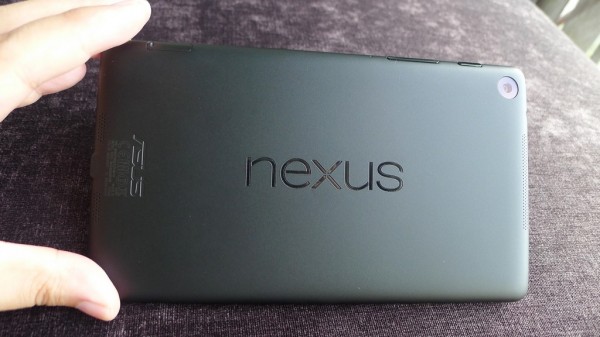 If last year's Nexus 7 wowed the crowds and added to the small tablet trend, this year's update to the 7-incher impresses immediately when you take it out of the box the first time.

Asus, once again the chosen vendor for Google's project, has refined the design. It's noticeably slimmer now (8.65mm versus 10.56mm) and also lighter (290 grams versus 340 grams).
Compared to the previous model, the 2013 version (below right) also has a smooth back cover that makes it feel premium, even when its price is not.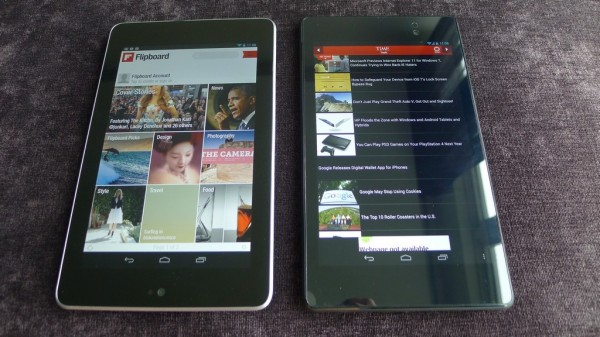 Indeed, the S$379 tablet (basic model with 16GB and Wi-Fi) will make many more expensive rivals look shabby. I really like the intricate-looking small vents where Asus has worked in for the audio to be played from the speakers.
One thing that's noticeable is the slightly longer frame. This means the bezel at the bottom is wider, which means the screen may be made to look smaller. Yet, at the same time, it affords an easy hand grip for when you're holding up the Nexus 7 to read a book or flip through a magazine.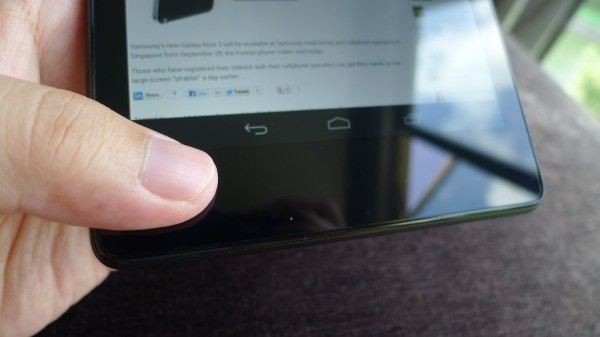 The other thing that strikes you when you first power on the device is the screen. With a 1,920 x 1,080 (Full HD) resolution, this is probably the sharpest screen on a small 7-inch tablet. And it is clearly better than last year's 1,280 x 800 screen, which wasn't shabby either.
The difference is clearest when you read text on the device, say, on a magazine or a webpage. Of course, if you're watching a movie on YouTube or viewing your maps, the Full HD resolution really shines.
I've always liked Asus' screens, and this IPS (in-plane switching) affair is no different. The contrast is very impressive and colours are vivid, without being over-saturated. The screen is also plenty bright, which should do well in sunny Singapore.
As with other Nexus devices, the interface on Google's latest branded device is zippy. For folks who still have any doubt about Android as a tablet operating system, all you have to do is pick up a Nexus 7 and play around with things.
The experience is "buttery smooth", to borrow a Google phrase. It's no hassle switching between apps on the Android 4.3 operating system without all the junk-ware that you often get on other Android tablets.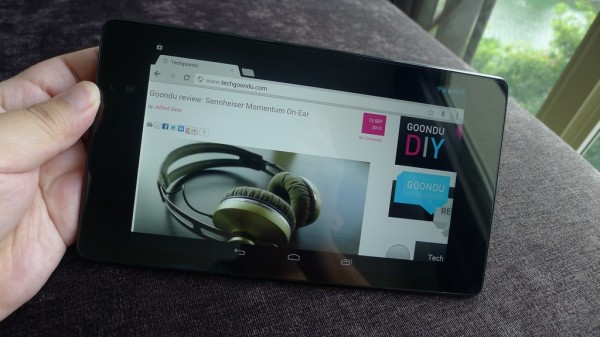 It helps that Asus has picked a newer Qualcomm Snapdragon S4 Pro processor running at 1.5GHz. The 2GB RAM onboard, instead of 1GB previously, could also mean smoother switching between tasks. Essentially, the hardware is on par with most top-end rivals you'd find in stores.
However, what sets the Nexus 7 back, like Google's other Nexus tablets, is a lack of a microSD card slot. Unlike a Samsung tablet, for example, you can't pop in a memory card full of music or movies once the 16GB onboard is used up.
Another, smaller issue with the Nexus 7 is perhaps its 7-inch format. Personally, I believe a screen size about 8 inches is great for a small tablet.
Seven-inch tablets have done very well, contrary to Apple's protestations in the past, but it was right to say that a screen closer to 8 inchers (like its 7.9-inch iPad mini) gives more screen space without seeming a lot bigger and unwieldy.
Perhaps we are also used to bigger phone screens now – Sony's Xperia Z Ultra has a 6.44-inch screen – so we expect our tablets to upsize as well.
Should you rush out now to buy the new Nexus 7? I have a word of caution, despite being impressed by it. Make sure you check that the unit you are buying has a good, working touchscreen.
Users have complained about various issues regarding the first batch of Nexus 7s to have shipped in the United States, and I had the same problem with one of the test units I received.
After a software update, the screen stopped responding to touch. I spent an afternoon unlocking the bootloader, resetting everything on it, but still did not manage to fix things.
Asus has since passed me another unit, which works perfectly. They have also assured me that the test unit was from the first batch, none of which are being sold in Singapore.
Taking their word, my recommendation for new Nexus 7 is still a "buy". I would only caution that you check that the screen is working perfectly when you buy one at the stores.
For S$379, the new Nexus 7 is surely a bargain. If its early issues are truly fixed, as Asus says, then it is a very good tablet. It should be at the top of your list if you're looking for a 7-inch tablet.