So, you've been waiting for Windows 10 to download onto your PC after hearing your friends say how it's the best Windows yet. Well, you don't have to wait.
There's a useful download tool that you can use to get started immediately, though you might encounter a bug or two along the way. Here's how I got my PC on Windows 10:
1. Go to Microsoft's Software Download site to get the Windows 10 tool. Click here.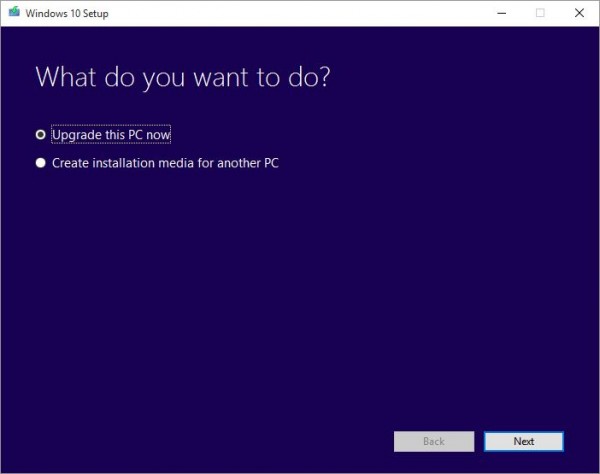 2. Run the program. It will ask if you want to make a copy of the installation files on a USB drive or DVD, or if you want to simply upgrade. Choose upgrade if you want it immediately.
a. If you get an error message – "something happened" – don't despair. There seems to be a workaround, thanks to the folks on Reddit. Essentially, you'll have to change your locale to "English (United States)". Details here.
3. You'll be given options to keep your files and settings or wipe them out. Since I was upgrading, I kept them. You can clean up everything if you have already backed up your data.
4. Just wait for the stuff to get processed and started. It's quite an automated process so there's little you need to do. How long this takes depends on your Net connection as well as PC hardware.
5. Get started with Windows 10!
So far, I've been happy with the upgrade, which was fast and mostly painless. Okay, I had to reboot the PC to get my Nvidia graphics card to be recognised, but that was that. I'm typing this post on the upgraded Windows 10 PC, using the new Edge browser.
To be fair, I have a relatively fast Intel Core i7 PC with 16GB RAM and a 240GB solid state drive, but even if you have a slower hard disk, the main difference is time.
Your PC might need more time to get things processed, but the steps you need are similar, which is a good thing. There aren't a dozen screens to click through.
Any bugs so far? I've yet to find one, after firing up Photoshop, Spotify, Skype, Steam and a host of other programs.
There are bound to be some teething problems with such a diverse group of users, but it seems Windows 10 is indeed one of the most polished Windows from Microsoft in years.
Do share in the comments below what your Windows 10 experience was like.