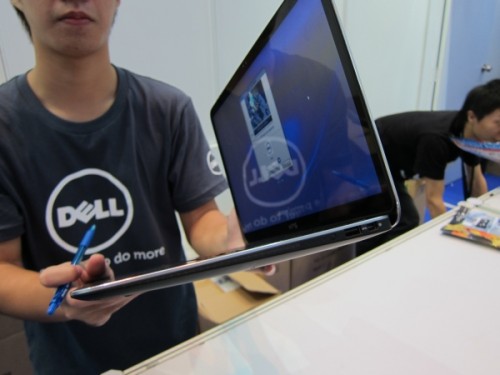 If flat-screen TVs, cameras or printers had ruled previous tech bazaars in Singapore, then this year's IT Show is surely being taken over by an overwhelming range of ultrabooks.
The latest craze among laptop makers to go really slim, yet retaining most of the power of a full-fledged machine while keeping costs relatively low, means that buyers are spoilt for choice when shopping for a PC for both work and play.
We've all seen how nice the first wave of ultrabooks from Asus and Lenovo are from last year. The next wave, from Acer's Aspire Timeline Ultra to HP's stunning Envy 14 Spectre, brings even more choice.
Here are a few to check out as you make your way through the crowds at the IT Show at Suntec City this weekend.
Acer Aspire Timeline Ultra M3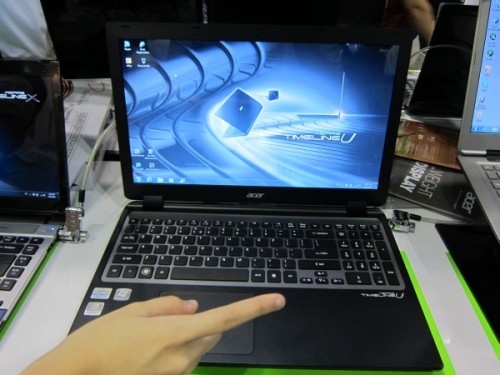 If you thought Acer still made the same low-cost but ugly ducklings of the past, you'd be surprised by its Timeline Ultra M3 line of ultrabooks that blend functionality and looks at an attractive price.
Though the Taiwanese notebook maker has been known more for its Aspire S 13-inch ultrabooks in recent months, what catches the eye at its booth is the Timeline Ultra M3 15.6-inch ultrabook. Yup, while others had kept the slim design to smaller laptops, Acer has extended it to its larger laptops as well. In other words, you get a big-screen yet slim and light design.
This 15.6-inch model offers a Core i5-2467M CPU, Nvidia GeForce GT640M graphics, 4GB RAM, a 500GB hard disk and even a DVD drive at the side. All that weighs in at about 2.2kg, which is relatively light for a 15-incher.
It is attractive to users who want a big screen for, say, watching videos at home while also enjoying a light carry-around laptop that they can still lug to school or office every once in a while.
What is a little disappointing though is the screen. The 1,366 x 768 resolution on a rather large 15.6-inch screen means that text and images don't look as sharp as you'd expect, say, if you had the resolution on a smaller 13- or 14-incher. If Acer had put in a 1600 x 900 display, this machine would have been a no-brainer to recommend.
That's not to say you shouldn't check it out though. For an attractive S$1,298, it's surely worth a jostle to the Acer booth if you are buying a laptop for both the desk and on the go.
Check out Acer's brochures on its Facebook page.
HP Envy 14 Spectre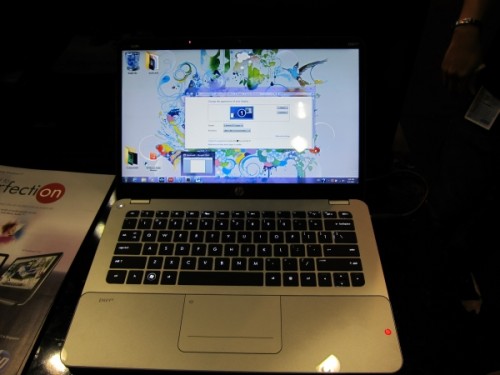 First, my apologies that the picture here doesn't do justice to this extremely sleek ultrabook from the HP Envy line. Hands down, this is the sexiest laptop to own now if you must have the best design of all. Though it looks like a MacBook Pro in photos, what it is in the flesh is quite something else.
The thing that strikes you first is the glass exterior that protects the shell of the screen. No other laptop, it seems, has that glossy surface to match a slim design like it. The other thing that I love is the slim bezel on the screen – it just makes this 14-incher so sleek, despite retaining the old Envy 14's screen size.
Speaking of the display, this time HP has got it right by going back to the original Envy 14's 1,600 x 900 screen resolution, which offers pin-sharp text and stunning images. It really stands out against the usual 1,366 x 768 resolution you'd expect from similar-sized machines.
While I can't fault HP this time for the design or screen, I'd question the price it is asking for. By adding S$1,999 to your credit card bill, you get a rather modest Core i5-2467M, 4GB RAM and a 128GB solid state drive under the hood, which are, well, ultrabook specs, but not the top-of-the-line features you'd expect for a laptop of this price.
Okay, HP is throwing in a pair of Beats Audio Solo headphones which it says costs S$420, but hey, I'd rather have the laptop cost S$1,600, which is what it should, considering the competition in the same hall.
Still, I'm told by the promoters there that the model is selling very well since its launch here at the IT Show, so there are folks who'd pay the premium for design.
I did too, last year, when I bought an Envy 14 Beats Edition and I'm still a happy user now. With this latest Envy 14 Spectre, HP has again impressed with its build and design, which clearly surpass its rivals'. I just wonder if there's a Core i7 version on its way or if prices might become more competitive in the coming months.
Download HP brochures from Techgoondu. 
Dell XPS 13 Ultrabook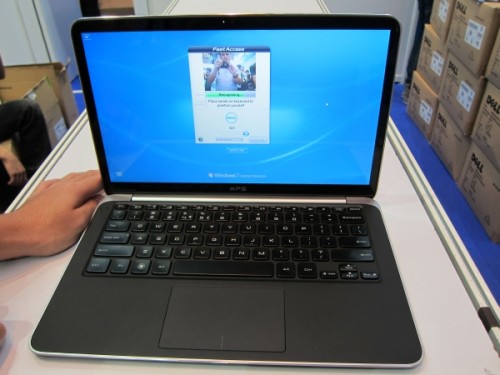 I've always been impressed by Dell's XPS range of performance desktops and laptops and its 13-inch Ultrabook in the series does not disappoint either with a good balance of looks, speed and price.
While it's not wafer thin like Asus' Zenbook, which remains the super model of the ultrabook world, the XPS 13 is quite a looker still with a rather svelte 6-18mm frame. What impresses as well is the really thin bezel on the screen, which makes the 13.3-inch display look bigger than it is and also sleeker than what you get on the Zenbook.
What I also like is the chiclet keyboard, which seems reasonably comfy unlike with Apple's shallow keys which often have you striking metal as you type away. Besides that, the large touchpad is a big plus for moving around the cursor on screen easily.
The engine here for the entry-level model is pretty standard for ultrabooks – a Core i5-2467M, 4GB RAM, and a 128GB solid state drive. It is going for an attractive S$1,499 and you can even trade in an old laptop for up to S$300 off (someone at the booth will check what you bring in and decide how much it can offset your selling price).
Check out Dell's brochures at its Facebook page.
Fujitsu Lifebook SH771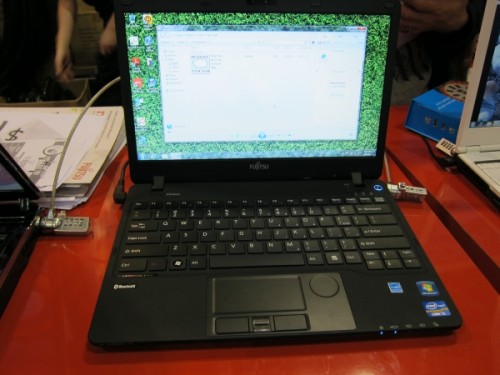 Fujitsu is not a name that you hear a lot when people bring up ultrabooks for discussion. What it does have, however, is a really slim Lifebook SH771 that is packed with what you'd expect from an ultrabook – with a twist.
Weighing just 1.22kg, it certainly rivals some ultrabooks for portability. However, it also includes an option to pop in a DVD drive in the expansion bay, which Fujitsu has somehow managed to cramp into the small chassis. What you'd also be impressed with is the really thin LCD screen, which helps too in reducing weight.
Like its previous business laptops, the SH771 comes with a VGA output to hook up projectors as well as a fingerprint sensor to help secure the data on the machine. Home users won't miss them, but for folks who bring their laptops around for work, these are handy features to have on the road.
Unfortunately, like most Fujitsu machines, this one's not cheap. For S$1,988, the basic model will include a rather modest Core i5-2520M CPU, 8GB RAM and a 640GB hard disk. To be honest, I'd have expected a solid state drive for that price.
Sure, the SH771 range includes Core i7 models as well as ones offering solid state drives, but those will easily cost a few hundred dollars north of S$2,000.
As a previous owner of an S6520 laptop from the Japanese manufacturer, I've always liked Fujitsu laptops for their portable yet powerful machines. This time round, however, its ultrabook competitor – the SH771 was pointed out to me when I asked for an ultrabook at the booth – may struggle a little with the price competition all around despite being seemingly better thought-out than its rivals.
Check out Fujitsu's brochures on its Facebook page.
Tell us what other ultrabooks are worth checking out and what you have bought at the IT Show in the comments!