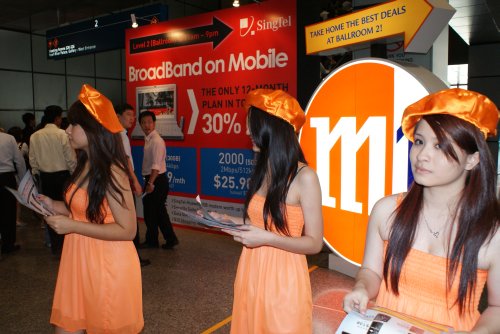 Are we in the worst recession since the 1930s? Doesn't seem like it when you see the long lines of people waiting to sign up for a StarHub line or those snapping up LCD TVs like there was no tomorrow at the IT Show.
When I turned up at around noon, the Suntec area was was already a nightmare to drive around. Was going to give up after being stuck in my car, when I finally managed to enter Marina Square from the back (near Ritz Carlton), and guess what, there were dozens of empty carpark lots. Amazing how the security folks just happily block off all the carparks in the area and list them as "full".
Anyway, I walked around and found some bargains – not downright dirt cheap, but somewhat tempting, especially if you are in the market for some of these gadgets.
1) LG HD-ready 42-inch plasma
I believe the model name is LG's 42PG10R, which Courts was clearing on Level 4 for (if I don't remember wrongly) S$1,299 at the time I was there. Good deal, as these folks clear their HD-ready models to move on to Full HD LCDs, which surprisingly wasn't all that cheap.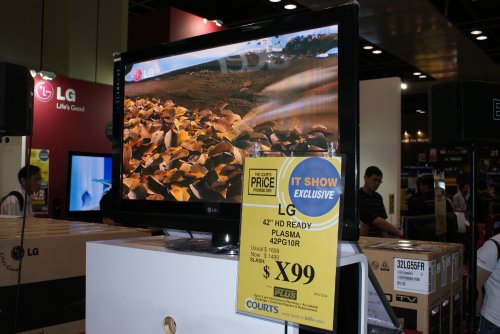 The cheapest Full HD 40-incher from Samsung, at one of the many booths selling the Korean brand's TVs, was going for S$2,249 (the Series 6 model). Not that much cheaper than what I paid for my Full HD model six months ago (albeit an older Samsung model).
Samsung, however, was selling its 32-inchers at S$749 – a great deal for a second TV in the bedroom, say, for movies or games. Saw quite a few people carting away these babies in trolleys.
2) HP Photosmart C6380 all-in-one
It prints, it scans and it reads your camera's photo memory cards. This all-in-one is all you need if you want everything in a small form factor and at an attractive price – S$299. Better yet, it comes with Wi-Fi, so no more tangling with wires or wasting one Ethernet port on your router (as my older HP Photosmart C5180 AIO does on my desk). HP is throwing in one extra year of warranty for this model, so it's worth checking out.
3) Sony Vaio Z laptop
Not such a cheapo bargain at S$3,199, but the entry level to Sony's thin-and-light 13-incher Vaios looks stunning and is a joy to hold in your hands, especially when it weighs just 1.48kg.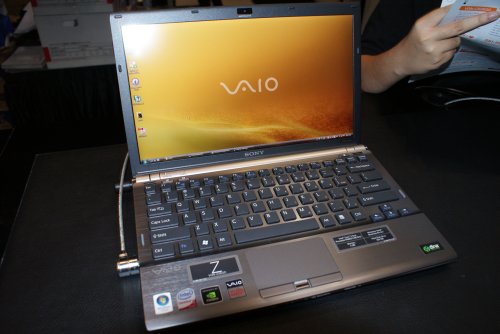 The typical Vaio keyboard – with nicely spaced-out keys – are a joy to type in. Now if only this came out before I sunk my money on a Fujitsu S6520, which is great but surely not half as sexy!
The S$3,199 deal at IT Show gets you a top-end Intel Centrino 2 P9600 processor, 4GB DDR3 RAM and most crucially, Windows Vista Business in 64-bit (no point running 4GB on 32-bit Windows, which is usually able to use up to only 3GB).
Some pix here to share with you from the show:
Check out also Chi-loong's posts on IT Show 2009 Part I and Part II.