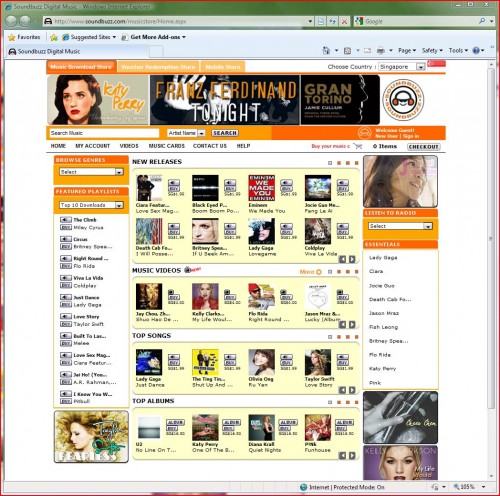 Soundbuzz, one of the first online music sources in Singapore, is officially shutting its store come July 15, even as more online music stores are opening with a wave of optimism surrounding music downloads.
In a note to subscribers last Friday, as well as on its website, the company said everything will be taken down after July 15 midnight, marking a sorry end to a bright dot.com poster boy of yesteryear.
The closure will come just 18 months after Motorola said it was acquiring the Singapore-based Soundbuzz, in a bid to boost its MotoMusic service and sell its music-enabled phones. The service had been launched in India in June 2008, though prices were still higher than what you could get with a CD, which offered higher-quality music.
Along with the dramatic demise of Motorola's mobile phone business in the past two years, Soundbuzz now also faces closure of its own. It's an ironic end for a company that seemed ahead of its time when it came out selling legit music in 1999 – at the dawn of illegal downloads.
Many were surprised at the time, when Soundbuzz CEO Sudhanshu Sarronwala, a former MTV stalwart, managed to court the music labels even when they were more interested in blocking people from ripping CDs. Its music collection was built up very fast, providing users in Singapore with a legit alternative to pirated songs.
But soon, the competition came for "Suds" and his company. Though Apple iTunes is still not officially here in Singapore now, Nokia has recently launched its music store here. And Sony Ericsson too, has partnered SingTel to offer a direct-to-mobile music download service.
Soundbuzz, meanwhile, was a much smaller player and had a less extensive music collection. Plus, it somehow only supported the Internet Explorer browser, likely because of its Windows Media back-end, which kept out a lot of users.
The final nail in the coffin must have been its sale to Motorola, a company that invented the cellphone and won millions over with the iconic Razr phone, but somehow still managed to lose direction in its cellphone business thanks to poor management and decision-making.
Before Soundbuzz shuts its store, it advises users to download and back up all the stuff they bought. Users should burn the tracks into CDs, because they would not be available for re-download and no licences will be given for them – should you transfer your songs to a new PC or hard disk.
According to Soundbuzz:
"We recommend that you burn these songs (in CD-Audio format using Windows Media Player or other compatible software media players) to a CD-R so that you have a back up of your tracks and can enjoy them over time. Further downloads or license re-issues will not be possible after July 15th, 2009. "
Sad way to go. RIP Soundbuzz. May easier, legit and DRM-free music take your place.