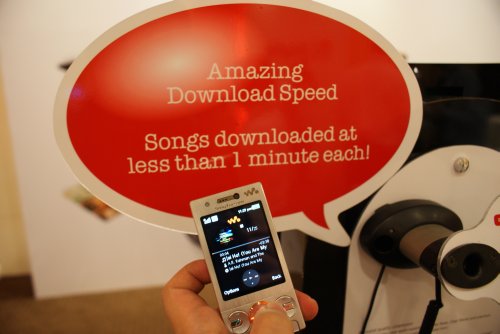 Just a month after Nokia launched its Comes with Music service here, music fans can now have another way to get music on their phones with Sony Ericsson (SE).
Turning the heat on Nokia, SE is getting in the act here too with its PlayNow Plus service, which lets users download thousands of songs onto their Walkman phones.
Announced this afternoon with much fanfare (even Wang Lee Hom was on stage), the service will be launched with the SE W705 Walkman phone from SingTel later this month.
What's on offer:
>>1,000 songs included in the SingTel W705 phone from labels such as EMI, Sony BMG, Universal, Warner and Ocean Butterflies (local label).
>>takes less than one minute to download a full-track song on the 3.5G SE W705
>>free SE PlayNow Plus subscription for a year, offering unlimited downloads
>>200MB monthly data bundle for a year, to go with a regular SingTel voice plan
>>first-month free unlimited data usage, so you could get all the songs you want

For those in the know, there's not much new for the PlayNow Plus service, which has already been launched in Europe. SingTel is the third telco to launch it and SE says two other countries in Asia are scheduled to roll it out.
Note that this is the totally separate "handphone" version of SE's PlayNow kiosk service, launched here earlier this year, which offers DRM-free songs but at rather lofty prices.
To go with this new PlayNow Plus service, SingTel is selling the W705 from S$188 to S$298, depending on which SingTel voice plan you sign up for (from S$25.88 to S$82.93).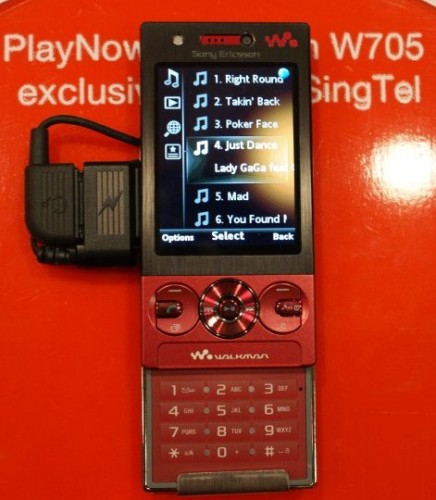 Like most SE phones of late, the slide-out W705 breaks no new ground in terms of looks. Still, the 4GB memory card that comes with it stores up to 3,900 songs, which should be enough for most users.
The interface will be familar to Walkman fans, and includes the handy TrackID, which lets you identify a song that you're hearing. Now, of course, with PlayNow Plus, you can also also "impulse buy" that song.
Well, at least that's what SE is hoping. Yet, exciting as this service is, there are problems :
1) You can't keep all the songs – only 200 songs (the most frequently played on your phone) can be kept after the one-year PlayNow Plus subscription.
2) The downloadable songs are DRM-tied, which are a pain to use. SE should note that DRM tracks are fast becoming a thing of a past, with other companies now offering DRM-free and even lossless digital tracks
3) Confusing to users – Imagine having to worry about where your music went after a year. Asked how much the SE music subscription will cost after the first year, SE and SingTel only said they are still in talks on the price. It's just too complex a proposition. Nokia Comes With Music, for example, just gives you all the music you can download in a year on your phone (though, for that, you have to pay your telco's data charges)
NOTE: An earlier version of this post referred to the SE phone as the W750. This is incorrect. It should be the W705. We are sorry for the error.