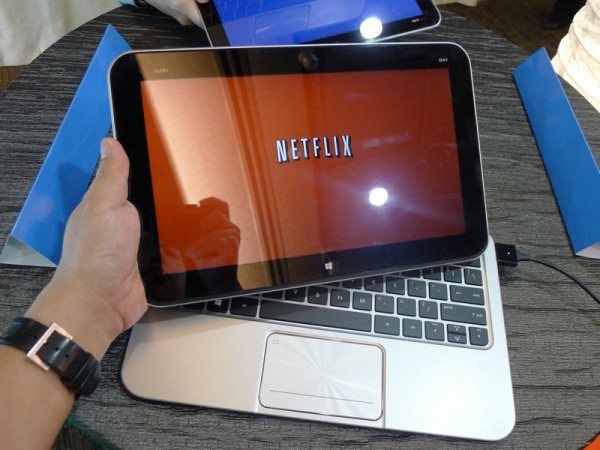 With the launch of Windows 8 just round the corner, we managed to get our hands on a couple of HP hybrid tablet devices – the Envy x2 and ElitePad 900 – earlier this week.
Though prices were still closely guarded at the Singapore launch on Thursday, we expect the hardware to compete well when the expected mass of similar devices go on sale from later this month.
Envy x2
The Envy x2, unveiled in August, features a detachable touch screen, which is by now pretty common with Android tablets such as Asus' Transformer Prime, for example.
On the HP hybrid, the screen also snaps on nicely when you slot it onto the matching keyboard. A little catch makes sure that the screen doesn't fly off when you flex it like a traditional clamshell laptop. The Envy x2 feels sturdy, as you'd expect from the premium consumer Envy range.
On its own, the 11.6-inch touch screen cum tablet weighs just 710 grams, which is just a little more than the 652-gram iPad that has a smaller 9.7-inch screen. Even with the keyboard, the Envy x2 tips the scales at just 1.41kg. This makes it a nice, light ultrabook to bring along for a trip.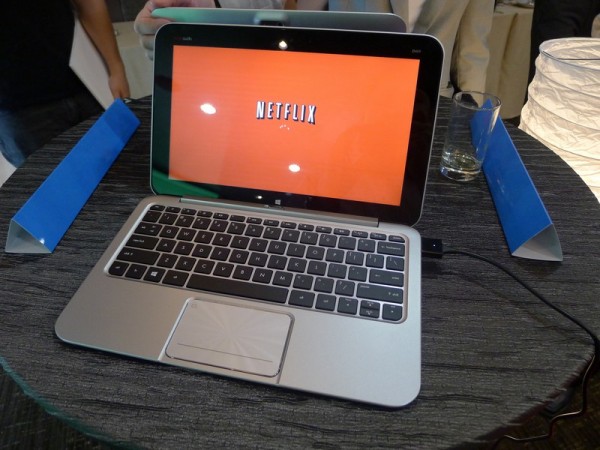 Bear in mind that this is one full-fledged Windows 8 laptop that will handle your previous Windows programs. Under the hood, the Envy x2 is reported to be using Intel's "Clover Trail" Atom chip, a lower-power alternative to traditional Core CPUs better suited for multimedia editing.
When it ships in Singapore in "late 2012", the Envy x2 should be attractive to users who are upgrading from a chunky laptop. For these users, the detachable touch screen will be a great companion on flights, especially if they are into watching movies (read our take on Windows 8 hybrids).
The biggest question is how much it will cost. There are rumours in the market that such hybrids will go for more than a regular Android tablet or iPad, or perhaps even more than an ultrabook without a detachable screen.
Whatever HP decides to sell the Envy x2 for, it needs no reminding that there's a limit to how much people will pay if they already have a tablet now. And many people already have tablets in Singapore.
ElitePad 900
At its launch of PCs, printers and other consumer products on Thursday, HP also showed off the ElitePad 900, an interesting tablet aimed at businesses. Sure, the iPad is the most popular tablet around, but many workplaces such as hospitals, still run Windows programs. That's where the ElitePad 900 hopes to fit in.
The tablet runs Windows 8 – not the limited Windows 8 RT – so again, all your old programs will work, like on a regular PC. As with the Envy x2, the ElitePad runs on an Intel Atom, which means longer battery life than most ultrabooks while letting you use it like a PC.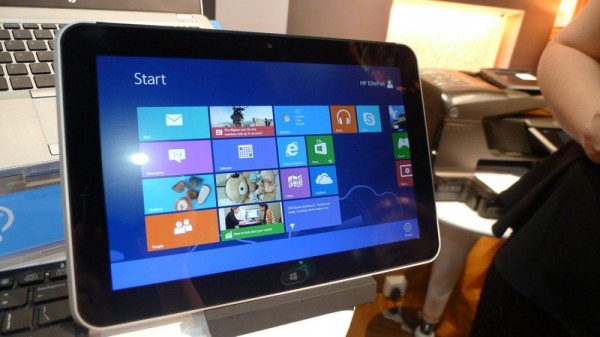 There's a modest 2GB of RAM onboard, along with a 64GB solid state drive for storage and a reasonably sharp 1,280 x 800 screen. There are also cameras facing the front and back, so lots of apps used at the workplace, for monitoring, for example, can tap on live images or videos taken by the ElitePad 900.
Like its rivals, HP has come up with a dock that lets users hook up to a desktop screen and plug in USB drives, for example. At the same time, a snap-on "jacket" brings more battery life for folks who need the tablet to be portable for longer hours.
I can definitely see this tablet as a workhorse for many enterprises, especially ones which focus on portability and which record and access information more than they create on the go.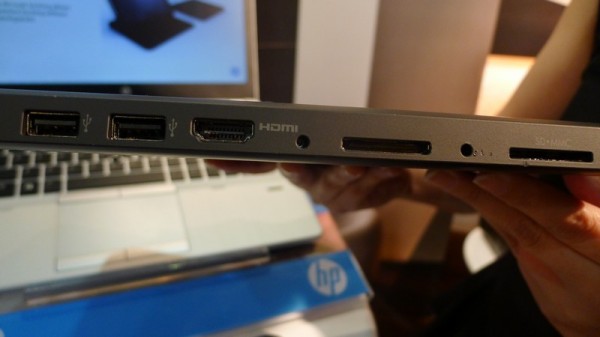 One place where these machines may work is hospital wards. Recently, during a visit to a hospital here, I saw huge portable stations, which essentially help wheel around a PC and a screen, being "parked" next to a power outlet for recharging. Perhaps a tablet with a small docking station could make things less clunky and more mobile?
Again, no prices yet for the ElitePad 900, though it's expected to be in Singapore in late January 2013.