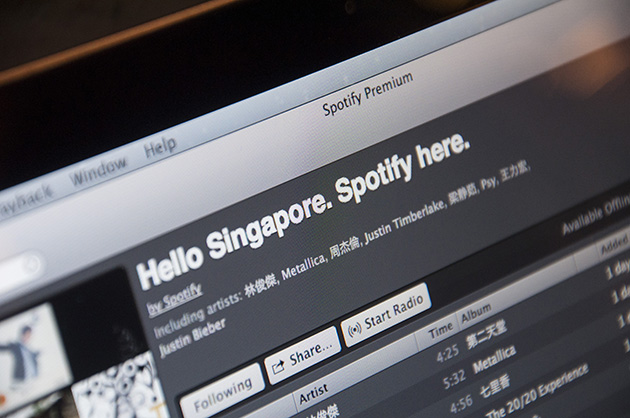 In their 2005 book "The Future of Music: Manifesto for the Digital Music Revolution", authors David Kusek and Gerd Leonhard predicted that music in the future would be like water from a tap: "ubiquitous and free-flowing".
That future arrived when music streaming services such as Spotify went mainstream a couple of years back, and I've been using a workaround to use it here in Singapore. That's not an issue any longer, as the Swedish company has finally brought its popular streaming client officially to Singapore, Malaysia and Hong Kong.
For those not familiar with Spotify, it's a music player that lets you stream a library of over 20 million tracks to your PC for free. The service currently has more than 24 million active users and 6 million paying subscribers worldwide.
As with any free product on the Internet, you'll have to put up with the occasional audio ad in-between songs, and banner ads in the music player.
But other than that, for users in Singapore, Malaysia, and Hong Kong, there are truly no limits to streaming music through the PC client.
This is a big difference from free Spotify users in other countries, as they are limited to 10 hours of listening per month after their accounts hit 6 months old.
Spotify also has a number of mobile apps for users to stream music on-the-go, but although you can download these apps for free, you won't be able to use them unless you're on the premium subscription plan.
The premium plan costs S$9.90 a month, and will allow streaming at a higher quality 320kbps on top of an ad-free experience. You'll also be able to cache songs for offline listening.
Suitably kit up for the Asian market, Spotify even has tracks from popular Asian music artists such as Jay Chou and PSY all ready to be streamed to your device.
Music streaming has often been lauded as the solution to the music industry's illegal downloading woes, and Spotify claims that it has given US$500 million back to the music industry over the past four years.
Sriram Krishnan, head of new markets for Asia Pacific at Spotify, believes that Spotify will also be the solution to music piracy in the region. "We won't stop until piracy is stamped out," he said.
Judging by the buzz on social media, the service is already off to a good start in these three countries.
However, there's no word on when the service will expand to the rest of Asia, and details on how the company will work with local musicians and radio stations are scarce.
Update (21 April 2013, 7:16pm): this article has been edited to clarify the no-limit listening for users in Singapore, Malaysia, and Hong Kong.