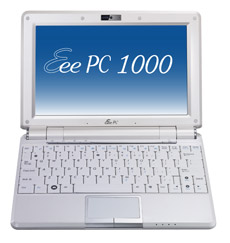 Just returned from a trip down to the computer centre in Mongkok here in Hong Kong and found that the prices of many Netbooks have been slashed – and they are really selling well.
Was there with a friend to buy the Asus Eee PC 1000H 80GB and found that in the month and a half since my girlfriend bought hers, the price has dropped more than 10 per cent. ARGGH! It was HK$4,650 then, and now, we managed to get it down to HK$4,150 if you paid cash!

The Asus Eee PC 1000H was obviously doing very well, as some shops simply had no stock of the black coloured model that we were looking for. We eventually found one shop that had it but had to wait an hour or so as they needed to install the English Windows XP version onto it. The machine comes with both English and Chinese Windows XP restore discs. And when we came back, I noticed that out of the stack of 6 or 7 Eee PCs, there were only 2 left!
A quick price scan revealed that many of the other Netbooks have also dropped in price. For example, the Acer Aspire One was just HK$2,600 and the Asus Eee PC 901 was HK$3,288 – probably a little less if you paid cash.
The Asus Eee PC 1000H with the 40GB SSD was also in the stores and that might have helped push down the price of the 80GB hard disk version.
Seems like Netbooks are really all the rage … and folks are loving them. At these prices, I can certainly understand why! You could buy two of these Netbooks for the price of an uncontracted 3G iPhone!
And consumers will simply be spoilt for more choice in the Netbook space. Dell's releasing its Inspiron Mini 9, Toshiba's kicking out its Libretto replacement in the NB105, BenQ supposedly releasing its JoyBook Lite, Samsung rolling out its Netbook too, and the list goes on.
In the meantime, I still think the Asus Eee PC 1000H is the best bang for buck if you're looking for a Netbook that has a "traditional" HDD.
I'll try to post an overdue review of it a little later.