Concept and ambition: A. Design aesthetics: A+. Gameplay: C-.  Four mini-games and a shallow end game do not a great game make.
Don't get me wrong. Spore is not a bad game. It is polished and a mish-mash of some really interesting concepts. But in no way does this make Spore a good game, and it feels like a tiny sandbox with very little room for folks to play in.
In Spore, who was designed by famed game designer Will Wright,  (co-founder of Maxis and creator of unique sandbox games like SimCity and The Sims), one gets to play life through five stages: from a small amoeba object, to an evolved creature, followed by a tribal, then civilized, and finally space-faring stage.
For me Spore really only shines — and briefly — during the space stage. Everything else is padding and would do well as separate small mini-games, but in no way would they all constitute as a fully flesh-out game.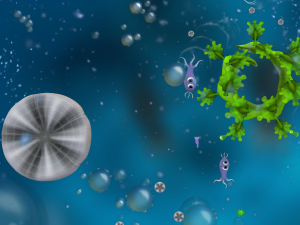 Herbivorous amoeba looking for green plants
Let's start at the cell stage. You start off as a little cell object trying to manoeuver around in dangerous waters, either eating plants or meat by hunting other objects down. When you hit a predetermined size, you evolve into a bigger creature. The conceptual art and design is neat, but in terms of gameplay it is fairly linear. Also, it is something I have seen before in flOw, a free independent web-based game that piloted such a concept. Thus is my point — it's a great mini-game, but it's not something that has a deep hook, or worth a lot of value.
The creature, tribal and civilization stages are similar. In the creature stage, you either ally with other creatures or you fight them. There are not a lot of meaningful choices or difficulty with how you go about doing this. If you choose to ally, you mimic the action of the opposing creature, which is a simple mini-game exercise. If you fight, just use whatever talons, beak, etc. you have evolved to bring the enemy down. You get DNA points to evolve with whenever you ally/kill other creatures, and you find new evolution traits by looting old bones. It is fun for the first run through, but has no gameplay depth.
Ditto for tribal. You either ally other tribes by playing music with instruments that they want — a simple enough exercise given there are only three instruments in this mini-game — or you beat them in the head with stone axes or spears. Again, fun for the first run through, but not worth much of a replay.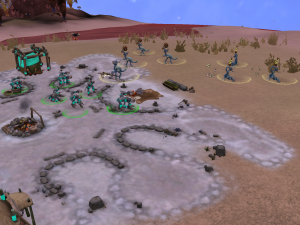 Singing and dancing your way into another tribe
Civilization, to me, is the worse segment. Be it winning by religion, trade, or military, the gameplay is fundamentally similar. You build land, sea or air vehicles and send them to an opposing city where a bar fills up. When it is full, you take over the city. Sure, there is syntactical difference, but there is no real gameplay mechanic difference between the three paths. After your first playthrough, on your second or third runs, you realize how devoid the game is of depth.
For the space stage, the game is really fun for the first five to eight hours because there are many things that it seems you could do: fight off space pirates, terraform planets and seed them with flora and fauna, trade spice, hunt for artifacts, etc.
But after that, even though the galaxy is really vast with thousands of solar systems to explore, you realize that the gameplay is limited. There are only six types of spice (trade goods) that could ever be produced. All artifacts only sell for more money and nothing else. All the missions are run and fetch delivery, kill some creature/city, or terraforming quests that look similar after a while.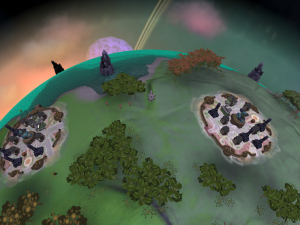 A beautiful moonrise on my homeworld Haven in Spore
By this stage, it feels like too much busywork for too little reward or new experience to be fun. You have to visit each planet manually to collect spice to sell (why no automatic money making system, creating tedious busywork?). All space raids and eco disasters play from exactly the same script, and by the tenth one, you are sick of this mechanic.
There are some genuine "aha" fun moments. When you  discover your first space wormhole, terraform your first few planets, uplift a lesser race by plonking down a monolith, or super-sizing creatures to terrify inhabitants, its is fun the first time around. The object creator is also one of the most polished and user-friendly editors out there, letting the user churn out one crazy design after another.
But unfortunately, the polish is there, but there is no depth. Compared to many less graphically and aesthetically slick 4X (explore, expand, exploit, exterminate) games like Master of Orion, Galactic Civilizations or Sins of a Solar Empire, Spore is sorely lacking in depth. It doesn't have to be as complex and tedious micromanagement hell as some of some of these games — no one is expecting a sandbox game to be a complex strategy game — but in some ways Spore is worse off: it is tedious at times with not enough payoff.
And I state this having played the game twice, once as a namby-pamby pacifistic herbivore, and the other as money-grubbing omnivore all the way to the end.  I ran all the way to the Galactic core past the hyper-aggressive Grox race to see Maxis' easter egg ending. In a nutshell, I found the game endearing and fun at times, but much of the way I was thinking to myself: "this is it?"
Perhaps the game was designed in mind for the really casual crowd and not a gamer like myself, but I can't help but wonder if Maxis shot themselves in the foot by mashing five disparate mini-games together, none (but for the first few moments of the last stage) which are really compelling. It's a sandbox game with not enough real gameplay choices. Which is a shame, because it has some great concepts, but the gameplay execution is weak.