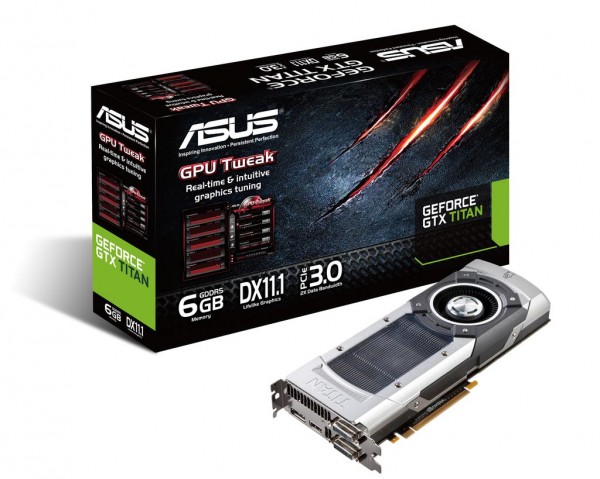 You might think it's crazy to plonk down S$1,600 for a graphics card, when that money can buy you a decent laptop today. Yet, the most expensive card around now – the Asus GTX Titan – has been sold out in Singapore.
The latest and greatest from the Taiwanese electronics manufacturer sports the GTX Titan graphics chip from Nvidia, which is the fastest single-chip card in the market now.
According to our Asus sources, the 18 or so cards that were brought into Singapore have been snapped up since they were put on sale late last month.
The small amount of cards is down to the shortage of chips from Nvidia, it is understood. Typically, mid-range cards sell in the hundreds, but the fact that the GTX Titan was sold out so quickly points to gamers still demanding the best from their PCs.
Typical buyers could include those who game with more than one monitor or folks who want to max out every detail in a game. Unfortunately, if you're a geek lusting after one of these GTX Titans, there is no indication when the next batch will be arriving in Sim Lim Square.
Probably the only game now that will max out the still very fast cards based on Nvidia's GTX 680 or AMD's HD7970 will be Crysis 3. Developer Crytek had promised a PC game that looks great and one that makes all but the fastest PCs crawl – and it has delivered in a way that will give extreme PC buffs a reason to upgrade again.
Okay, there are other ways to still enjoy the game, even you don't have S$1,600 to spare. One way is to just dial down some of the special effects. Another is to add a second graphics card via Crossfire (for ATI cards) or SLI (for Nvidia cards), if your motherboard supports the feature.
It's interesting that two top-end HD7970 cards – surely a match for the GTX Titan – goes for as low as S$529 each, or S$1058 together. Yes, there are issues with dual-card setups, like scaling issues, but you save more than S$500.